National Guard in 10 states, two territories approved for federal funding to fight coronavirus pandemic
by
Rose L. Thayer
April 1, 2020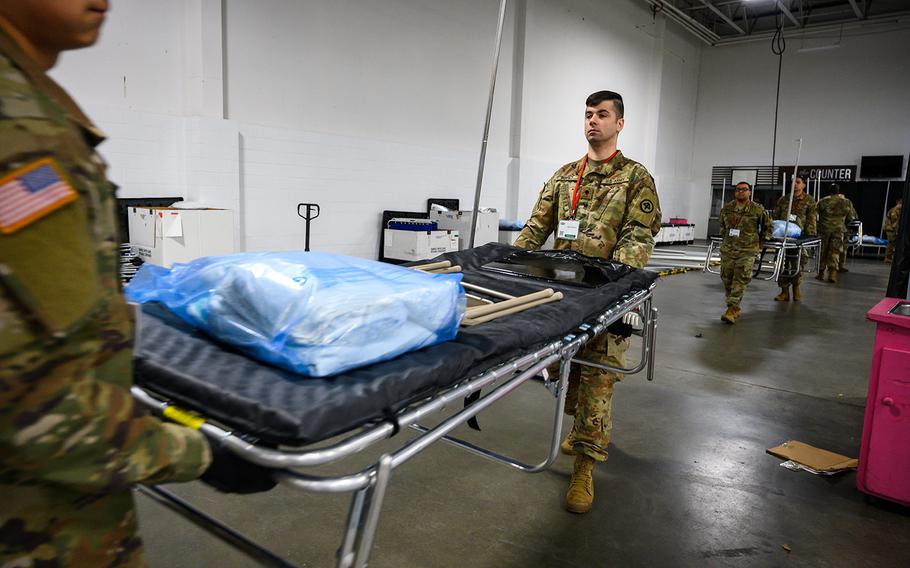 Stars and Stripes is making stories on the coronavirus pandemic available free of charge. See other free reports here. Sign up for our daily coronavirus newsletter here. Please support our journalism with a subscription.
Ten states, two territories and the District of Columbia have been approved to receive federal funding for National Guard troops deployed to combat the coronavirus pandemic, National Guard Bureau said Wednesday.
Roughly 17,250 National Guard troops are deployed across the country and granting them federal status gives them the same benefits as active-duty service members during their deployments to help subdue the virus outbreak that has killed more than 4,450 Americans.
Another 27 states are working through the approval process for federal status for Guard troops, which involves clearing missions through the Federal Emergency Management Agency.
"National Guard support focuses primarily on supporting a surge for enhanced medical capacity and logistics support," according to a National Guard Bureau news release.
Troops are working in all 50 states with missions ranging from supporting virus test sites to establishing medical facilities to staffing checkpoints along highways.
President Donald Trump approved federal funding requests this week from Florida, Guam, Louisiana, Massachusetts, Maryland, New Jersey and Puerto Rico, said April Cunningham, spokeswoman for the National Guard Bureau. California, New York and Washington received approval March 22.
Troops on federal funding status, known at Title 32, are eligible for Tricare health insurance and can use military medical facilities should they become ill or injured while on duty. These are some of the reasons used by governors, lawmakers and National Guard advocacy groups pushing for all troops deployed in response to the coronavirus pandemic to receive the federal status.
As of Monday, 79 Guard members had tested positive for the virus, Cunningham said. It was unclear Wednesday how many of those troops were infected during their deployments. One member of the New Jersey National Guard, who was not activated for duty, died from the virus Saturday.
Rhode Island is among the states seeking federal funding and the approval of a dual-status commander who could command National Guard and active-duty military troops, said Maj. Dennis Pineault, spokesman for the Rhode Island National Guard. There are 22 states and two territories with approved dual-status commanders, according to the National Guard Bureau.
With more than 600 soldiers and airmen activated, Rhode Island Guard members are working at coronavirus test sites as well as supporting the state's effort to have anyone traveling to Rhode Island from out of state to self-quarantine for 14 days, Pineault said.
About 15 military police are at two checkpoints along state borders with officers from the Rhode Island State Police. Officers have any out-of-state vehicles pull into a rest area where National Guard troops help collect information about the traveler and share details of how to self-quarantine, he said. Collected information is given to the state's health department, which sends daily text messages to check on those people.
Guard troops are conducting a similar mission going door-to-door along Rhode Island's southern coast, where many out-of-state people come to rent properties.
In Florida, National Guard troops greet out-of-state visitors and support testing sites, among other missions, said 1st. Lt. Tahisha Coleman, Florida National Guard spokeswoman. There are more than 1,500 Guard troops activated in the state.
Florida troops are also conducting screenings at airports in Miami, Fort Lauderdale, Tampa, Orlando, Jacksonville, Palm Beach and Fort Myers.
"These missions will support the governor's recent travel ban guidance in an attempt to significantly reduce the number of infected individuals entering the state from areas with a high amount of community spread," Coleman said in a statement.
Thayer.rose@stripes.com Twitter: @Rose_Lori