National Guard deployment increases by 5,000 troops in one day to help stop coronavirus spread
by
Rose L. Thayer
April 7, 2020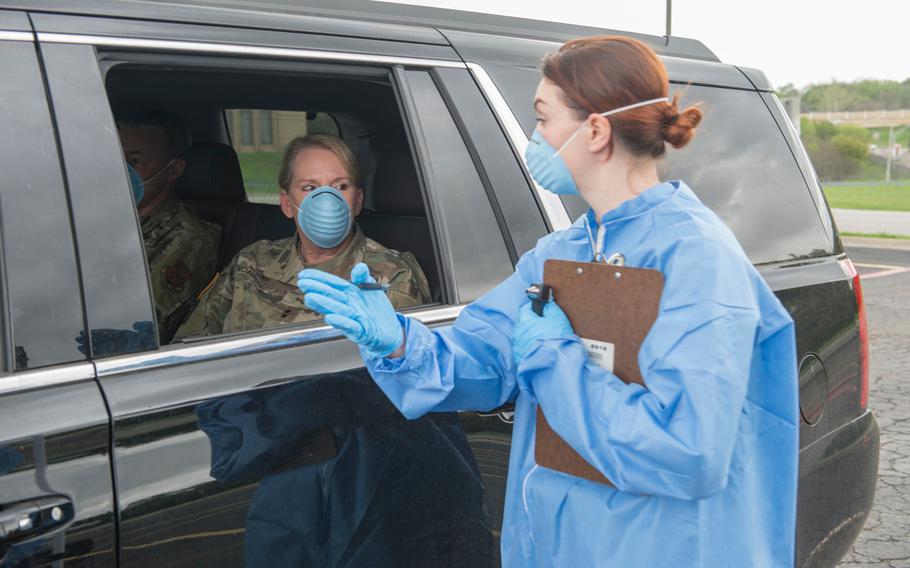 Stars and Stripes is making stories on the coronavirus pandemic available free of charge. See other free reports here. Sign up for our daily coronavirus newsletter here. Please support our journalism with a subscription.
An additional 5,000 National Guard members have been activated since Monday in response to the coronavirus pandemic, as governors rely on federal funding for troops to help with everything from testing to building hospital-bed facilities.
With the number of troops nearing 27,000, soldiers and airmen continue to fill roles that could expose them to the virus, despite concerns from politicians and advocacy groups that they are not receiving access to adequate medical coverage.
As of Tuesday morning, 21 states, three territories and the District of Columbia received approval for use of federal funds for state missions under a status known as Title 32, with 20 more requests moving through the approval process, according to a news release Tuesday from the National Guard Bureau.
That status keeps troops under the authority of their state's governor but provides federal funding and federal benefits to the service members. However, Tricare medical coverage is only available for troops serving more than 30 days.
President Donald Trump's directive to authorize federal Guard deployments limits the approval to 30 days, falling just short of the amount of time needed for service members and their families to gain Tricare health insurance. Last week, at least five senators and the National Guard Association sounded the alarm on this issue, asking Trump to get troops military health insurance.
National Guard Bureau leadership is aware of the issue, according to a bureau official speaking on background.
"Our understanding is the length of orders for Title 32 is still in coordination," according to the official.
With troops working in each state and U.S. territory, the missions vary based on local needs. Most are at testing locations where troops perform duties including testing patients, directing traffic and delivering samples to labs.
"Our combined combat and civilian-acquired skills help to create a blueprint for an ideal military force capable of addressing the myriad challenges presented by [the coronavirus]," Air Force Gen. Joseph Lengyel, chief of the National Guard Bureau, said in a statement. "If you need us to drive trucks, fly airplanes, be mechanics or plan a large response effort, the National Guard is able to adapt to whatever the mission demands."
West Virginia activated nearly 500 soldiers and airmen who have helped test more than 150 residents and staff at a Charleston nursing home, rewired phone lines at Charleston's St. Francis Hospital to convert a former office space into coronavirus treatment rooms, and packaged 825 gallons of hand sanitizer for distribution.
In Wisconsin, more than 2,400 National Guard members are mobilized to support the Wisconsin Elections Commission and county clerks for Tuesday's elections, said Maj. Brian J. Faltinson, spokesman for the Wisconsin National Guard. Troops completed training to serve as poll workers, while also procuring and distributing necessary items to keep polling sites sanitary.
Other missions around the country include sewing and distributing masks for mission-essential personnel, building and outfitting alternate care facilities to alleviate stress on medical infrastructure, supporting warehouse operations and logistics efforts to help deliver and distribute medical equipment and critical supplies, delivering and distributing food in hard-hit communities and supporting food banks, manning call centers and providing vital personal protective equipment training and delivery to civilian first responders, according to the National Guard Bureau.
"We expect the demand to grow as governors continue to assess needs and call on specific Guard skills to meet their states' needs to meet this national crisis," according to the news release. "We are neighbors helping neighbors. The communities we serve in are the ones in which we live."
Thayer.rose@stripes.com Twitter: @Rose_Lori