NAS Pensacola reports Hurricane Sally damage; Florida Guard rescues 113 people
by
Corey Dickstein
September 17, 2020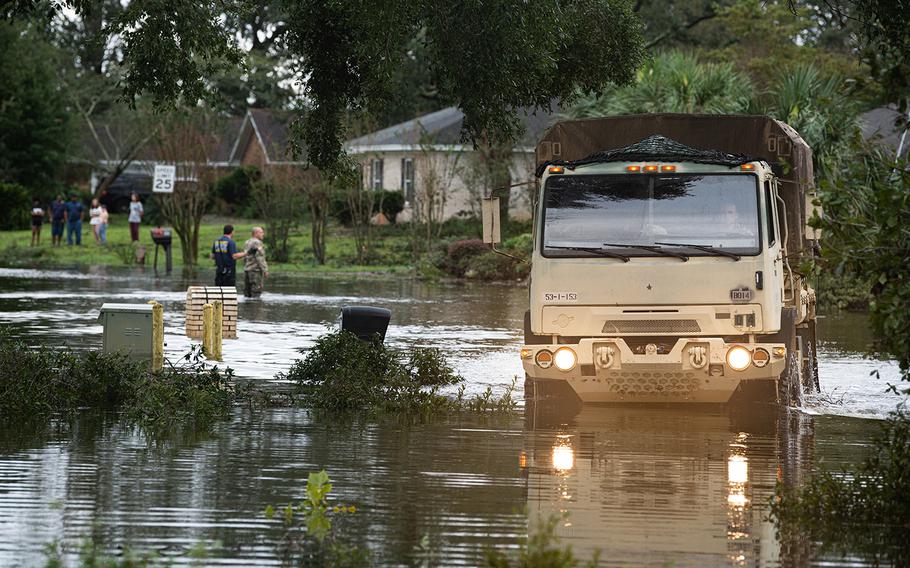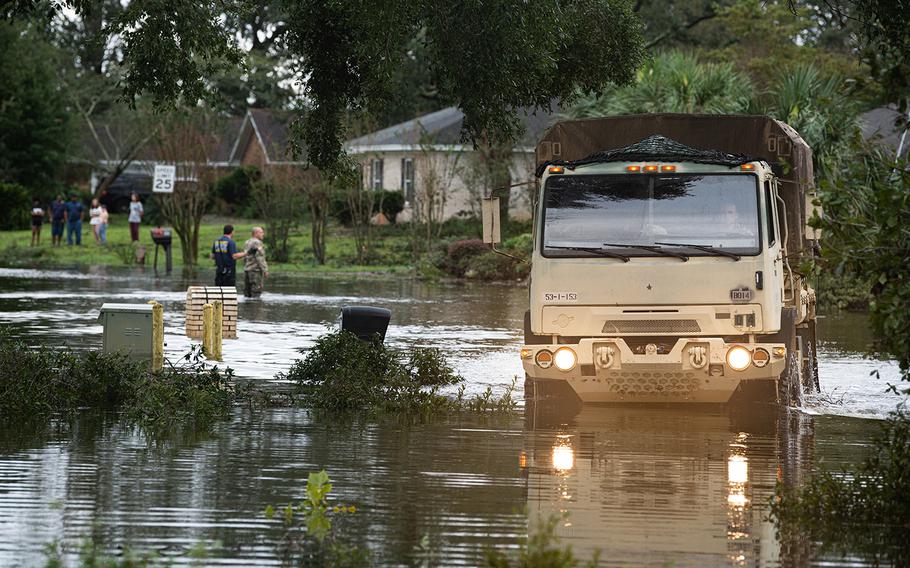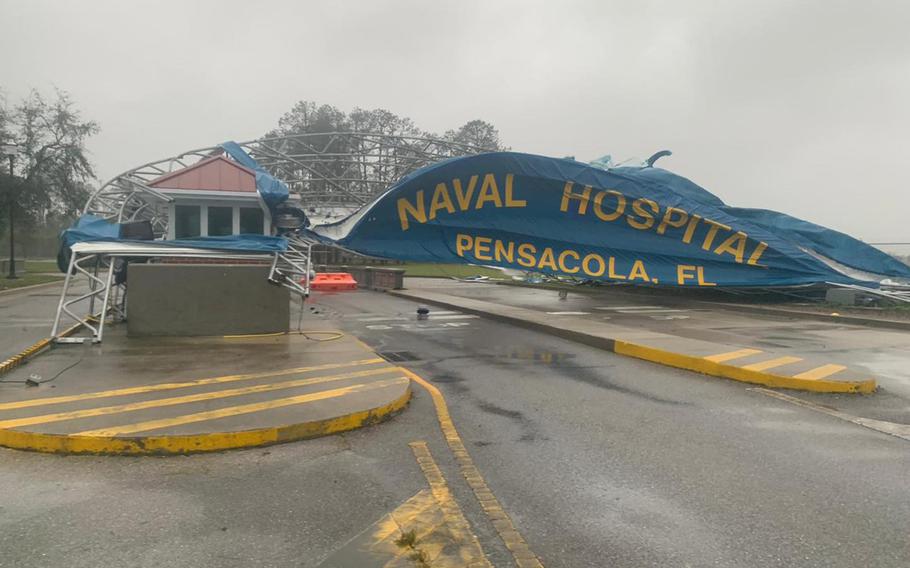 WASHINGTON — Multiple buildings, including the hospital, at Naval Air Station Pensacola sustained damage from Hurricane Sally as the storm dumped torrential rain and spread debris across the base Wednesday, several Navy officials said.
Damage assessments were only beginning Thursday, more than 24 hours after the storm hit NAS Pensacola, and it could be days before the extent of the hurricane's impact on the western Florida base is known, said Steve Strickland, a spokesman for Navy Region Southeast. A spokesman for NAS Pensacola said late Wednesday that the base was largely without power and cellphone and internet communications in the area were sporadic.
Hurricane Sally made landfall early Wednesday morning as a Category 2 storm boasting 105 mph winds near Gulfport, Ala., and moved slowly across the Florida Panhandle at about 3 mph through the day, dumping rain for hours. The storm poured more than 2 feet of rain on the Pensacola area, leaving the city's downtown flooded. Federal forecasters warned even more flooding was likely in the area in the coming days as rain-swollen rivers and creeks were expected to overflow.
On Facebook, Naval Hospital Pensacola posted photographs showing wind damage to structures outside the facility, and water and other damage inside the hospital.
The hospital, including its urgent care facility, was to remain closed at least through Thursday after suffering storm damage and loss of power. Navy officials said they did not know when the facility might reopen. Dining facilities on the air station were set to reopen to service members and others on the base, officials said, but most other services, including child-care facilities, were closed indefinitely.
Officials at Eglin Air Force Base and Hurlburt Field, outside Fort Walton Beach, Fla., about 40 miles east of Pensacola, also said Thursday that they were conducting damage assessments after the storm.
National Weather Service forecasters warned the remnants of Hurricane Sally would bring heavy rain and potential flooding to southeast Alabama, Georgia and North and South Carolina through Friday. Officials at Robbins Air Force Base in central Georgia reported the storm, which remained a tropical depression, had caused flooding on that installation Thursday morning.
At least one person in the coastal Alabama city of Orange Beach died as a result of the storm, The Associated Press reported.
Meanwhile, Florida and Alabama National Guard troops were working Thursday to help civilian first responders in search-and-rescue and other missions after the storm cleared. More than 530 National Guard soldiers and airmen in those states were primarily responding to hurricane-impacted locations with high-water vehicles late Wednesday and Thursday.
Florida Guard troops evacuated 113 people stranded by the storm, as of Thursday morning, said Lt. Col. Caitlin Brown, a spokeswoman for the Florida National Guard.
Florida Guard troops were also preparing for other missions, including helicopter search-and-rescue, route clearance and delivering supplies such as prepackaged military meals to shelters, she said.
The Coast Guard also was conducting search-and-rescue operations in the region by helicopter and boat. On Wednesday afternoon, a Coast Guard shallow water vessel crew rescued nine people and a dog stranded by Hurricane Sally near Navarre Beach, Fla., officials said Thursday.
dickstein.corey@stripes.com Twitter: @CDicksteinDC