Most National Guard troops deployed in fight against the coronavirus now on federal orders
by
Rose L. Thayer
April 20, 2020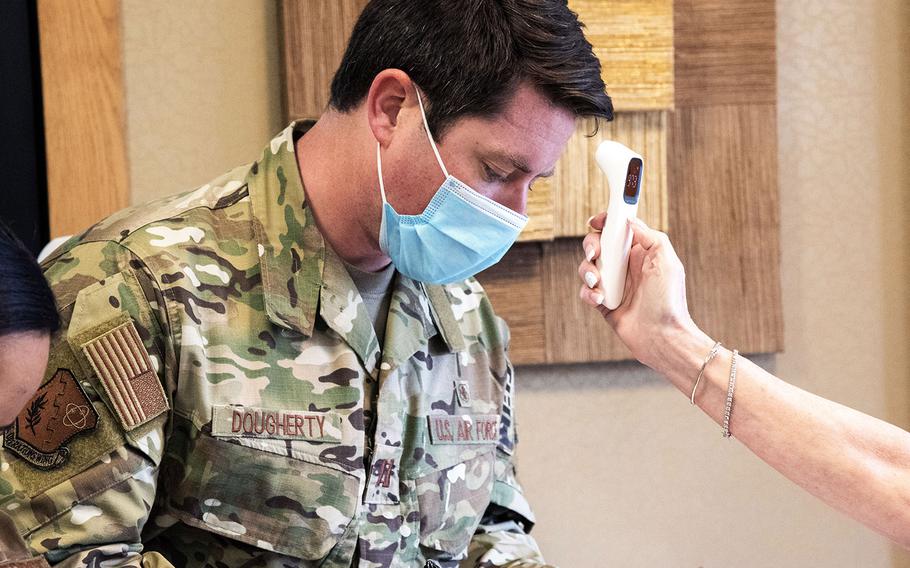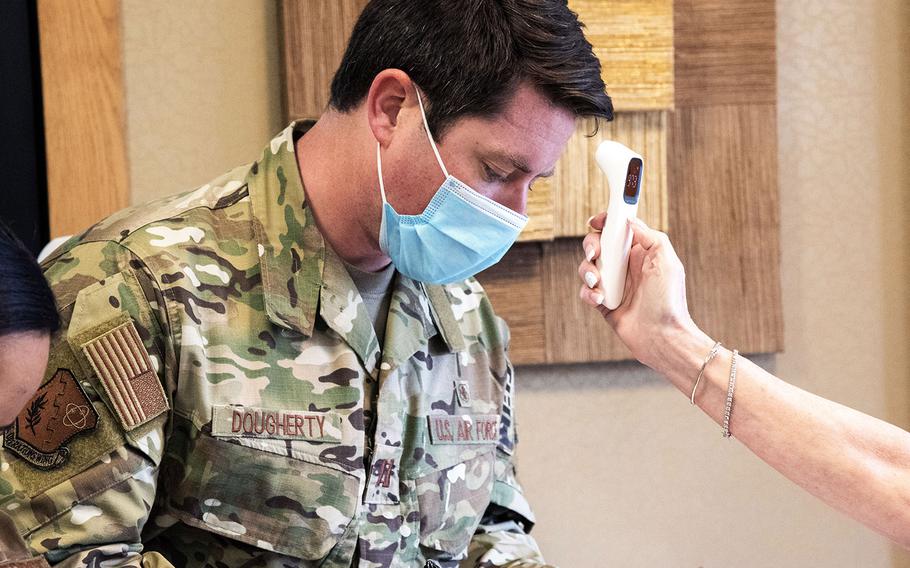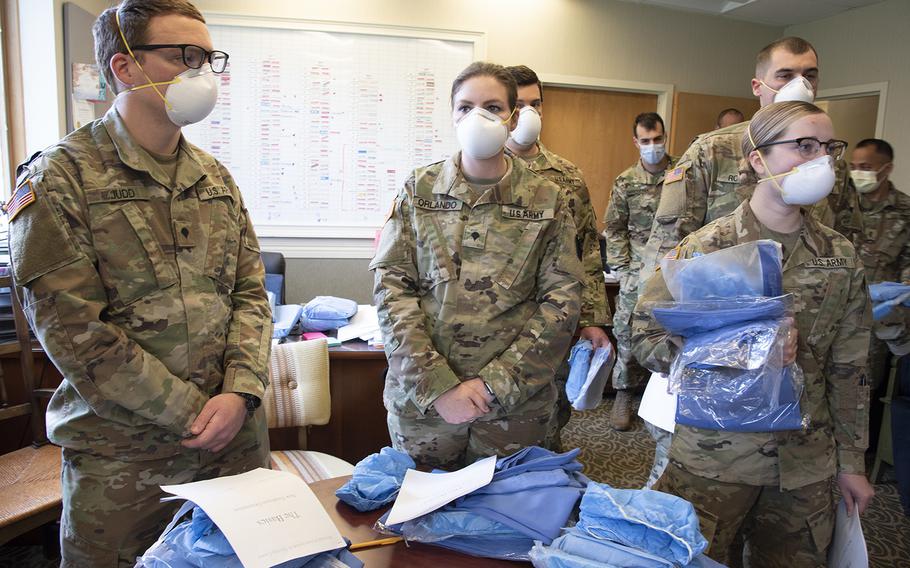 Stars and Stripes is making stories on the coronavirus pandemic available free of charge. See other free reports here. Sign up for our daily coronavirus newsletter here. Please support our journalism with a subscription.
For weeks, National Guard members have stood on the front lines of the coronavirus fight — and now the majority of the 36,750 troops deployed in every state and U.S. territory are working under a federal status that offers more benefits and military health coverage.
As of Monday, about 28,700 Guard members deployed within 38 states, three territories and Washington, D.C., are approved for federal funds known as Title 32, according to information from the National Guard Bureau. It provides governors federal funding for troops while maintaining state control of missions and allows troops to gain further benefits and protections such as worker's compensation, a death gratuity, GI Bill accrual, retirement points, Tricare health coverage and a housing allowance.
Guard missions in the fight against the pandemic include going into nursing homes to test patients and staff, collecting the dead alongside local mortuary services and working drive-thru testing sites where thousands of Americans are swabbed to check for the virus while sitting in their vehicles, according to the bureau. Others work in warehouses vital to getting food and supplies out to where they are needed most, answer phones that provide medical information and work alongside civilian industry partners to manufacture personal protective equipment. West Virginia even has enlisted the Guard's help in processing unemployment claims.
In Broomall, Pa., 18 of about 1,000 members activated with the Pennsylvania National Guard began filling personnel shortages Saturday at the Broomall Rehabilitation and Nursing Center. The military nurses and medics are working alongside civilians in 12-hour shifts to provide routine care to nonacute patients.
"It's something that we train for all the time, we're ready, we have the equipment and the experience and I'm pretty sure that is why we were tasked to do this mission," said Maj. Thomas Wagner, a nurse with the 193rd Special Operations Wing.
A team of 30 Wisconsin National Guard members entered the Milwaukee County House of Corrections to test collected specimens from about 950 staff and inmates. Another dozen of the 450 troops in the state are serving as medical and administrative staff at state-run, self-isolation facilities.
Illinois troops also are going into prisons, but to augment medical staff and to help separate prisoners who could have contracted coronavirus. Others of the more than 650 National Guard members activated are providing mortuary support to Cook County, home to Chicago.
The National Guard Association, an advocacy group for the service, continually has called for better medical support and protections for troops activated in response to the pandemic. First, it was to get troops onto federal orders. Later, they worked to ensure those orders were for more than 30 days, which is the required time for National Guard members to get Tricare for themselves and their families, as well as an allowance for housing.
Last week, retired Brig. Gen. J. Roy Robinson, the association's president, wrote to Matthew Donovan, the undersecretary of defense for personnel and readiness, to ask the Pentagon for a "preemptive determination" to make transitional Tricare available to Guard members once they leave Title 32 active duty. Similarly to when Guard members return from overseas deployments, it would ensure troops can keep the health insurance for six months to help with any possible post-deployment concerns.
"Given the fact that these servicemembers are being deployed to a health emergency, with the risk of contracting [coronavirus], providing transitional health care as they demobilize is prudent," Robinson wrote. "Soldiers and airmen exposed to this virus deserve health care coverage for themselves and their families to ensure continuous protections in the event that they contract the illness."
The Pentagon reported Monday that 672 National Guard members have tested positive for coronavirus, though it does not delineate between troops who are activated and ones who are not. Across all military branches, 3,438 service members have tested positive.
thayer.rose@stripes.com Twitter: @Rose_Lori