More than 900 Guard troops help fight California fires; some VA hospitals delay procedures
---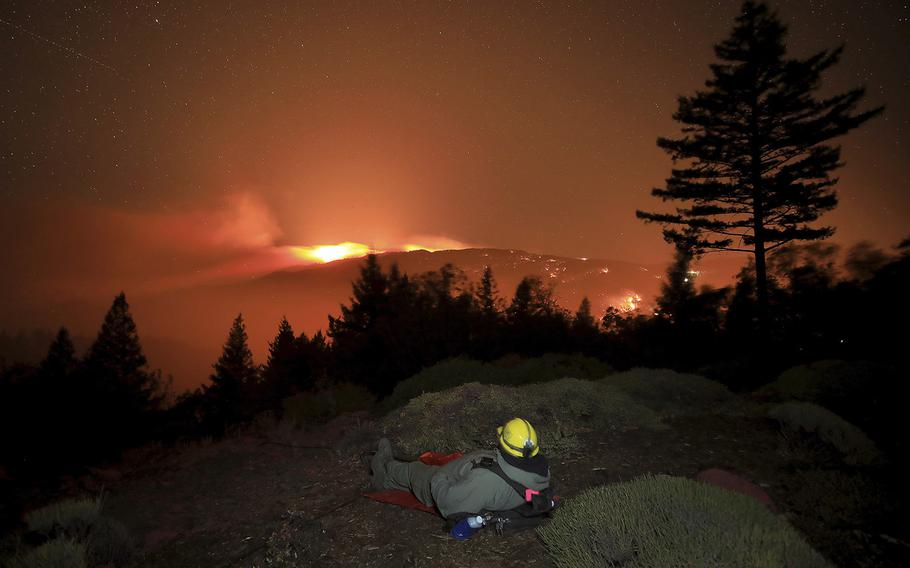 The California National Guard now has more than 900 troops helping combat the wildfires burning in northern parts of the state.
The Guard had deployed about 470 members Monday to help battling the fires. By Wednesday, the number of Guard members was doubled to assist fighting the 76,000-acre Kincade Fire in Sonoma County, said Lt. Col. Jonathan Shiroma, spokesman for the California National Guard.
Troop levels increased in part because a new group of Guard members arrived to offer relief for service members who initially deployed.
"There is some relief in place happening," Shiroma said.
Troops remain focused on traffic control but are on standby to contribute to firefighting operations, if asked, Shiroma said. Should that happen, the number of activated personnel would significantly increase.
The Kincade Fire has destroyed more than 200 structures, forced thousands from their homes and injured two first responders, according to the California Department of Forestry and Fire Protection, known commonly as Cal Fire. The fire is about 30% contained.
The National Guard has not been called to help in southern parts of the state, where wildfires have forced mandatory evacuations. The 745-acre Getty Fire near Los Angeles is 27% contained, according to the Los Angeles Fire Department. Its mandatory evacuation zone includes more than 7,000 houses and ends near the Veterans Affairs Greater Los Angeles Healthcare System's West Los Angeles medical center campus.
Facilities are open but on alert, according to a statement from the VA Greater Los Angeles Healthcare System. Officials activated an emergency operations center Sunday and continue to monitor the situation. On Tuesday, scheduled medical procedures were delayed to ensure a thorough review of the air quality and ensuring a safe environment of care, according to the statement.
"One of the biggest concerns is air quality for patients and staff," according to the statement. "Engineering personnel continually monitor the air flow and make necessary adjustments to units, so smoke does not enter the buildings. In addition, we deploy fans to maintain comfort for our in-patient care buildings. N95 respirator masks, which protect individuals from breathing in hazardous substances, are also available for veterans and staff."
The VA in Los Angeles also began outreach to veterans to help people who are particularly vulnerable or facing evacuation from their homes. Teams visited evacuation centers looking for veterans in need of services and some of them were identified and helped. Vulnerable populations include veterans who are homeless or receive home care, dialysis, chemotherapy, mental health, telehealth and nursing home services.
During the past the week, power outages from Pacific Gas & Electric Company left more than 900,000 Californians without electricity to prevent the fire from spreading. Power has now been restored to the majority of those residents, according to the company.
Thayer.rose@stripes.com Twitter: @Rose_Lori
---
---
---
---