More than 8,000 National Guard members deployed to combat coronavirus as three states get federal funding for troops
---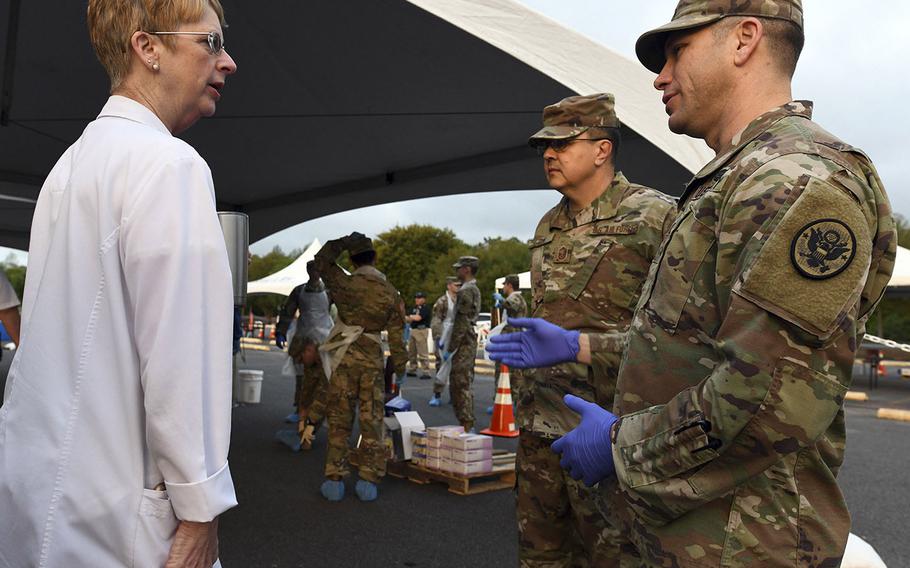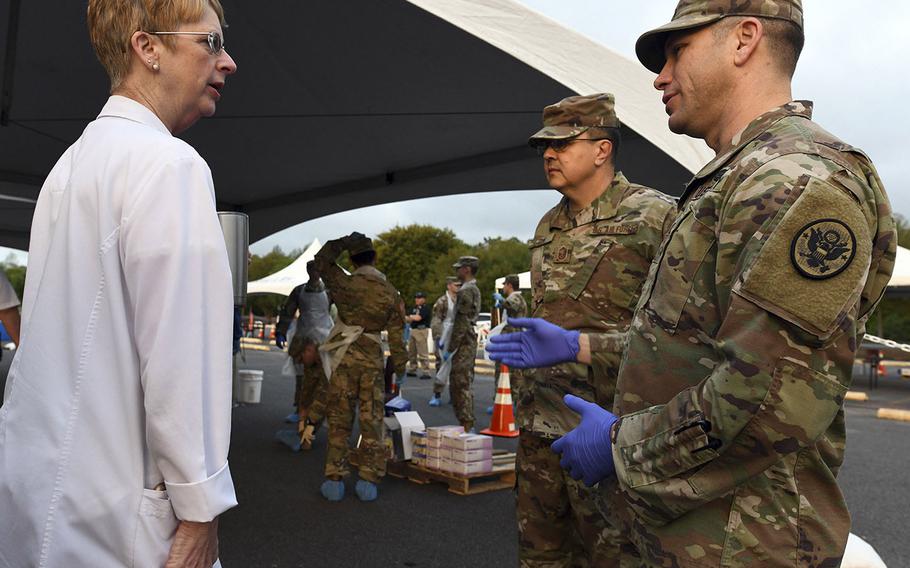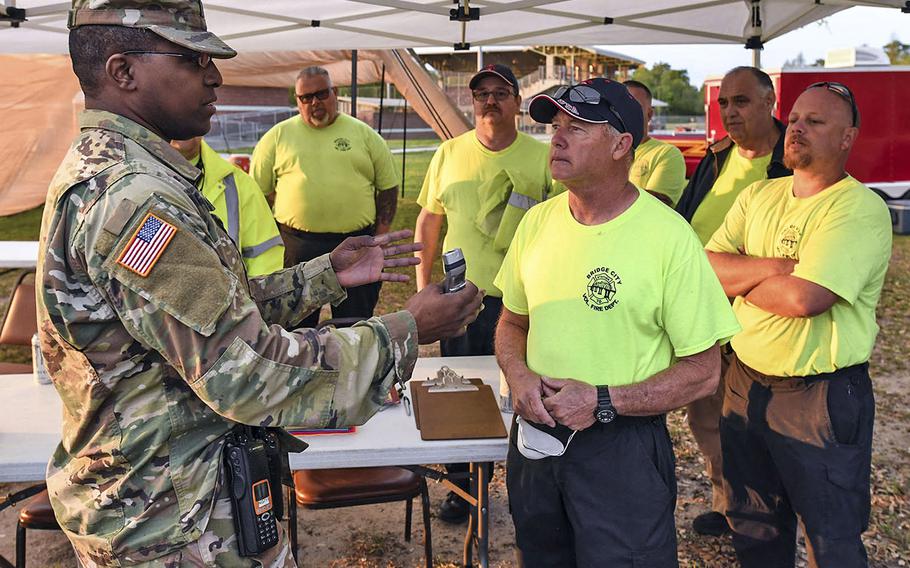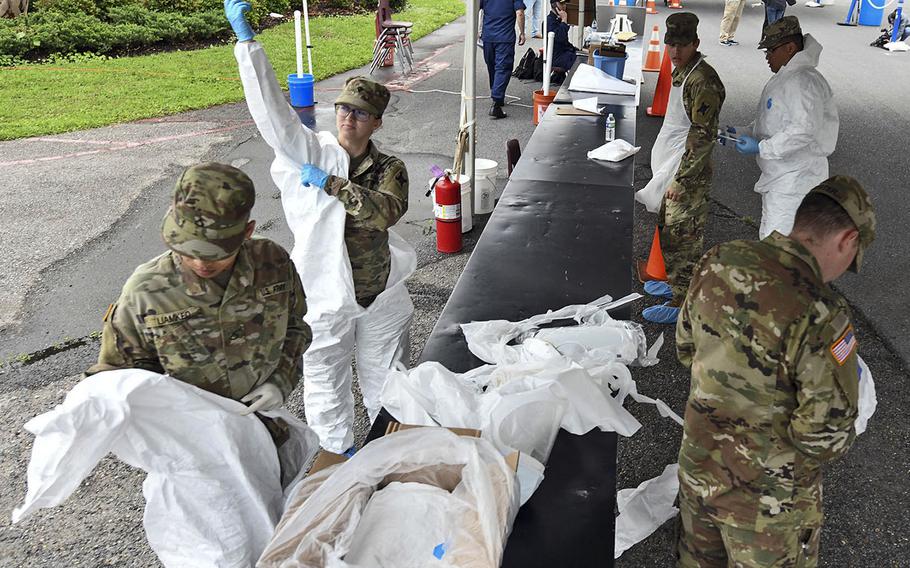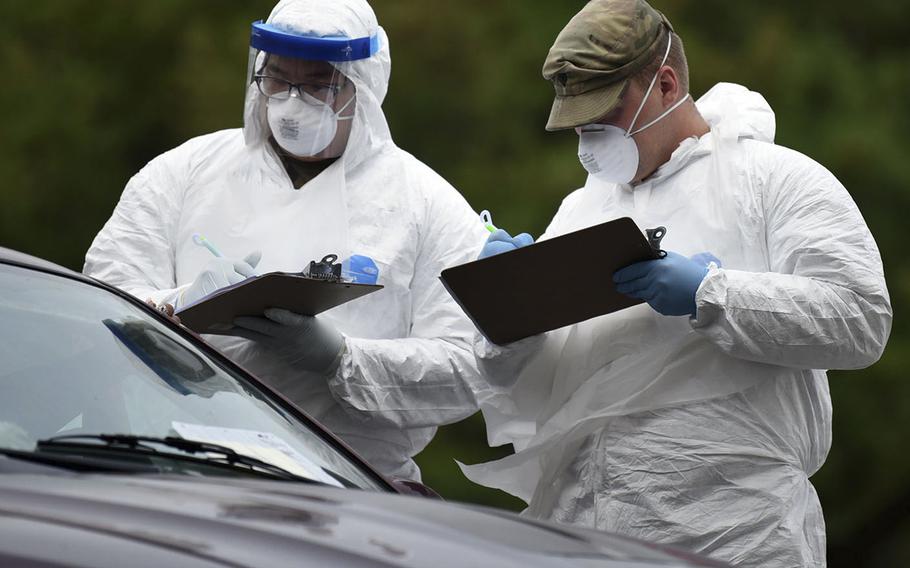 Stars and Stripes is making stories on the coronavirus pandemic available free of charge. See other free reports here. Sign up for our daily coronavirus newsletter here. Please support our journalism with a subscription.
More than 8,000 members of the National Guard, including some through federal funding, are working in all 50 states and four U.S. territories to help control the spreading coronavirus pandemic, which has now infected more than 41,500 Americans, the National Guard Bureau reported Monday.
President Donald Trump announced Sunday that National Guard members activated in California, New York and Washington are deployed under a federal status known as Title 32, which allows governors to continue to have control of the troops with funding from the federal government.
"In this case, it was the governors who asked the president for the authorization to do this," Air Force Gen. Joseph Lengyel, chief of the National Guard Bureau, said during a Sunday evening news conference. Governors and adjutants general know what the needs are in their states, he said.
The authorization will "help with unity and speed of response," Lengyel said, likening the coronavirus to a hurricane hitting all 54 states and territories at once.
Activating the National Guard costs about $8 to $9 million per 1,000 service members, depending on how many troops are activated and the duration of their duty, Lengyel said.
"Frankly, that's one reason that this speeds the response for the states. States aren't used to disasters that last this long," he said.
The federal status also helps the troops deployed in those states, because it makes them eligible for Tricare health insurance, education benefits and adds to their retirements, Lengyel said.
States with the largest number of activated troops include New York with 1,800, Maryland with more than 1,500 and Florida with 1,062.
In Florida, where there are more than 1,170 coronavirus cases, troops are helping at community-based testing sites in Broward, Orange and Miami-Dade counties, said 1st Lt. Tahisha Coleman, spokeswoman for the Florida National Guard. The Broward County site has seen more than 2,000 patients since it opened. Troops will conduct rehearsals and operational checks in Orange County, where the site is to open Wednesday, Coleman said. Development of an additional testing site at Miami's baseball stadium, Marlins Park, will be initiated in the coming days.
New York troops are working at drive-thru test sites in Long Island, Staten Island, the Bronx and in Rockland and Westchester counties, said Col. Richard Goldenberg, spokesman for the New York National Guard. These sites supported testing, which is done with a doctor's order, for more than 3,000 people Sunday.
New York is the state with the highest number of coronavirus cases, topping 20,000 as of Monday, according to Gov. Andrew Cuomo. More than half of those cases are in New York City.
Joint task forces continue operating on Long Island, in New York City and the Hudson Valley and Albany areas in support of state, county and local governments with two additional units now running in Syracuse and Buffalo.
The Maryland National Guard and Maryland Department of Health continue collaboration with Prince George's County for the establishment of a pilot health screening location at Fed-Ex Field in Landover, said Maj. Kurt Rauschenberg, spokesman for the Maryland National Guard. In conjunction with the Maryland State Police, troops will also assist Baltimore City with food distribution, while supporting state agencies with supply distribution at the Strategic National Stockpile.
Maryland has 288 confirmed cases of the virus, according to the state's health department.
"This truly is a neighbors-helping-neighbors situation and the exact reason why so many of us joined the Maryland National Guard," Rauschenberg said. "Marylanders should know that we'll have their backs throughout this crisis. We're in this together, we'll get through this together."
Louisiana, a state where the department of health reported the number of coronavirus cases has jumped to more than 1,100 during the weekend, has activated more than 500 soldiers and airmen to help at testing sites, primarily in the New Orleans area, according to a news release from the Louisiana National Guard. Across the state, troops are also providing medical support, engineering assessment support, shelter security, and liaison officer teams to emergency operations centers.
National Guard members are conducting a wide variety of other missions across the country, Lengyel said. However, he made it clear that there are no plans for troops to enforce quarantines, though the National Guard maintains its ability to conduct law enforcement activities under a Title 32 or state-duty status.
"There is just no truth to this rumor," Lengyel said, referencing social media posts that have claimed otherwise. In speaking with leaders in states, he said he's only heard of law enforcement missions that are similar to ones conducted in the aftermath of a hurricane or other disaster.
Thayer.rose@stripes.com Twitter: @Rose_Lori
---
---
---
---