More than 30,000 troops are in quarantine ahead of training, deployment
---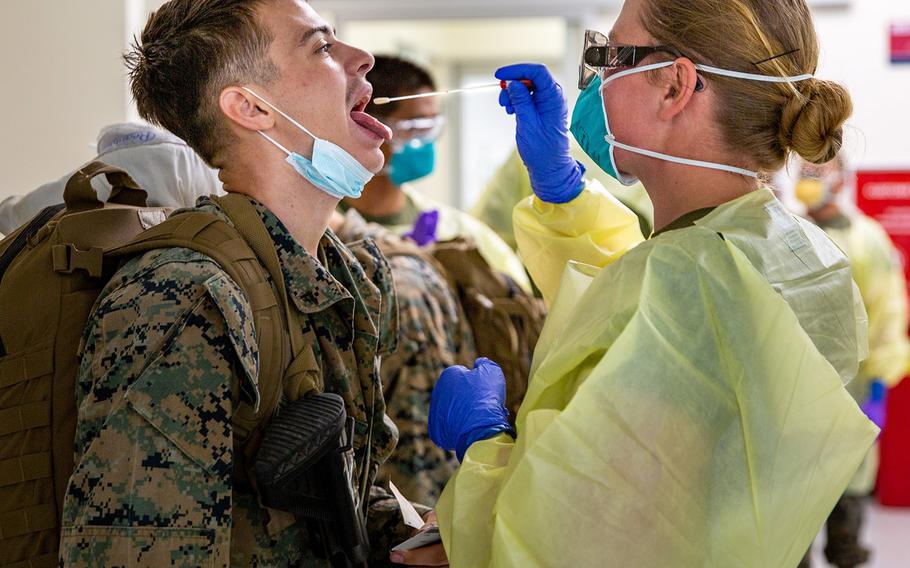 Stars and Stripes is making stories on the coronavirus pandemic available free of charge. See other free reports here. Sign up for our daily coronavirus newsletter here. Please support our journalism with a subscription.
WASHINGTON — Tens of thousands of service members are in quarantine to prevent the spread of the coronavirus ahead of their training or deployment, a senior military official said Wednesday.
"Today we have over 30,000 members of the military in a quarantine environment, because they're getting ready to deploy, they're getting ready to go on a ship, they're getting ready to go into basic training," said Air Force Gen. John Hyten, the vice chairman of the Joint Chiefs of Staff. "They're getting ready to go into an environment where, in order to stay safe and make sure we don't infect large numbers, we put them in quarantine."
Hyten spoke Wednesday during a discussion at the Hudson Institute think tank in Washington.
His remarks were the first time a senior military official has quantified the personnel impact of the Pentagon's effort to keep the force safe from the coronavirus ahead of training or deployment. He did not discuss how many people are in quarantine because of a positive test result for the virus.
"That's like an entire Army Corps in quarantine for two weeks. That's huge," Hyten said.
Each service has instituted quarantine for recruits attending basic training and advanced schooling. The Army is also requiring coronavirus testing and self-quarantine for soldiers and their families before overseas travel. Over 1,000 U.S. Marines in Darwin, Australia, have gone through two weeks of quarantine ahead of their training mission in the country, with the last group of Marines finishing this week.
The Navy has a policy to establish a clean "bubble" around a ship while it operates at sea, forcing sailors to quarantine and receive a negative test before being allowed to board their ship. The Navy has had sailors assigned to ships in port become infected, and two serious outbreaks occurred on ships while they were at sea, including the USS Theodore Roosevelt, which had over 1,100 sailors infected.
The additional weeks for quarantine are more of a strain on the families of the service members, according to Hyten.
"If you're deploying, you're going to be gone for six months, nine months, 12 months. Well then you add two weeks on the front of that and maybe two weeks on the back of that, that adds again to those capabilities," he said.
Hyten added that while there is stress on the force, the morale "is still positive."
As of Wednesday, the military has had 32,299 cases of the coronavirus, 520 hospitalizations and four deaths, according to the Pentagon's cumulative total case chart. The Army has had 11,140 cases, the highest of any service. The Navy has had 7,568 cases and the Air Force has had 5,073 cases as of Wednesday. The National Guard, which is assisting states with pandemic response, has had 4,223 cases, and the Marine Corps has had 3,991.
---
---
---
---