More than 150 National Guard troops activated for coronavirus response in four states
---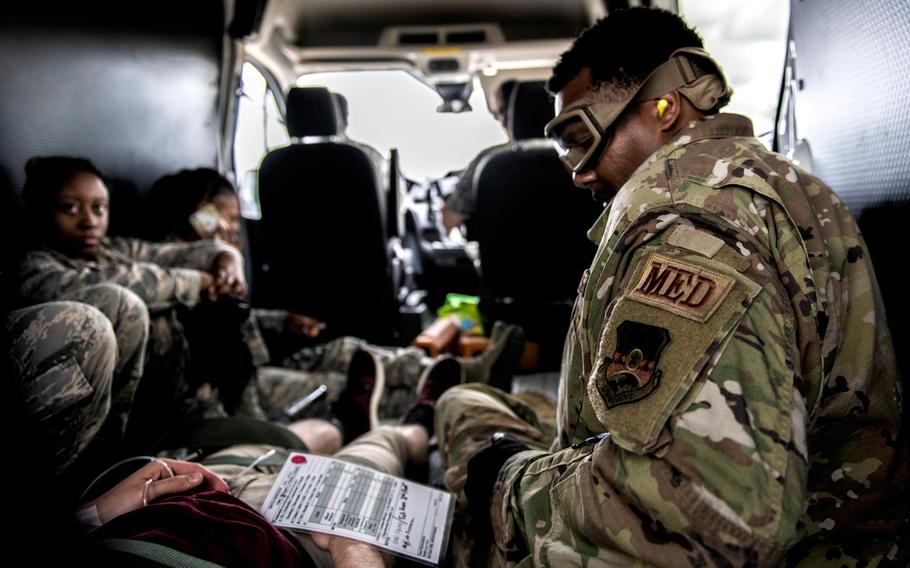 Read more coronavirus coverage from Stars and Stripes.
To combat the spread of coronavirus in hard-hit states, about 160 National Guard troops have been activated to do tasks such as cleaning public spaces, coordinating logistics and supporting state emergency centers, according to information from the National Guard Bureau in Washington.
The governors of more than a dozen states have declared emergencies, which gives them the option to activate their National Guard under "state active duty," which is sourced and paid for by that state. So far, Florida, New York, Rhode Island and Iowa have utilized this option, according to the bureau.
"As other states stand up or right-size their support to requests from civil authorities those numbers can change rapidly," said Master Sgt. Michael Houk, National Guard Bureau spokesman.
In New York, where the bulk of the 160 service members are activated, troops are assisting with disinfecting and cleaning common public spaces and assisting health care providers. Most of this work is in New Rochelle, where there is a cluster of positive coronavirus cases, which is also referred to as COVID-19.
With more than 215 cases statewide, 121 of them are in Westchester County, where New Rochelle is located, according to the New York State Department of Health.
The Rhode Island National Guard is providing liaison assistance to that state's Department of Health, Houk said. That state has five presumptive positive cases of the respiratory illness, according to the state health department.
Florida National Guard troops are helping with logistics for the state emergency operations center, Houk said. Two Florida residents died from coronavirus and another 34 people within the state have tested positive, according to the Florida Department of Health.
Troops in Iowa are working with the state joint operation center, which is ramping up its capabilities, Houk said. That state has 14 positive cases, according to a news release from the governor.
"Though we are monitoring closely, National Guard Bureau is not currently tasked to support any state-to-state requests for assistance regarding COVID-19," Houk said. "This may change, and should it be required, we are postured to play a critical role in COVID-19 response alongside officials from both state and lead federal agencies."
Other states that have declared an emergency, but at this time have not utilized their National Guard include Colorado, Massachusetts, California, Washington, Oregon, Utah, Maryland, Kentucky, North Carolina, New Jersey and Washington, D.C.
Nationwide, there are more than 1,300 confirmed cases of the virus and 38 deaths, according to the Johns Hopkins Coronavirus Resource Center.
Thayer.rose@stripes.com Twitter: @Rose_Lori
---
---
---
---