Moran's private emails to disciplined officer violated Pentagon policy, IG says
by
Chad Garland
August 28, 2019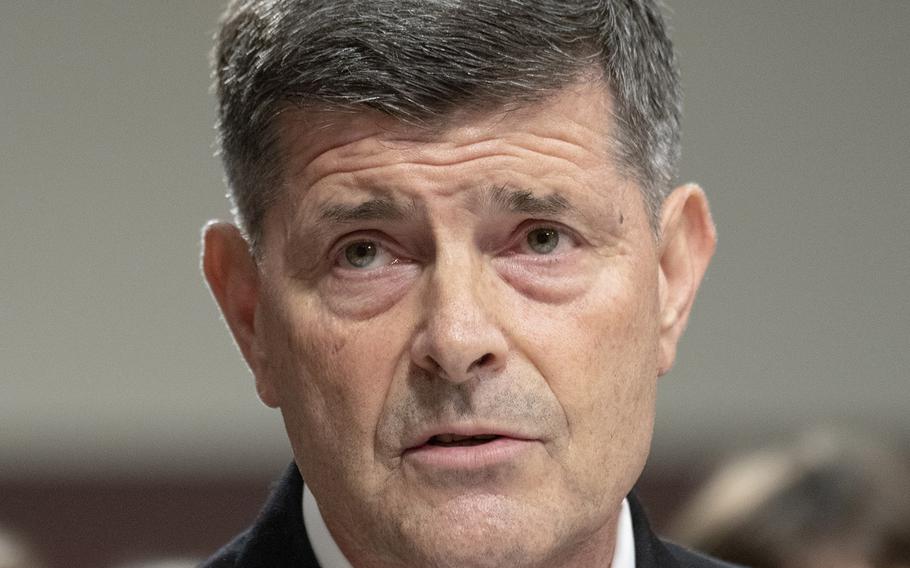 Retired Adm. Bill Moran showed poor judgment and broke Pentagon rules by using his personal email account to conduct official communications with a former officer who had been disciplined for sexual misconduct, an investigation has found.
Moran's use of his private email account to conduct Pentagon business as the vice chief of naval operations violated Pentagon policies, the Defense Department Inspector General said in a report released Wednesday.
Moran had been tapped as the next chief of naval operations earlier this year but declined the nomination and abruptly submitted his retirement in early July, shortly after his use of private email to communicate with the former officer and other Navy personnel came to the attention of his superiors.
In response to the IG's findings, Moran said that he continued to consult with the former officer — who had previously been identified as former Cmdr. Chris Servello — because the Navy's top public affairs office "was a mess" and because Servello was a talented communicator who deserved another chance.
Investigators had previously found that Servello, dressed as Santa Claus, behaved inappropriately with three female colleagues at a December 2016 Pentagon holiday party.
Servello was removed from Chief of Naval Operations Adm. John M. Richardson's staff and sent to a position where, Richardson told Congress, he had no influence or leadership responsibilities.
Richardson was concerned to learn that Moran continued to consult with Servello, he told investigators.
It was no surprise that Moran, who was a friend of Servello's, had stayed in contact, Richardson said, but a quick scan of the emails showed the ousted officer was writing speeches, offering public affairs advice and helping Moran prepare for congressional testimony.
It amounted to Pentagon business being done on private email, "done with [the Navy commander] who was very visibly disciplined and dismissed from my staff."
The IG also rebuked Richardson last year for not disciplining Servello sooner, following the holiday party.
The IG reviewed more than 570 pages of emails from Moran's Gmail account, dated from the day after the holiday party in 2016 through June 5 of this year, days before his tenure as the second-highest Navy officer ended. Besides Servello, Moran's personal account included messages to 12 other Navy employees.
The emails came to light after a reporter filed a Freedom of Information Act request.
Moran defended his use of private email, saying he started using it for work purposes in 2013, while traveling extensively. He said personal email allowed him to "get at and read things quickly in an airport, in a car, in a train, whatever it is" because government-issued devices and systems were unreliable.
But DOD policies prohibit the use of personal email accounts for official communications, the IG report said, and "convenience is not an acceptable reason" to use such accounts. Moran also hadn't sought an exception to policy, it found.
In an email to senior Navy leaders after Moran submitted his request to retire in July, Richardson wrote that "the nature of his collaboration (with Servello) made it untenable for him to serve as the CNO."
garland.chad@stripes.com Twitter: @chadgarland