Mold in Fort Meade military housing sparks 10 families to file lawsuit
---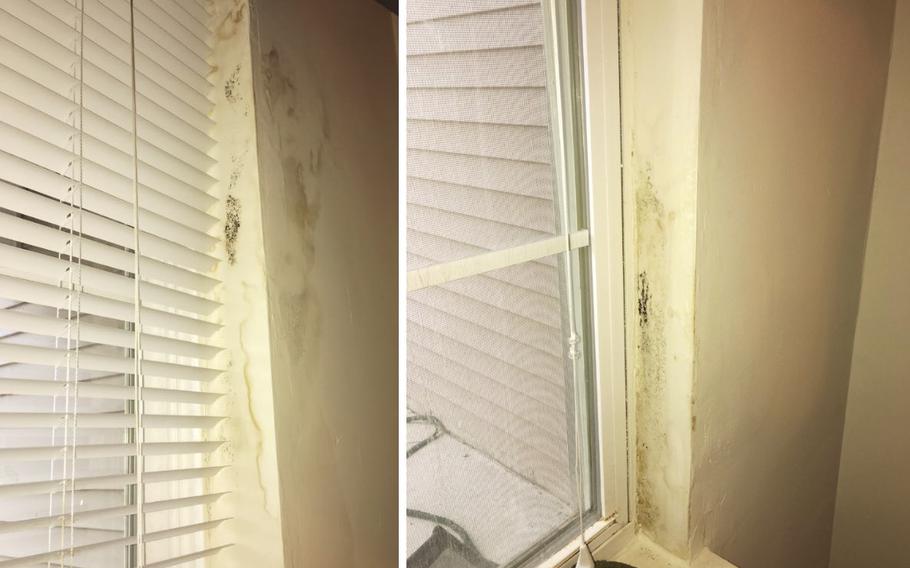 Ten military families filed a lawsuit Tuesday against the company responsible for on-base housing at Fort Meade, Md., because they were provided mold-infested residences and offered insufficient remediation efforts, according to court documents.
The lawsuit, filed in the U.S. district court for Maryland against Corvias, the private property management company responsible for housing at Fort Meade, and its subsidiary Meade Communities, states maintenance requests went ignored or received substandard responses that did not fix the underlying issues in the homes.
The problems cited in the lawsuit filed by the Fort Meade families are similar to complaints raised in another lawsuit filed two weeks ago by eight families living in base housing on an Air Force installation in Texas managed by Hunt Military Communities. In September, a San Diego jury awarded $2 million to a Marine Corps family for mold problems in family housing managed by Lincoln Military Housing, another of the 14 private companies that manages base housing. Another Marine Corps family also received $350,000 in a lawsuit against Lincoln in Virginia in 2016, though it took more than five years to conclude the case.
The latest two lawsuits come after a year of scrutiny over living conditions in on-base housing sparked by a Reuters investigation that made public the ongoing problems of mold, pest infestations and poor maintenance faced by military families.
The 14-count complaint filed Tuesday seeks damages "in an amount to be proven at trial" from Corvias to cover expenses related to economic harm, medical expenses and mental anguish of the 10 Fort Meade families named in the suit, as well as a class-wide injunction requiring Corvias to arrange for independent certification of safe housing and prohibiting the company from receiving any service members' housing allowance for a property that has not been certified.
"We are honored and privileged to represent these brave service members and their families pro bono," said Benjamin Block, a former Army officer who is leading the 10-attorney team from Covington, an international law firm with offices in Washington that filed the lawsuit. "While it should not require a lawsuit to ensure that our military families are not exposed to toxic mold while living on base, we are committed to seeing this case through to the end."
The injunction would require Corvias take court-ordered actions to ensure that military families do not endure these living conditions again, Block said.
Corvias spokeswoman Kelly M. Douglas said Tuesday that the company is aware of the lawsuit.
"[The lawsuit] does not reflect the significant resources, attention and rigor that has been brought to assuring quality resident housing," she said.
The case against Corvias follows testimony by the company's founder and CEO John Picerne before the Senate Armed Services Committee. He told committee members in February that he was hiring resident-service specialists at Fort Meade to "focus 100 percent on local resident needs" so they could speak to a "local Corvias team member, down the street, when they have a problem," according to the lawsuit.
The 92-page suit outlines the housing conditions each family faced, the responses from Corvias and the health conditions that the families believe were caused by the mold in their homes.
The families suing are Army Sgt. Joseph Addi and his spouse Juliea, Navy Petty Officer 2nd Class Kylie Bowers, her spouse Antoine and their son, Navy Petty Officer 3rd Class Derek Buitrago, his spouse Sandra and their two sons, Navy Senior Chief Petty Officer Daniel Chubb, his spouse Casey and their four children, Army Col. Scott Gerber and his spouse Sandy, Navy Petty Officer 3rd Class Andrew Gilliland and his spouse Shannon, Air Force Master Sgt. Alexander Nunez, his spouse Liza and their two children, Army Sgt. 1st Class Youn Pascal, his spouse Noreen, their four children and his mother, Coast Guard Petty Officer Tyquan Scullark, his spouse Chauntay and their four children, and Army Sgt. Andrew Ziemann, his spouse Kelly and their three daughters.
When Sandy Gerber went to visit her mother in Texas during lung cancer treatment, her mother had an acute respiratory attack from breathing the mold spores that traveled on Gerber's clothing. They called 9-1-1, and Gerber had to throw out everything that she'd traveled with before her mother could return home. Gerber's mother developed a fungal infection believed to be related second-hand mold exposure that will require surgery, according to the lawsuit.
The Gerbers eventually hired their own private home inspection company to test their house for mold and then paid the expense for other families battling mold in their homes. The Gerbers found on multiple occasions that Corvias used industrial-strength, air-filtration machines in homes prior to air-quality testing to sway the results, according to the lawsuit.
Chauntay Scullark, a wigmaker working primarily with cancer patients, had to trash her entire stock of hair pieces because of mold contamination and its potential to harm her vulnerable clients, according to the lawsuit.
The Ziemanns lost power for two weeks in the winter of 2018 and Corvias told them that there were no temporary units available for them during that time, leaving them to rely on friends who opened their homes to the family.
The Buitragos repeatedly requested maintenance for water leaks and mold, but workers would just wipe away the mold and paint over it, according to the lawsuit. The couple maxed out their credit cards purchasing carpet cleaners, air purifiers and fans to combat the leaks themselves. Their electricity bills increased to a point that Derek Buitrago took a second job at night and donated plasma twice a week to generate extra income.
The family has since moved to Camp Lejeune, N.C., where the couple continues to sleep on an air mattress, because their mattress, along with most of their furniture and their children's toys, had to be thrown away because of mold contamination. They can't afford to replace it.
Corvias, which manages military family housing at 15 bases in nine states, signed a 50-year contract in April 2002 to operate base housing at Fort Meade in "good order and in a clean, safe condition" at its expense, according to the lawsuit. This includes Fort Meade's five neighborhoods of 500 to 700 homes, one smaller neighborhood of 112 historic homes and the commitment to construct additional housing on base. The contract also states Corvias should uphold Maryland's housing standards, so the 14 counts outlined in the lawsuit include a handful of violations of state real estate regulations, along with violating the Servicemembers Civil Relief Act, negligence, civil conspiracy and fraud.
In September, Picerne discussed a $325 million investment at six bases, including Fort Meade. He said Fort Meade has a large inventory of two-bedroom homes that no longer meet the needs of military families because of their size. Converting them to three- or four-bedroom homes is too costly, therefore, they deferred maintenance in these homes in anticipation of replacing them. Plans to do so were delayed.
"You have lesser systems in there to monitor temperature, humidity and so forth, so you do have a problem with air infiltration, water infiltration," he said at the time. "The cost of maintaining goes up, the challenges the families have goes up."
Corvias has reduced the rent of these homes below the service member's basic allowance for housing rate, but that doesn't do it justice, Picerne said.
Thayer.rose@stripes.com Twitter: @Rose_Lori
---
---
---
---