Milley warns of 'social breakdowns' in other countries facing coronavirus; US crisis could last months
---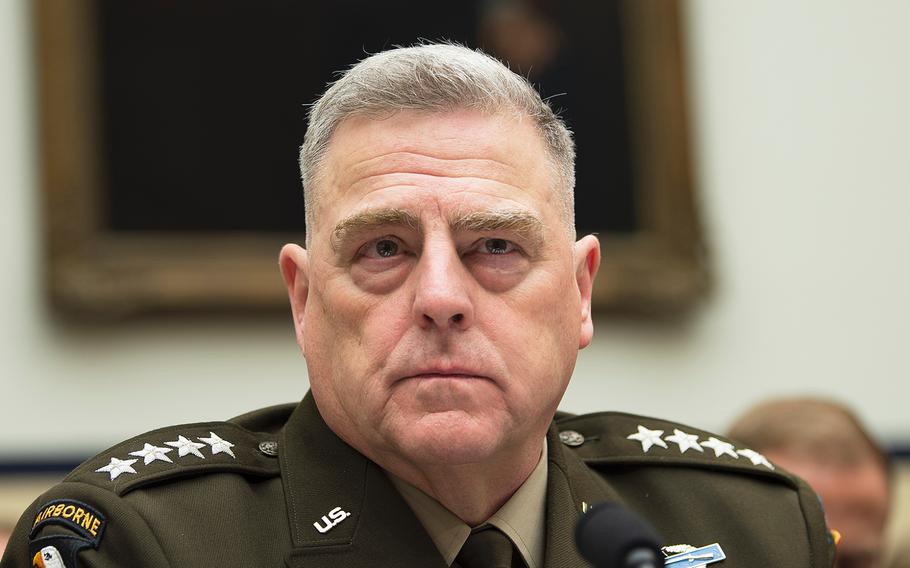 Stars and Stripes is making stories on the coronavirus pandemic available free of charge. See other free reports here. Sign up for our daily coronavirus newsletter here. Please support our journalism with a subscription.
WASHINGTON — The coronavirus crises is likely to last several months in the United States and could cause political discord elsewhere, the U.S. military's top general warned Tuesday as Defense Department-related illnesses eclipsed 300 worldwide.
Government forecasts predict the coronavirus will continue to spread throughout the United States for roughly three months based on its impacts on other nations, said Army Gen. Mark Milley, the chairman of the Joint Chiefs of Staff. He and Defense Secretary Mark Esper urged the U.S. military community to prepare to take health protection measures, which could include social distancing, possibly into the summer months.
"You're looking at probably late May, June, maybe something as late as July," Milley said during a virtual town hall broadcast with Esper from the Pentagon. "But we will get through it. It's not a question of when. We will get through it, and we'll pull together as a country and a military and we … will do whatever is required to defend the people of the United States."
The Pentagon also announced Tuesday that 340 Defense Department-linked individuals throughout the world had tested positive for the coronavirus, an increase of 91 cases since Monday. The cases included 191 service members, of which 17 had recovered as of Tuesday. Nine troops across the force were hospitalized by the virus on Tuesday, the Pentagon said.
The town hall briefing came one day after Esper upgraded the "health protection condition" for the Pentagon, increasing it to HPCON Charlie as dozens of other installations across the United States had already done. For the Pentagon, the increase to the second highest health threat level meant the closing of several entrances to the military's Arlington, Va. headquarters and limiting building access almost exclusively to those individuals — civilian and military — deemed mission essential.
Esper said Tuesday that Pentagon employees who can work from home should be prepared to do so for the foreseeable future. He urged supervisors and commanders to allow their subordinates to telework as long as the crisis continued. He previously said more than 60 percent of the Pentagon workforce had been teleworking since last week.
"I think we need to plan for this to be a few months long, at least. We're taking all precautionary measures to do that — to be in it for the long haul," Esper said. "We're going to telework as long as necessary to ensure we are beyond the coronavirus crisis … as much as possible so we can protect our people while performing our mission."
Both of the top Pentagon officials downplayed the impact the virus could have to the military's combat readiness. Some training for troops has continued, including most home-station training and major deployment preparation operations. However, services have scaled back or canceled completely some training exercises.
Those decisions will have some impact on combat readiness, Milley said, but he expected they would be minor in scale.
The general said what worries him are the impacts that the virus could have across the globe on the security and economic spectrums, which have the potential to alter the landscape for the U.S. military, which has spent nearly two decades focused on counterterrorism and is in the process of preparing primarily for potential fights against key power rivals, namely China and Russia.
"This is effecting different countries differently, and it depends on the level of rigor and the robustness of medical facilities, capacity inside each country," Milley said. "It could, in some cases, lead to social breakdowns. It could lead to political chaos in certain countries. We have to be attuned to that."
Among his concerns are issues with resources needed to combat the virus, personal protective equipment such as masks are in short supply in the United States and in other nations. Other critical components to responding to the coronavirus such as ventilators and hospital bed space are scarce not only in the United States but in nations all across the globe.
"These can have severe internal consequences to certain countries that go well beyond the immediate medical issues," Milley said, warning of the potential for uprisings without specifying what nations most concerned him.
Esper said such an issue could cause U.S. political rivals and military adversaries to react in ways that they might not under normal conditions. Iran, for example, has been struck hard by the virus with more than 21,000 confirmed cases and 1,685 deaths as of Monday, according to World Health Organization statistics.
The defense secretary urged commanders to stay vigilant across the globe for new threats.
"With potential adversaries or adversaries [the coronavirus outbreak] may cause them to act out in different ways that impact our security posture," Esper said. "We need to be very conscious, on the lookout for that, as this unfolds."
dickstein.corey@stripes.com Twitter: @CDicksteinDC
---
---
---
---