Military seeks to learn lessons from coronavirus, just as it did during Asian Flu pandemic
by
Seth Robson
May 12, 2020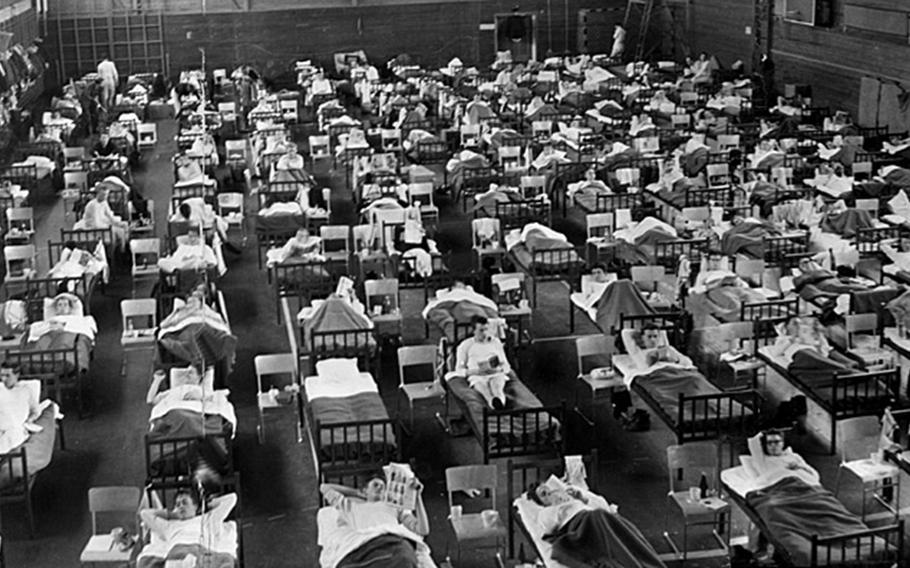 Stars and Stripes is making stories on the coronavirus pandemic available free of charge. See other free reports here. Sign up for our daily coronavirus newsletter here. Please support our journalism with a subscription.
Studies of the coronavirus' impact on the U.S. military will result in long-term changes to the way forces operate, according to a sociologist who studied the military response to the HIV/AIDS pandemic.
Teams of researchers and medical experts deployed to Guam last month to examine the coronavirus outbreak on the aircraft carrier USS Theodore Roosevelt, the U.S. Naval Institute News reported April 12.
Their findings will likely lead to changes in the way the Navy operates, said Michael Bartos, an honorary associate professor of sociology with Australia National University and an expert on HIV and its impact on military forces.
"It will result in some revision to the way [military leaders] think about infection control on ships," he said, comparing the coronavirus' impact on warships to how it's affected the cruise industry, which has ground to a halt following numerous infections and passenger deaths.
The Navy will require a more stringent regime of onboard infection control, Bartos predicted.
"Ships might need to be compartmentalized more," he said. "It might be people don't move between various areas of the ship in order to control outbreaks."
Military forces are well placed to contain the disease because of their history of pragmatic approaches to protecting troops from sexually transmitted diseases and hierarchical command systems giving leaders power to order effective public health measures, he said.
Meanwhile, Pacific Air Forces is studying the coronavirus so intensely that its command historian, Donald Fenton, was too busy to conduct a telephone interview with Stars and Stripes last week.
"The Historian office both here at Pacific Air Forces Headquarters and around the [region] are currently treating [the coronavirus] as a military contingency operation, somewhat similar to what we did for Operation TOMODACHI," he said in emailed comments, referring to the U.S. military's response to Japan's devastating earthquake and tsunami in 2011.
Historians are focused on collecting and organizing documents and attending meetings about things going on in the Indo-Pacific, Fenton added.
"We are capturing Pacific Air Forces Headquarters response and the impacts COVID-19 is having across the [region]," he said, using the World Health Organization's official name for the coronavirus.
The disease has made the historians' work tougher, since they can't travel to far flung bases because of a stop-movement order, Fenton said.
The military's response to the coronavirus is a lot more proactive than it was during the Asian Flu pandemic of 1957-58 that killed an estimated 1.1 million worldwide and 116,000 in the United States, according to the Centers for Disease Control and Prevention.
Stars and Stripes reports from the time included advice from doctors telling people to wash their hands and stay home from work if they feel sick.
However, the newspaper, on Sept. 7, 1957, quoted a spokesman for the U.S. Air Forces Europe surgeon's office who said the Asian Flu had not reached "serious proportions" despite 1,250 cases among airmen in Europe.
"The proportion of cases throughout the command has not, to our knowledge, reached a point where we should curtail public gatherings of other than very large crowds," he said.
Data collected about the coronavirus should be prepped for use in the next pandemic, the head of U.S. naval forces in Europe and Africa said April 30, according to USNI News.
Adm. James Foggo proposed a "GERMEX" drill with allies that focuses on force protection, the report said. Lessons learned should become part of the military's routine.
"No matter how tough this thing is, we just can't let our guard down," Foggo said. "Our other adversaries are not going to take a knee."
It's a case of history repeating itself. Stars and Stripes ran an Associated Press report on Jan. 22, 1958, quoting Maj. Gen. William Creasy, the Army's chief chemical officer, who said the U.S. was studying the Asian Flu pandemic "as though it simulated a biological warfare attack."
Russian leaders had made it clear that bacteriological weapons would be used in future wars, he said at the time.
Creasy said Asian Flu, which had infected an estimated 15 million to 20 million at that time, was a rare opportunity to collect data that could be of utmost importance in estimating the extent of damage that might be expected from biological warfare.
Bartos, however, said it seems unlikely that the coronavirus could be weaponized since it has naturally spread worldwide without help from an adversary.
robson.seth@stripes.com
Twitter: @SethRobson1