Military recruits are being screened for coronavirus before heading to basic training
---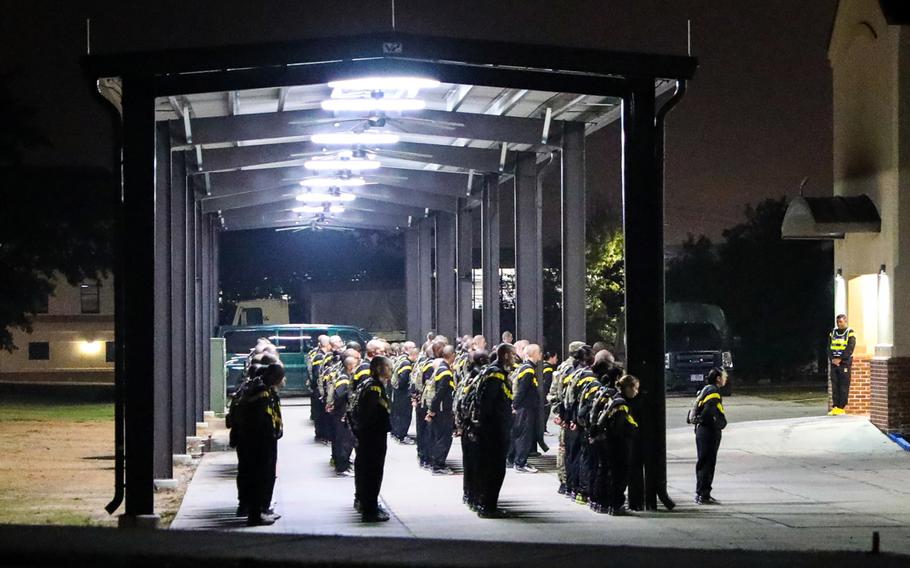 WASHINGTON — New military recruits heading to basic training are being screened for the coronavirus in order to prevent its spread to the force, military officials said.
The Army started screening recruits Tuesday, and the Navy has been screening during the initial processing of recruits since January, said Cmdr. Dave Hecht, a spokesman for the Chief of Naval Personnel, in an email to Stars and Stripes.
"This additional screening assesses a trainee's exposure to infected persons, international travel and a medical screening for [coronavirus] like symptoms," said Leslie Ann Sully, a spokeswoman for Fort Jackson, S.C., where half the Army's recruits go through basic training. "Units are conducting preparations in the event a soldier, family member or civilian employee" is diagnosed with the coronavirus.
Other Army basic training centers conducting screenings include Fort Benning, Ga.; Fort Leonard Wood, Mo.; and Fort Sill, Okla., according to an email from Army Col. Rich McNorton, a spokesman for U.S. Army Training and Doctrine Command. All recruiting stations are also screening recruits who are within three days of being shipped to basic training.
The Air Force is also screening and taking temperatures of all recruits at the Military Entrance Processing Stations before they depart for basic training, according to a statement from Air Education and Training Command.
New recruits are being questioned on whether they have visited an area where there are documented coronavirus cases or come in contact with someone who has been diagnosed. The recruits are also evaluated for symptoms of the virus, such as fever.
If a recruit has been identified as having symptoms or being a risk they will be given a follow-up assessment by medical personnel, Hecht said. As of Tuesday, Navy Recruit Training Command has not had any recruits that required further action.
The Army has not had any recruits or trainees placed in quarantine, McNorton said.
As of Friday, seven people affiliated with U.S. Forces Korea have been infected with the virus, including a soldier and his wife. Defense Department labs have performed testing for 21 patients, according to the Defense Health Agency.
U.S. Central Command announced Friday that a soldier in Kuwait has been screened for the virus and is under quarantine as a precautionary measure. In the United States, as of Friday, there have been 260 confirmed cases and 14 deaths, according to the John Hopkins University coronavirus resource center.
President Donald Trump signed an emergency bill Friday to direct $8.3 billion to address the coronavirus in the United States. Most of the money will go toward state and local governments over the next 30 days for their efforts to respond to the virus, Politico reported.
Stars and Stripes staff writer Steve Beynon and Kim Gamel contributed to this story.
---
---
---
---