Military only advises war as 'the last resort,' Army chief of staff says
by
Corey Dickstein
September 8, 2020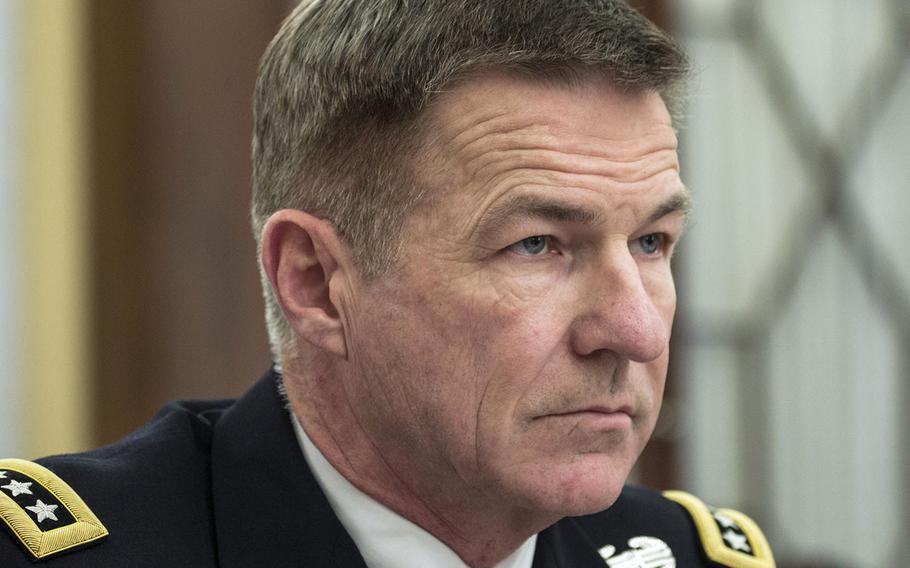 WASHINGTON — The Pentagon's top leaders only advise presidents to send American troops into combat when absolutely necessary, the Army's top general said Tuesday, one day after President Donald Trump accused military brass of being beholden to the weapons industry.
"I can assure the American people that the senior [Pentagon] leaders would only recommend sending our troops to combat when it's required for national security and [it is] the last resort," said Gen. James McConville, the Army's chief of staff. "We take this very, very seriously in how we make our recommendations and … I feel strongly about that."
Trump speculated Monday during a White House news briefing that top Pentagon leaders did not particularly like him because he was seeking to end long wars in the Middle East and Afghanistan.
"I'm not saying the military's in love with me — the soldiers are," Trump said. "The top people at the Pentagon probably aren't because they want to do nothing but fight wars so all of those wonderful companies that make the bombs and make the planes and make everything else stay happy."
McConville, speaking during a virtual event hosted by the Defense One news organization, declined to comment specifically on Trump's assertion. He said the military must remain out of politics.
"We live in a political environment, but we're an apolitical organization," the general said. "And, I think, it really must remain that way, especially with an election coming up."
McConville said many of the top uniformed officials — generals and admirals — who advise presidents on sending troops into harm's way have children serving in the military. Many of their children have served in combat or could be sent to war, if those leaders urge presidents to take military action, he said.
McConville has three children and a son-in-law now serving in the Army, most of whom have served combat deployments.
Trump's comments were not directed specifically at top generals, admirals or Defense Secretary Mark Esper, Mark Meadows, Trump's chief of staff, claimed Tuesday. He insisted they were instead aimed at the "Military Industrial Complex."
"This president is consistent about one thing: If we're going to send our sons and daughters abroad to fight on our behalf, he's not going to let some lobbyist here in Washington, D.C., just because they want a new defense contract, suggest that they need stay abroad one minute longer than they should," Meadows told reporters at the White House. "He's been consistent about stopping these endless wars."
Trump has pulled thousands of troops from combat zones in recent months. As a result of an unprecedented agreement with the Taliban in Afghanistan reached in February, the U.S. military has begun to draw down from more than 14,000 troops at the beginning of the year in that country to reach about 5,000 in the coming months, Pentagon officials have said. Trump has also withdrawn hundreds of service members from Syria, where several hundred troops remain. Trump said last month that he intends to begin removing some troops from Iraq — where some 5,200 remain — in the near future, but Pentagon officials have not confirmed such plans.
"Some people don't like to come home," Trump said Monday. "Some people like to continue to spend money."
Trump's statements came after he faced backlash in recent days for media reports that he called fallen and captured American service members "losers" and "suckers" in 2018 when he canceled a visit to a French cemetery for Marines killed in the Battle of Belleau Wood during World War I.
Trump and other White House officials have denied the accusations first raised by unnamed sources in a story by the Atlantic on Thursday. Other news organizations including The Associated Press and Fox News on Friday reported they had confirmed some of the Atlantic's initial reporting.
"Only an animal would say a thing like that," Trump said Monday of the comments attributed to him. "There is nobody that has more respect for not only our military, but for people that gave their lives in the military."
dickstein.corey@stripes.com Twitter: @CDicksteinDC