Military nonprofits step up to help those impacted by the coronavirus
by
Rose L. Thayer
April 2, 2020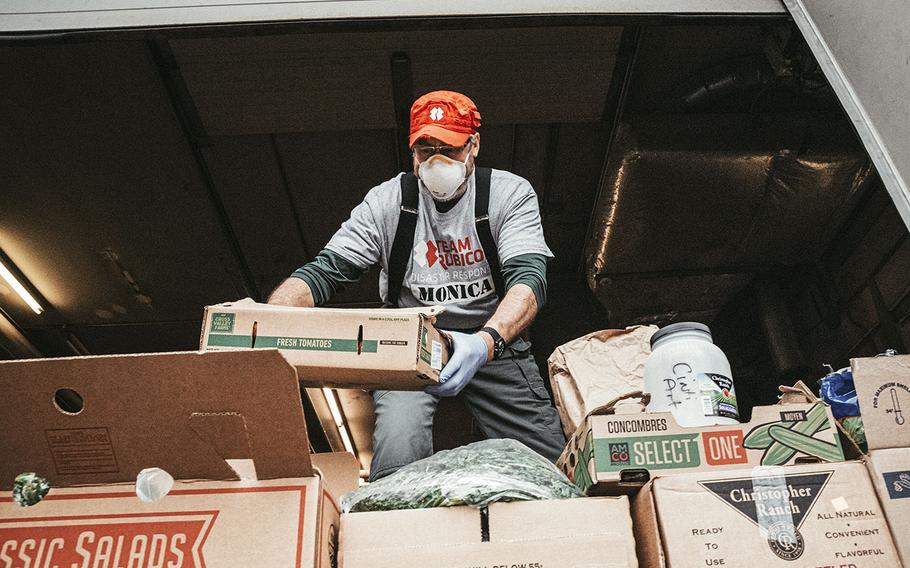 Stars and Stripes is making stories on the coronavirus pandemic available free of charge. See other free reports here. Sign up for our daily coronavirus newsletter here. Please support our journalism with a subscription.
Marine Corps veteran Michael Spivey was competing at the Para Snowboard World Cup in Norway earlier this month when the U.S. announced a travel ban from Europe to help stop the spread of the coronavirus.
The competition was canceled and Spivey, desperate to get stateside before he found himself trapped, shelled out extra money to change his flights and eventually made it Colorado, where he spends each winter training. With training suspended, he returned home to California, and he and his wife, Kris Spivey, learned that the resort where she works as a massage therapist would be closing – mostly likely until June.
Though Michael Spivey receives medical and retirement benefits from his service, his wife's job is their main source of income, leaving them in a difficult financial situation and stuck at home without much else to do but worry.
About that time, Michael Spivey's case manager from the Semper Fi Fund called to check on the couple. The nonprofit, which focuses on providing immediate financial assistance and lifelong support to combat wounded service members and veterans, listened to their situation and sent a grant for $500 to help the couple buy groceries and make ends meet.
"They've done a phenomenal job of reaching out during this pandemic," Kris Spivey said. "Also, with the depression and anxiety."
In the wake of the pandemic, as Americans are isolated in their homes, many are struggling with a loss of income, with school closures and child-care issues and with the anxiety of how long the pandemic could last. About 3.3 million Americans filed for unemployment as the U.S. economy shut down.
Nonprofits that cater to veterans and service members are reaching out to see how they can help ease these stresses.
"We want to be there for our veterans and just make sure they know they know they are not alone going through this," said Susan Rocco, vice president of case management for the Semper Fi Fund.
Her team of case managers has been getting a lot of calls from veterans and their spouses who have been laid off or had their hours cut. Many worked in restaurants or salons and now have no income. Other veterans are medically vulnerable and afraid to go out and put themselves at risk.
Case managers began reaching out to veterans to see whether they needed help.
"We're helping by sending them food. We sent some boxes of food directly to their house, especially those in compromising situations. A lot of that is to ease their anxiety," Rocco said. For others, they've sent gift cards to order food online and even helped to walk them through ordering using delivery services or curbside pickup. The nonprofit is also sending education and craft supplies to families with children now home from school.
In one week, the organization provided nearly $400,000 to nearly 600 service members and families with coronavirus-related needs.
Operation Homefront, a nonprofit offering financial relief for military families as well as programs and resiliency training, is seeking $10,000 to help families deal with the impacts of the coronavirus pandemic.
"Operation Homefront wants all to know that despite this change and those that may follow, we stand ready to support our military families during this national crisis," John Pray, president and CEO of the nonprofit, said in a statement. "Working together, as we have done for so many years, I know we will be able to help our military families – and each other – as we deal with this crisis."
Team Rubicon, a nonprofit that trains mostly veteran volunteers to respond to disasters, is both responding at the request of local governments and creating a venue for people to safely contribute to the needs of their local communities.
"We're all in right now," said Marine Corps veteran Jake Wood, president and CEO of Team Rubicon. "We have pivoted the entire organization into this response and launched 70 operations nationwide."
In California, Team Rubicon has two "high-risk" operations, he said. They've established a medical station in Santa Clara County, Calif., to serve as a 250-bed surge medical facility to support non-acute coronavirus patients who need hospitalization.
In Los Angeles County, Team Rubicon is planning a quarantine shelter to support homeless people who could have been exposed to the virus, Wood said.
"On the other side of the spectrum, we have volunteers now working in nearly 50 food banks across the country as their volunteers are unable to come in," Wood said. "We're coming in and filling that void."
He expects food bank support to grow to 100 facilities in the next week.
On the "low risk" end of their outreach, Team Rubicon launched the Neighbors Helping Neighbors campaign, which asks people to identify those in their neighborhood who are vulnerable — the elderly, the medically compromised or single parents with children – and find ways to assist them.
"We have protocols for doing that safely," Wood said. Social distancing and health precautions for the campaign were designed in consultation with the group's chief medical officer.
So far, about 30,000 people have visited the campaign's website and 1,000 acts of service have been logged into the database, he said.
People interested in the campaign can text "neighbor" to 87872, or go to Teamrubiconusa.org/neighbors.
More information on Semper Fi Fund is at semperfifund.org and Operation Homefront details are available at operationhomefront.org.
Thayer.rose@stripes.com Twitter: @Rose_Lori