Military bases in Florida feeling Dorian's wrath; Georgia and the Carolinas are next
by
Rose L. Thayer
September 4, 2019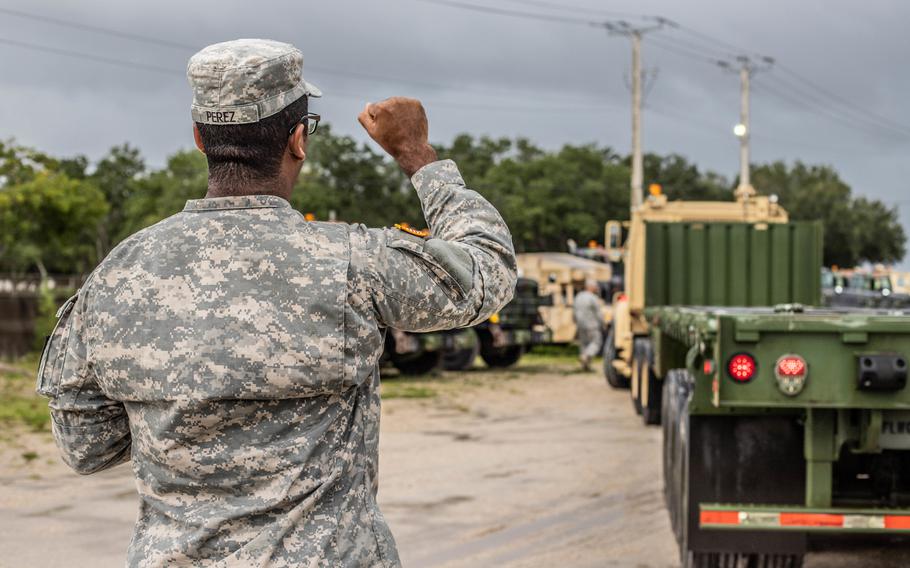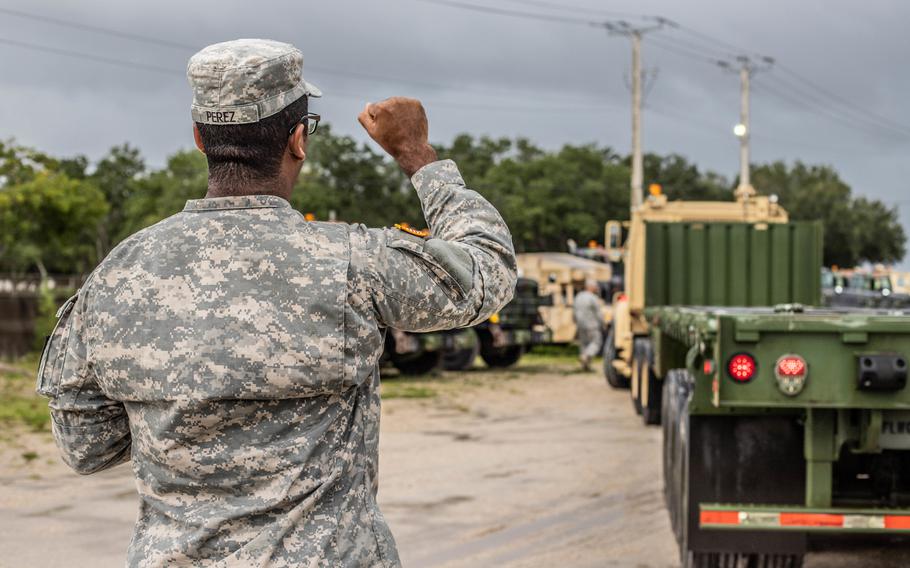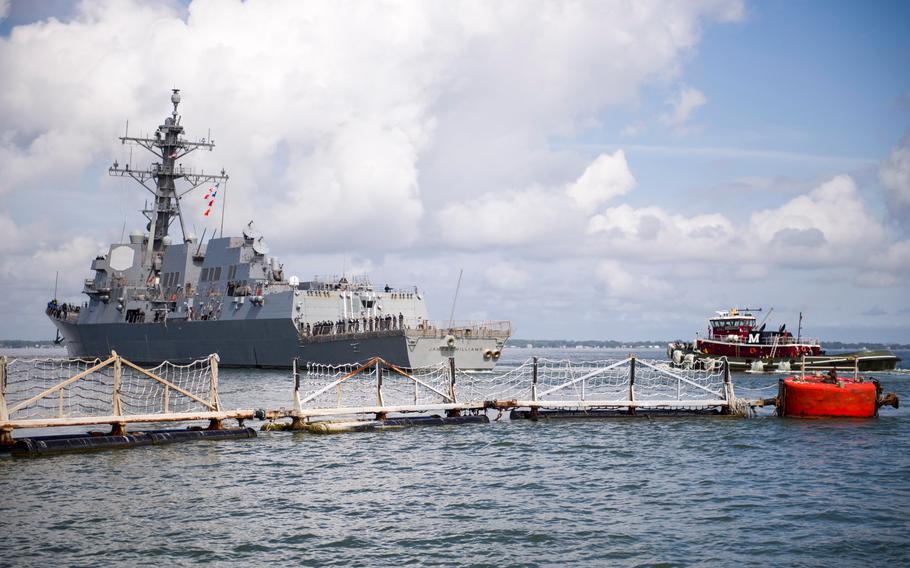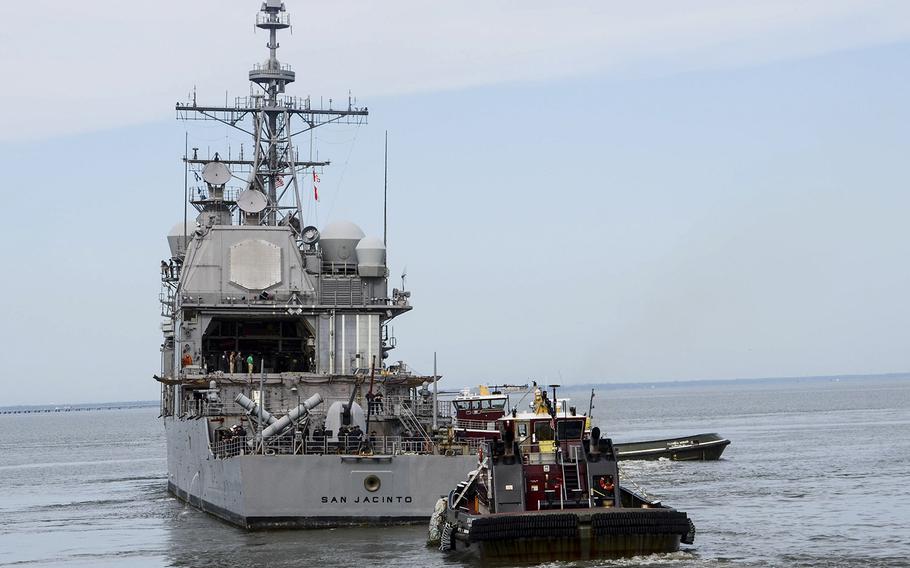 Military bases located in the southeastern United States are taking precautionary measures and more than 10,000 active-duty and National Guard troops stand ready to support ongoing storm preparations and possible recovery efforts as Hurricane Dorian continues its trek north along the East Coast.
Located about 90 miles northeast of Daytona Beach on Wednesday morning, the Category 2 storm is expected to weaken but maintain hurricane status as it crawls past Georgia and into the Carolinas and Virginia later this week. Naval Air Station Jacksonville and Naval Station Mayport in Jacksonville, Fla., are urging residents to remain indoors until the storm passes Wednesday, while 4,800 activated Florida National Guard members await the storms passage to begin recovery efforts.
Farther north along the coast, the Navy sent ships out to sea, two Marine Corps bases and an Army airfield completed evacuation orders and other bases sent personnel home early to prepare to ride out the storm.
"Based on the current track of the storm, we made the decision to begin to sortie our Hampton Roads-based ships and aircraft," said Vice Adm. Andrew Lewis, commander of U.S. 2nd Fleet, who gave the order. "This allows time for our assets to transit safely out of the path of the storm."
In Virginia, 26 ships departed from Naval Station Norfolk and a few more left Joint Expeditionary Base Little Creek and will remain at sea until the threat from the storm subsides, said Beth Baker, spokeswoman for Navy Region Mid-Atlantic. Those ships include some from Mayport that fled Dorian once already.
About 110 aircraft were evacuated and others are being secured in hangars rated to withstand winds greater than is anticipated from Dorian at Naval Station Norfolk's Chambers Field and Naval Air Station Oceana.
Ships unable to get underway are taking extra precautions to avoid damage. So far, no evacuations have been ordered for residents in the area.
Navy Region Mid-Atlantic also ordered Wednesday that personnel evacuate from five counties of North Carolina: Hyde County, Dare County, Carteret County [residents in the Town of Beaufort only], Currituck County's Currituck Outer Banks and New Hanover County [residents of Carolina Beach, Kure Beach, Wrightsville Beach and Figure Eight Island]. This follows the guidance from local authorities in those areas.
Fort Stewart in Georgia planned to release soldiers and civilian personnel at noon Wednesday to prepare for the storm, which is predicted to bring winds of 50 mph by Thursday. Hunter Army Airfield, under command of Fort Stewart, ordered a full evacuation be completed by noon Wednesday.
"The danger from Hurricane Dorian still exists if we are not prepared," said Maj. Gen. Tony Aguto, commander of the 3rd Infantry Division as well as Fort Stewart and Hunter Army Airfield.
Along with strong winds, Dorian could bring 4 to 7 inches of rain and 4 to 7 feet of storm surge to the Savannah area, he said. Aguto also said he expects the heaviest impacts at the airfield, located along the coast. Fort Stewart is about 40 miles west and is offering sandbags to base residents who fear their homes might flood.
Across the Georgia coast, the National Guard has activated more than 1,000 airmen and soldiers to stage hurricane response, said Lt. Col. Patrick Watson, spokesman for the Georgia National Guard. Up to 2,000 more guard members are available.
Equipment ready for use includes high-water vehicles, construction equipment, generators and aviation assets for search and rescue operations, transportation and damage assessment.
"With armories and regional facilities across the state, the Georgia Department of Defense is well positioned to rapidly assist civil authorities wherever and whenever needed with medical personnel, engineers, security and transportation specialists," Watson said.
Meanwhile, Florida bases are expecting to get relief Wednesday evening. NAS Jacksonville officials announced the plan to begin storm damage assessments at about 6 p.m. Wednesday. Normal operations should return to the base by noon Friday.
"Limited services will be open aboard the station at noon, tomorrow, Sept. 5 including Morale, Welfare and Recreation food and beverage locations and the gym," according to the statement.
As Dorian's path progresses north along the coast, Marine Corps Recruit Depot Parris Island and Marine Corps Air Station Beaufort, both in southern South Carolina, have already chosen to evacuate personnel ahead of the storm's arrival overnight. Parris Island is home to one of two Marine Corps boot camps, so its 7,000 recruits were taken to Marine Corps Logistics Depot Albany in Georgia. The base plans to close at 1 p.m. Wednesday and officials are asking resident who stayed on the base to shelter in place until the storm passes Thursday afternoon.
The South Carolina National Guard has more than 1,100 servicemembers activated, said Army Capt. Jessica Donnelly, spokeswoman for the South Carolina National Guard.
"The South Carolina National Guard is capable of supporting during this emergency with multiple assets to include evacuation assistance, traffic control point manning, supply and sandbag transportation, water purification, security support, critical infrastructure protection, high-water vehicle transportation and evacuation, search and rescue, communication support, and debris clearing," she said.
Storm impacts are not expected to be as severe in North Carolina where about 300 National Guard members are activated to support recovery efforts. The Marines at Camp Lejeune have chosen to remain at the base despite already weakened structures from last year's Hurricane Florence. Officials are implementing a "liberal leave policy" for those servicemembers who prefer to leave the area before the storm. Two shelters are open on the base and services are closed Thursday and Friday.
Fort Bragg, N.C., is expecting rain to begin Wednesday night and strong winds to continue through Friday. The base will remain open with reduced personnel Thursday and its schools will close for the day.
The Pentagon announced more than 2,700 active-duty servicemembers will also help or are prepared to help with the storm, staging equipment and supplies from the Defense Logistics Agency at Fort Bragg and Maxwell Air Force Base, Ala.
The Defense Logistics Agency, or DLA, supplies the Defense Department for combat and has more than 2,232 cases of ready-to-eat meals, another 1 million commercial meals and 90 generators ready for distribution to the Federal Emergency Management Agency, should officials request it, according to a news release.
Additionally, DLA has 71 fuel trucks carrying 122,000 gallons of diesel, gasoline and propane staged at Warner Robins Air Force Base, Ga., and provided 3,500 maps to federal agencies.
thayer.rose@stripes.com Twitter: @Rose_Lori