Gallery
Military bases brace as Florence shifts path, Parris Island Marines to weather the storm
by
Rose L. Thayer
September 12, 2018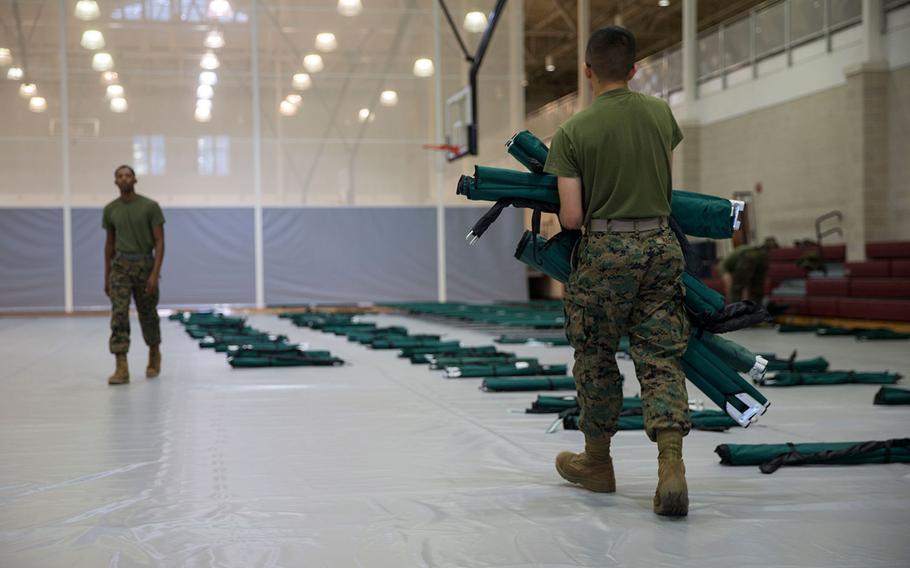 AUSTIN, Texas — Leaders at military installations in Virginia and North and South Carolina are adapting and adjusting their plans and preparations for Hurricane Florence as the massive storm barrels toward the East Coast, shifting direction along the way.
Expected to arrive along the North Carolina coast by Friday morning, the storm, downgraded to a category 2 as of 11 p.m. on Wednesday night, is projected to bring 110 mph winds and up to 40 inches of rain in isolated areas. According to the Associated Press, the National Hurricane Center said Wednesday evening that the storm is expected to bring life-threatening storm surge and rainfall to the Carolinas as it approaches the coast Thursday and Friday.
For days, the Navy has moved people and ships ahead of the hurricane, and the Air Force and Army have been flying aircraft elsewhere as a safeguard. Some remaining Marines, meanwhile, are digging in their heels.
Florence is moving into a region with some of the most well-known military bases in the country, including Camp Lejeune and Fort Bragg in North Carolina, Naval Station Norfolk in Virginia and the Marine Corps Recruit Depot on Parris Island in South Carolina.
At least five military installations — Joint Base Langley-Eustis in Virginia, Joint Base Charleston in South Carolina, Naval Station Norfolk, Camp Lejeune and Fort Bragg — have issued some form of evacuation, while another is calling residents back to base. The four states bracing for the worst – the Carolinas, Virginia and Maryland — now have a combined 6,800 National Guard members on active-duty helping with the evacuation of millions of coastal residents and preparing to support post-storm recovery.
South Carolina has more than 2,100 soldiers, 77 airmen and 50 guard members on duty, said Lt. Col. Cindi King, spokeswoman for the state's National Guard.
"The projected change in direction for this storm confirms our numbers will most likely increase and states such as Tennessee, Georgia, Mississippi and others have reached out to us to offer support," she said.
Navy Command Region-Mid Atlantic has issued emergency evacuation orders for its personnel residing in 14 counties of North Carolina and Zone A of Naval Station Norfolk, which includes some base housing.
However, with South Carolina lifting its mandatory evacuation of Beaufort County, home to Marine Corps Recruit Depot Parris Island, the base has terminated its evacuation orders. All personnel have until midnight Wednesday to return to the base, which is home to about 7,000 recruits and 1,500 permanent personnel.
"With any decision there's a degree of risk," Brig. Gen. James Glynn, commander Parris Island and the Eastern Recruiting Region, said in a video posted to Facebook. "We assessed the logistical efforts of moving all personnel to Marine Corps Logistics Base Albany [in Georgia] now exceed the efforts of remaining at Parris Island."
In response to upset residents on Facebook, Warrant Officer Bobby Yarbrough of the base's communication strategy and operations said an emergency operations center has been set up and will be staffed 24 hours a day.
"Countless…hours are spent to ensure everyone on the depot is safe, Marines, recruits and families alike. Meetings are taking place around the clock and the base's destructive weather plan is updated in accordance with the projected path of Hurricane Florence," he said.
Though bases in Virginia are beginning to feel some relief from Florence's direction shift, terminations of evacuation plans have not been issued for Navy or Air Force personnel as of Wednesday morning.
"For those of you who have had mandatory evacuations, we know you have many questions and concerns," Col. Sean Tyler, 633rd Air Base Wing commander at Joint Base Langley-Eustis, said in a Facebook post. "We have teams in place ready to bring the base to its operating status as soon as possible. While we can't predict that the storm won't change direction again, we will guarantee that we will do everything in our power to ensure you are not away from your homes for longer than necessary, and we will let you know the moment it is safe for you to return."
An evacuation order remains in place for the Air Force's Joint Base Charleston. At Shaw Air Force Base in South Carolina, officials said they are remaining in place and are following the lead from local officials.
Charleston's 24 C-17 transport aircraft left the base for Scott Air Force Base in Illinois, two other airports in that state and Wright-Patterson Air Force Base in Ohio, said Air Force Maj. Lindy Singleton. Shaw's fleet of F-16 fighter jets flew down to Tyndall Air Force Base in Florida.
Two of the largest installations in North Carolina, Camp Lejeune and Fort Bragg, have allowed people wanting to evacuate to do so with command approval. Otherwise, both installations plan to weather the storm.
Camp Lejeune is offering six shelters on the base, where residents can ride out the storm. Non-essential personnel have been released through Monday.
Fort Bragg and Fort AP Hill have been designated as Federal Emergency Management Agency support and staging areas for hurricane response, the Army announced in a news release.
"Army soldiers and their units in the projected path of the approaching storm are taking the necessary steps to secure and safeguard personnel, equipment, and their families," stated the release. "Units are also preparing and prepositioning equipment to be ready to support any necessary relief and recovery efforts after the storm hits."
Officials at Fort Hood and Fort Bliss in Texas said they are preparing Black Hawks to help in the aftermath of the storm.
The Army also announced its Corps of Engineers has alerted personnel for deployment, to include temporary emergency power personnel. This includes one company from the 249th Engineer Battalion and a Deployable Tactical Operations Center vehicle.
Other Corps of Engineers preparations include integrating with the U.S. Coast Guard to ensure federal channels are cleared as quickly as possible to enable rapid port reopening and pre-placed contractors to assist with surveys, and integrating into county and state efforts regarding flood response and assistance when requested.
In addition to the 6,800 National Guard members activated across the four states, another 16 states are readying personnel and equipment in anticipation of support to the affected region once the storm passes, said Kurt Rauschenberg, National Guard Bureau spokesman. This number will change rapidly as affected states tailor their response needs.
By Wednesday evening, there will be more than 2,600 North Carolina troops ready to assist with storm response, said Lt. Col. Matt DeVivo, spokesman for the state National Guard.
The Virginia National Guard is planning initially to bring up to 1,500 soldiers and airmen for possible assistance with the state's response operations. The Maryland National Guard anticipates activating 500 soldiers for hurricane response.
If needed, these Guard members can shift to other states and help where they are most needed, Rauschenberg said.
"Preparations for post-landfall operations are also getting in place for capabilities such as our South Carolina Helicopter Aquatic Rescue Team, high-water rescue vehicles, engineers, transportation, and other Army aviation support with Black Hawks and Chinooks," he said.
National Guard support can include medical evacuations, situational awareness of impacted areas, vehicles able to travel through high-rising flood waters, water purification, critical communication systems, providing feed to stranded livestock and supporting law enforcement with traffic control and security.
The Associated Press contributed to this story.
thayer.rose@stripes.com Twitter: @Rose_Lori