Military aviators aid in the fight against growing wildfires in California with rescues and water drops
by
Rose L. Thayer
September 11, 2020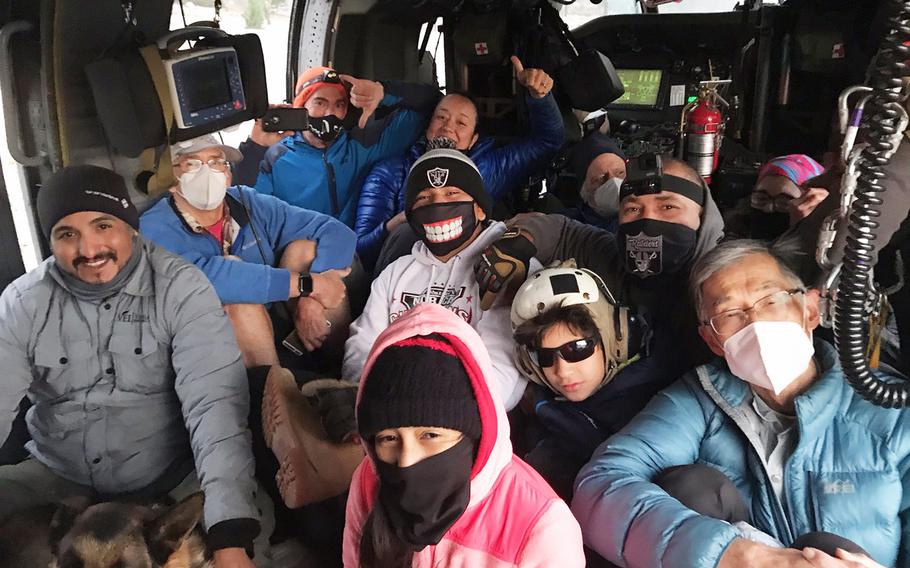 AUSTIN, Texas – Military aviators have battled low visibility and hazardous terrain this week as they rescued of more than 400 people escaping the fires burning across millions of acres in California.
Aircraft from the Marine Corps, Navy and Air National Guard are part of the 101 aircraft assigned to support efforts to stop the spread of the 28 wildfires now burning across the state, according to the California Department of Forestry and Fire Protection, known as Cal Fire. Those fires have burned more than 2.6 million acres.
Five of the blazes are in the top 20 largest wildfires in the state's history, said Deputy Chief Nick Schuler, spokesman for Cal Fire.
"Each year when we have an incredibly difficult fire season, we think it's unprecedented and then the next year it gets worse," he said. The military support is "an integral part of emergency management in California."
A week of high winds and dry conditions led to an increase in fire activity across the state and has stretched Cal Fire assets to the limit, Schuler said. For that reason, the state has called upon the military to help through long-standing government partnerships.
As of Friday, at least 20 people have died from wildfires in California and about 60,000 have evacuated from their homes, Schuler said. About 50,000 structures are under threat of fires and 3,900 have been destroyed.
As weather conditions improve, firefighters have gained ground on the many wildfires that began three weeks ago. On Friday, more than 14,800 firefighters remained on the line.
The California National Guard has about 1,200 troops activated to support efforts, said Maj. Kimberly Holman, a spokeswoman with the California National Guard. At the Creek Fire Complex near Fresno, nearly 400 people have been evacuated in the past week by helicopters from the 40th Combat Aviation Brigade.
Chief Warrant Officer 5 Joseph Rosamond, a CH-47 Chinook helicopter pilot assisting in rescue missions, described smoky, windy conditions involved with his first rescue operation during the week. Flames were about 50 to 75 feet away from the Chinook at the landing zone as they pulled people, many with burn injuries, from an area near a boat ramp.
Because of time, "we decided to pack as many people in as we could. At that point our performance limitations were very close to the max cap of the aircraft," Rosamond said. "We were losing visibility very quickly."
Other aviation units are doing other missions that include fire mapping and damage assessment, Holman said. Using three MQ-9 Reaper unmanned aircraft from March Air Reserve Base near Riverside, remote operators can see fire activity and report to the incident commander on the ground in real time.
Navy aviators with a search and rescue detachment from Naval Air Station Lemoore, located south of Fresno, augmented Guard aircraft on Tuesday and helped rescue 44 people and four dogs in three runs from Edison Lake, according to a news release from the base. At times the smoke was so thick, crews had to make several attempts to reach some locations.
"Our crews are equipped with the superb performance of the MH-60S Knighthawk helicopters, which enable us to fly when local or state assets are no longer capable of continuing a rescue," Capt. Douglas Peterson, NAS Lemoore commanding officer, said in a statement. "It's comforting to know that whenever one of our [search-and-rescue] crews respond to an emergency, that we are sending the best the U.S. Navy has to offer."
Helicopters from the Helicopter Sea Combat Wing Pacific worked at the Valley Fire in San Diego County from Monday to Thursday, said Cmdr. John Fage, spokesman for the 3rd Fleet. In three days, the crews flew more than 40 hours and conducted 115 water drops, delivering more than 31,000 gallons of water.
Engines and firefighters from local Navy installations also supported Cal Fire at Camp Morena to assist in the fight against the Valley Fire.
"The support followed a formal request made by Cal Fire on Sept. 6 in accordance with a standing memorandum of agreement between Cal Fire, U.S. Third Fleet, Naval Air Forces Pacific and Navy Region Southwest," Fage said. "Under that agreement, the Navy will provide helicopters when notified by Cal Fire in order to save lives, prevent human suffering, and mitigate great property damage."
The Valley Fire began Sept. 5 and encompasses 17,665 acres. It is about 39% contained, according to Cal Fire.
The Marine Corps' 3rd Marine Aircraft Wing also supported the Valley Fire this week, said Capt. Tyler Hopkins, spokesman for the wing. Marine Light Attack Helicopter Squadrons 169 and 267 provided UH-1Y Venom helicopters to drop water on the Valley Fire and worked alongside Cal Fire throughout the efforts.
Thayer.rose@stripes.com Twitter: @Rose_Lori