Medal of Honor recipient Carpenter visits Marines in San Diego
---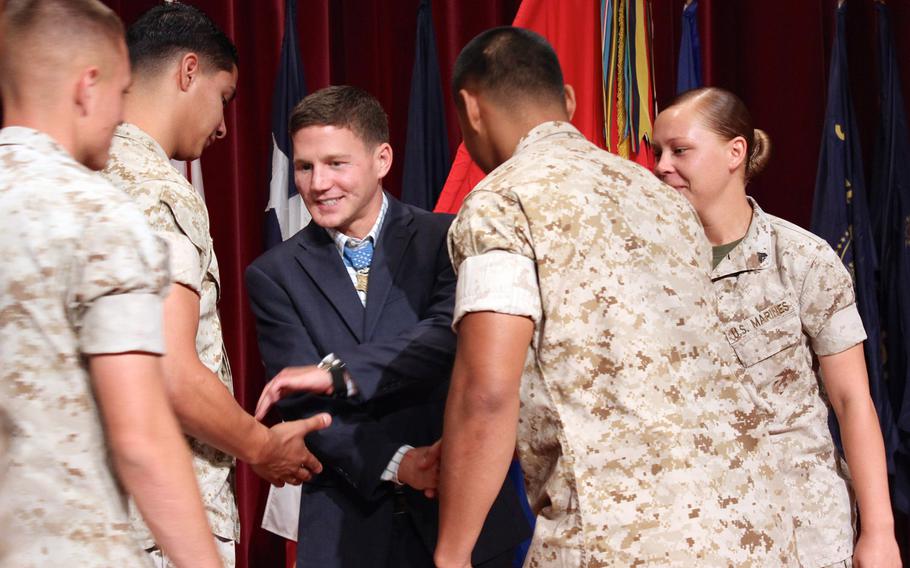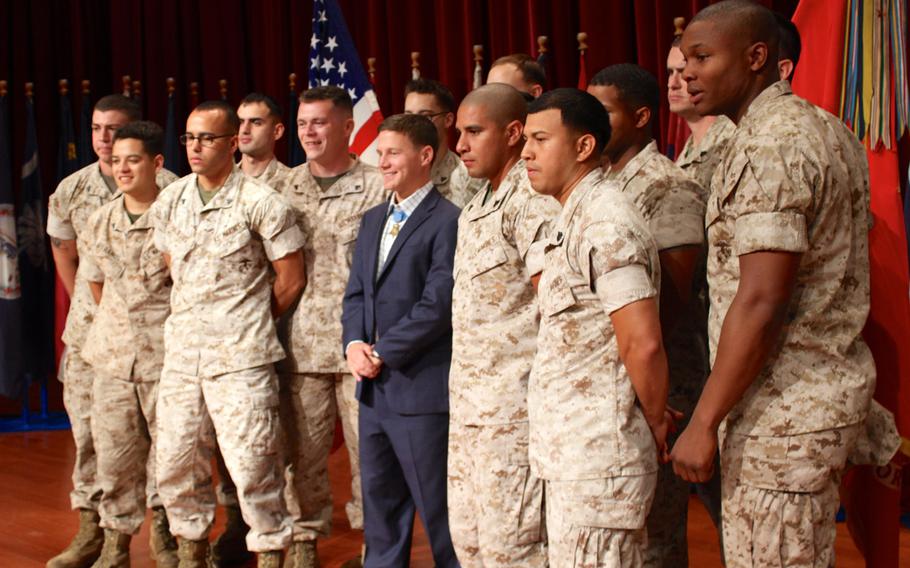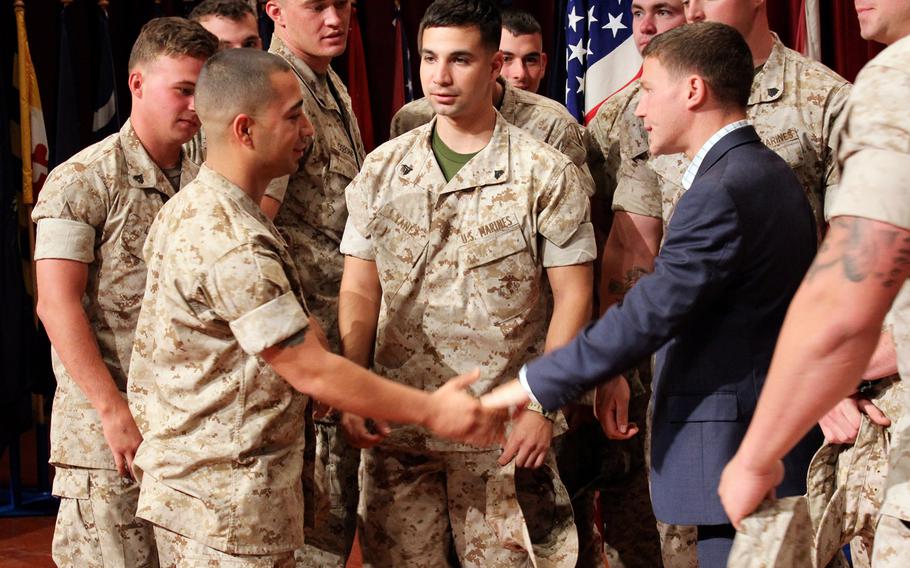 CAMP PENDLETON, Calif. — As the 1,100 enlisted Marines packed in the base theater Monday morning waited for Cpl. William Kyle Carpenter to arrive, they plotted how to be the first to get a selfie with the newest Medal of Honor recipient and the second living Marine of their generation to receive the award.
"He's a total badass … like a modern day Dan freakin' Daly," said Cpl. Alex Lambert, referring to the legendary Marine who earned two Medals of Honor in the early 1900s.
"He's one of the reasons I decided to join (the Marine Corps,)" said Cpl. Nicholas Tianco, who, like Lambert, is a member of 1st Maintenance Battalion, Combat Logistics Regiment 15. "That dude was jumping on grenades when I was in middle school. … He's my hero."
The Marines didn't get a chance to snap individual photos with Carpenter, but said they were happy they had the chance to hear him speak and get unit pictures with him.
Carpenter, 24, was serving with 2nd Battalion, 9th Marine Regiment, in the Marjah district of Afghanistan's Helmand province when, on Nov. 21, 2010, he threw himself on a grenade to save the life of his friend, Lance Cpl. Nicholas Eufrazio. Carpenter was severely wounded; President Obama last week said he flatlined three times while doctors were treating him.
Carpenter spent nearly three years in the hospital and underwent dozens of surgeries before medically retiring from the Marine Corps. He is now a student at the University of South Carolina.
Walking the stage in a blue suit with the Medal of Honor around his neck, he told the camouflage-clad active-duty Marines he is "a little bit jealous" of them.
"I definitely miss it," he said. "I'm very honored to stand before you today."
He told the Marines that no matter their job or military specialty, what they do is important.
"We're a badass fighting force, and we protect America," he said.
Carpenter told the Marines that when they have difficult days, they should support one another and know that "it does get better."
During a brief question-and-answer session, a Marine asked Carpenter if he has ever regretted the decisions that led to his life-altering injuries.
"Absolutely not," he said. "There were a lot of hard times … but looking back, I'm proud of my scars and what myself and my Marines went through in Marjah."
Carpenter said he could never regret trying to help the people of Afghanistan.
"Was it hard? Yes. Do I regret it? No," he said.
Carpenter said it is "creepy and kind of weird" to have gone from a "normal person" and "country boy" to a celebrity with 29,000 Instagram followers and 13,800 Twitter followers practically overnight. But he said he hopes he can use the spotlight to bring attention to the Marine Corps, wounded warriors and those who were killed in combat.
Carpenter threw out the first pitch at the San Diego Padres game on Sunday and met with wounded warriors at Camp Pendleton on Monday morning. On Tuesday, he was traveling to New York, where he was scheduled to meet with representatives from the USO and the American Legion, and appear on The Late Show with David Letterman. On Thursday, he is set to travel to Camp Lejeune, North Carolina, to meet with Marines at Wounded Warrior Battalion East and other Marines on that base before going home to South Carolina.
Sgt. Joey Pass, a Marine with 1st Maintenance Battalion, said he had been worried the Monday morning event would be "too Hollywood," but as soon as Carpenter began speaking, he felt he could really relate to him as a Marine and as a person.
"He was one of us," Pass said.
hlad.jennifer@stripes.com Twitter: @jhlad
---
---
---
---