McCain opposes delaying defense budget for Trump
---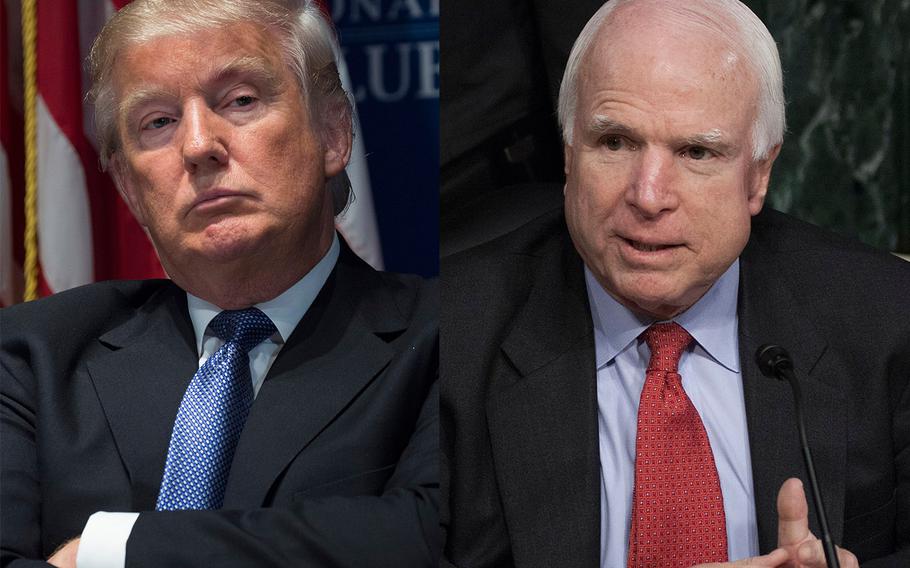 WASHINGTON — Sen. John McCain, R-Ariz., chastised Congress on Thursday for considering a short-term spending measure that would put off passing an already overdue defense budget until April to give President-elect Donald Trump an opportunity to help craft the legislation.
Trump has called for a major boost in defense spending beyond levels in the proposed budget.
On Tuesday, McCain also warned Trump not to pursue a reset in relations with Russia. The veteran senator, who will return as the chairman of the Armed Services Committee next year, won re-election after tangling publicly with the president-elect on the campaign trail when Trump questioned whether McCain is a war hero.
Republican House lawmakers on Thursday met with Vice President-elect Mike Pence on Capitol Hill and signaled they will pursue another stop-gap spending measure to fund the federal government through the end of March, meaning military funding will maintain at current levels and the Trump administration will have about two months for input. Congress failed to pass annual defense authorization and spending bills by the end of the fiscal year in September and its current short-term spending legislation expires Dec. 9.
"No incoming president has ever had to inherit a [Defense Department] operating under a continuing resolution, no incoming president. This is not a time for us to break that streak," said McCain, who called the proposal a "cockamamy" idea.
The House and Senate passed versions of a $602-billion defense authorization bill earlier this year and negotiations on a final version have been ongoing. An appropriations bill has also been delayed.
McCain said the stop-gap spending plan will leave the military short about $12 billion at a time when it is already weakened by budget constraints and facing an array of threats abroad, including the ongoing war with the Islamic State group, Afghanistan operations and efforts to bolster support of allies in Europe.
"A continuing resolution would actually cut funds for our troops," he said.
McCain came out strongly this week against Trump's proposal to have a closer relationship with Russia and possibly partner with Russian President Vladimir Putin in Syria. He said a Trump reset would make the U.S. complicit in the "butchery" of Syrian civilians by Putin and the Russian-backed government of President Bashar Assad.
Trump, who has spent the week sequestered in Trump Tower weighing administration appointments, has proposed a massive buildup of the military including a 350-ship Navy, up from 276; an Army of 540,000, up from 490,000; an increase to 36 Marine Corps battalions from 23, and about 87 more Air Force fighter aircraft.
However, it remains uncertain whether Trump can rally the political support to remove caps on defense spending that have bedeviled Congress. The buildup could cost about $80 billion more per year, according to an estimate by the nonpartisan Center for Strategic and International Studies, a Washington think tank.
A voting bloc of fiscally conservative House Republicans could oppose such spending increases and Democrats will likely demand more domestic spending in return.
Trump, who will be sworn in Jan. 20 as president, has also criticized the military for being too "politically correct" and indicated he might roll back a series of landmark military personnel policy changes, such as allowing women in combat roles and allowing transgender troops to serve openly.
Congressional Republicans might also see an opportunity to have more influence and avoid a veto threat from President Barack Obama by putting off the annual 2017 budget until later next year.
---
---
---
---