McCain holds up defense nominations, including Pentagon's No. 2 post
---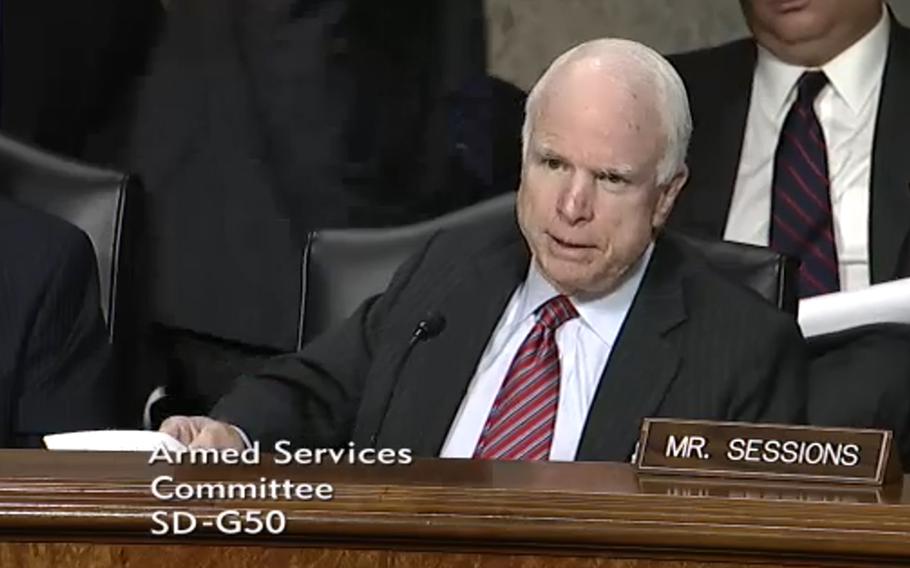 Sen. John McCain plans to block the nomination of Robert Work to deputy secretary of defense, a decision he announced after clashing with Work over the Navy's newest coastal ship during a confirmation hearing Tuesday in Washington.
The Arizona Republican said he would also block Christine Wormuth, the Obama administration's nomination for undersecretary of defense for policy, after expressing dissatisfaction with her remarks about al-Qaida.
Until last year, McCain's opposition likely would have spelled the end for the nominations. However, Senate rules passed by the Democratic majority last year, dubbed the "nuclear option," allow the majority to end filibusters on most presidential nominees.
McCain, a critic of the Navy's littoral combat ship program, asked Work if he agreed with Defense Secretary Chuck Hagel's announcement Monday to cut the planned buy of LCSs from 52 – a buy that would have made about one in every six Navy vessels an LCS – down to 32.
Work briefly outlined Hagel's order, which calls for the Navy to consider modifications to the LCS, purchase a different small-sized combatant ship or design a new ship entirely. The LCS has been criticized for its low levels of armament and survivability, compared to some of the ships it replaces. LCS supporters say the ship's top speed of around 50 mph and shallow draft allow the Navy to patrol waters it can't access very well at the present.
While serving as Navy undersecretary, Work championed the LCS, even after its initial price went from $220 million to more than $450 million on average.
Work then began to say that modifications to programs were "very normal with Navy shipbuilding" when McCain cut him off.
"You think it's normal?" McCain asked. "You think it's normal that the cost overruns associated with this ship, the fact that we don't even know what the mission is, that there's been this whole idea of moving different modules off and on, you disagree with the General Accountability Office statement and the cost overruns? This is normal, Mr. Work?"
McCain later said that he was stunned that Work hadn't read a GAO report on the ship program.
McCain added that objective observers of the program agreed that it "has not been anywhere near what it was presented to Congress by funding.
"This, again, makes me wonder about your qualifications because the one thing we are plagued with is significant cost overruns and lack of capability," he said.
McCain's grilling of Wormuth grew testy when he repeatedly asked her an "either-or" question: "Is the threat of al-Qaida receding or growing?"
"Senator, I would describe it as a persistent threat," Wormuth replied.
"So you won't answer the question, is that it? It's a simple question," McCain responded.
McCain later told reporters that the nominees' responses were "not only naïve but nonsensical," according to media reports. He conceded that the Senate's new rules made it unlikely that the pair wouldn't be confirmed, but that he planned on bringing up the nomination holds on the Senate floor anyway.
Work is a retired Marine colonel and former think tank analyst whose nomination was generally considered uncontroversial until the committee hearing, according to several reports.
Wormuth was appointed the deputy undersecretary of defense for strategy, plans and force development in 2012.
slavin.erik@stripes.com Twitter: @eslavin_stripes
---
---
---
---