Marines, sailors return home after monthlong job of helping quell California wildfires
by
Wyatt Olson
October 20, 2020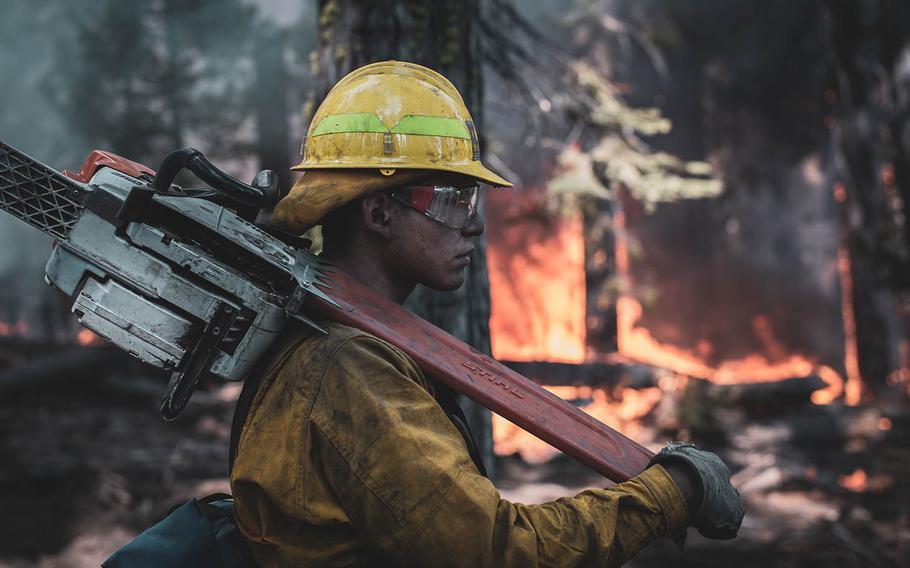 The roughly 250 Marines and sailors who spent the past month assisting wildfire firefighting operations in California returned to Camp Pendleton on Tuesday, the U.S. Army said in a news release.
The troops, from the 7th Engineer Support Battalion, helped suppress the Creek Fire in Central California and the August Complex in Northern California. Their mission began Sept. 21.
The battalion was one of two active duty units that trained to become wildland firefighters this fire season, the Army said.
The 14th Brigade Engineer Battalion from Joint Base Lewis-McCord, Wash., supported efforts to combat the August Complex from Sept. 3-27, the Army said.
The active-duty military firefighting operations were overseen by Northern Command's Joint Force Land Component Command, which is the Defense Department's primary organization for coordinating with civil authorities in responding to natural disasters.
The National Interagency Fire Center had requested military assistance in quelling California wildfires, which have blazed through almost 1.9 million acres.
The fires, fueled by dry, windy conditions, destroyed almost 1,000 homes and killed at least three people.
The Creek Fire, which charred an estimated 350,000 acres, was the largest single blaze in California's history. The August Complex, which burned more than 1 million acres, was the largest complex fire the state has ever seen.
"I am so very proud of the young men and women who supported our local, state, and federal partners during this record-breaking wildland fire season," Lt. Gen Laura J. Richardson, commander of U.S. Army North, said in the news release. "The Soldiers, Sailors and Marines learned and adapted quickly to wildland firefighting while maintaining a focus on their own safety and their crew's safety in the midst of the COVID-19 pandemic."
olson.wyatt@stripes.com Twitter: @WyattWOlson