Marines, sailors from Camp Pendleton join the fight against California wildfires
by
Rose L. Thayer
September 17, 2020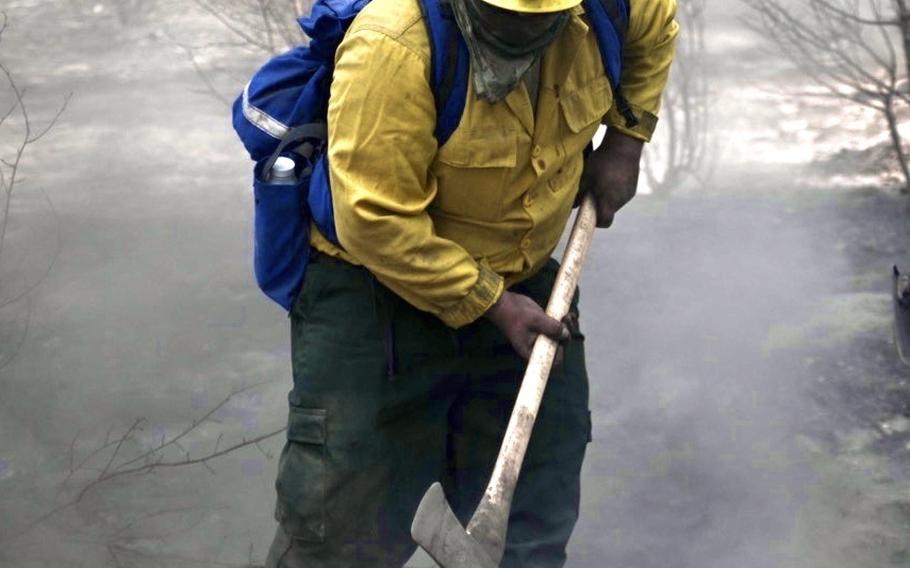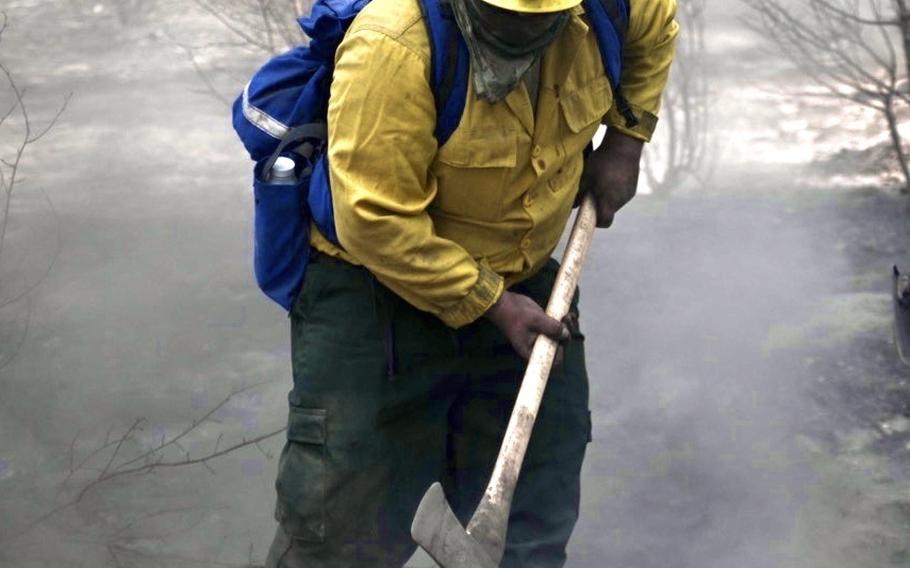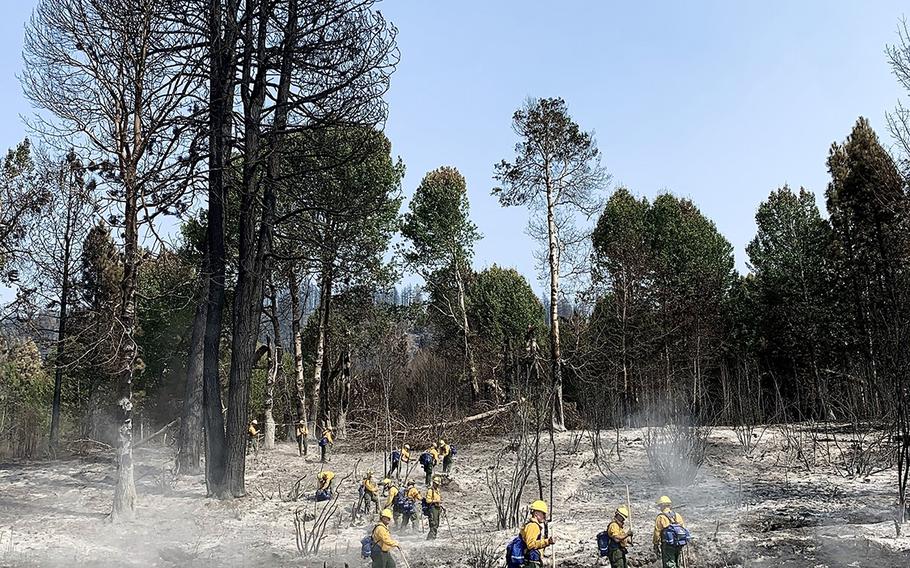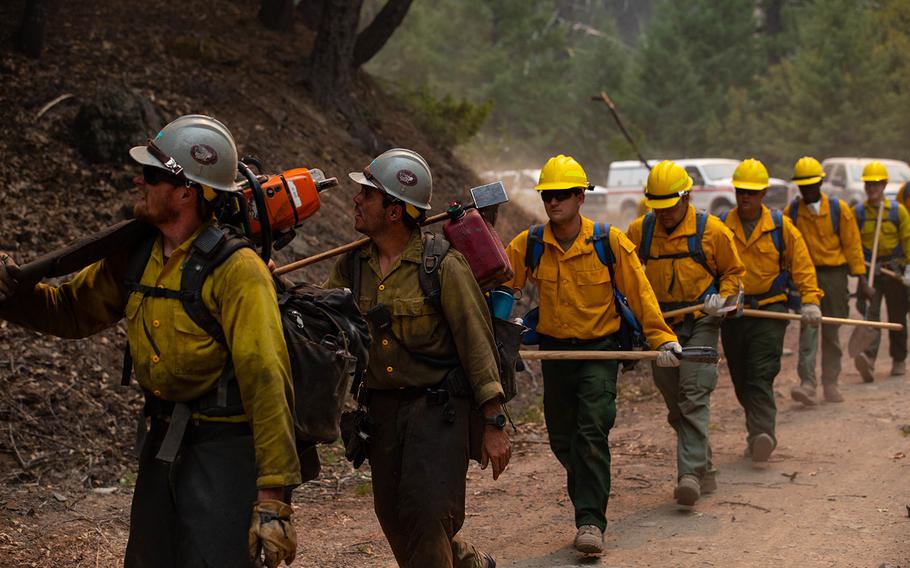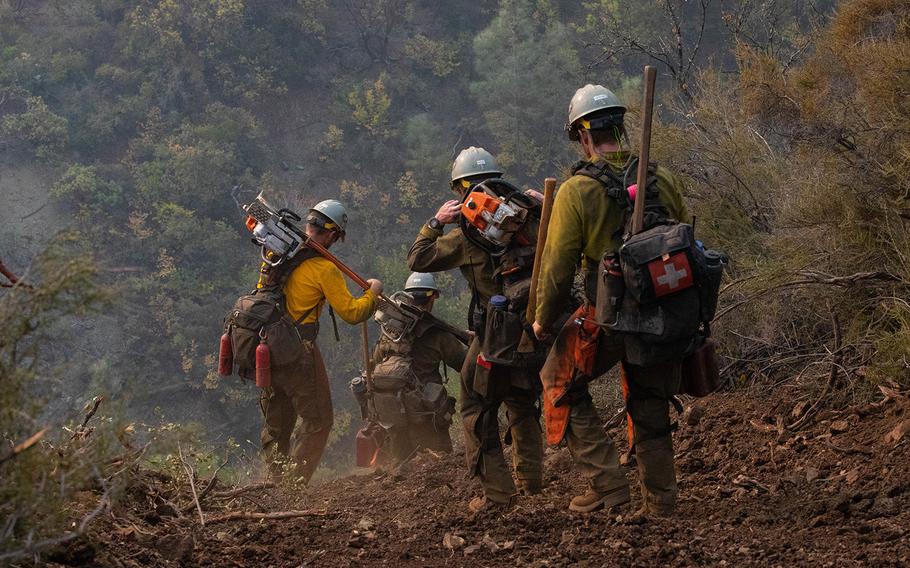 Roughly 250 Marines and sailors from Camp Pendleton, Calif., will deploy to help battle the 25 wildfires still burning across state that have stretched firefighting resources to the limit, military officials announced late Wednesday.
The active-duty troops will travel about 350 miles north this week to assist efforts with the Creek Fire in the Sierra National Forest, according to the news release from U.S. Army North, the element of U.S. Northern Command's Joint Force Land Component Command that will oversee the military support in fighting the wildfires.
They join about 200 soldiers from Joint Base Lewis-McChord, Wash., who deployed in late August to help combat fires in the northern part of the state. In total, more than 17,000 firefighters, including about 1,200 California National Guard members, are working throughout the state, which has seen more than 3.3 million acres burned during wildfire season.
"Given the unprecedented fire season and the magnitude of the loss the people of California are experiencing, we stand ready to support the National Interagency Fire Center in their effort to help protect people, property and land in California," Lt. Gen. Laura J. Richardson, commander of Army North, said in a statement. "Just like the soldiers supporting fire suppression efforts in Northern California, the Marines and sailors who will assist in this mission in central California are trained and equipped with all of the necessary gear to keep them safe, to include in a [coronavirus] environment."
The Marine personnel are assigned to Camp Pendleton's 7th Engineer Support Battalion, 1st Marine Logistics Group, I Marine Expeditionary Force. They will be fitted for personal protective equipment, including fire retardant clothing, boots, gloves and hard hats, and begin training on fire behavior and fire line safety at the base as early as Thursday, according to the release.
They are scheduled to deploy to central California on Saturday to receive hands-on training in fire suppression methods and procedures prior to deployment in the national forest.
The Creek Fire has burned more than 228,000 acres and is 18% contained, according to California Department of Forestry and Fire Protection, known as Cal Fire. The fire began Sept. 4 and has led to evacuations in Fresno and Madera counties.
"The 1st Marine Logistics Group is ready to assist our community during the California wildfire crisis," Brig. Gen. Bobbi Shea, 1st Marine Logistics Group commander, said in a statement. "Alongside federal agencies, and state and local partners, 1st MLG will provide highly capable Marines and sailors to assist in wildland fire suppression efforts."
Up north in the Mendocino National Forest, the soldiers from Joint Base Lewis-McChord expect to spend nearly all of September helping fight the August Complex Fire. That fire began in late August and later merged with two other fires to encompass more 817,800 acres that stretch into the Shasta-Trinity and Six Rivers National Forests. It is about 30% contained, according to the National Forest Service.
The soldiers from Lewis-McChord's 14th Brigade Engineer Battalion, 2nd Stryker Brigade Combat Team, 2nd Infantry Division, arrived Aug. 31 and have dug 6.5 miles of fire lines and removed lower limbs from trees along nearly 15 miles of the fire's outer perimeter, said Pfc. Laura Peña, a technical engineer deployed to California.
The soldiers' work is not to directly fight the fire but rather keeping the blaze from spreading or reigniting. Troops have cleared about nearly 730 acres through mop-up operations, in which crews clear debris to prevent it from reigniting the fire.
Spc. Michael Ybarra, an Army photojournalist, said he's been documenting the work of those soldiers on the fire lines.
"A lot of them are dressed head to toe in personal protective equipment and traveling uphill digging lines and delimbing trees," Ybarra said. "They spend about three or four days on the line sleeping in tents and rotate out."
Ybarra, who is a native of Fresno, where the fires have left the sky orange and filled with hazy, smoky conditions, said it feels good to be helping his home state.
"I'm very happy to be out here doing my part and documenting everything going on out here," he said.
Richardson visited the soldiers earlier this week alongside her senior enlisted adviser Command Sgt. Maj. Phil K. Barretto.
"Fire activity at the August Complex remains high, but our soldiers continue support activities as firefighting crews work to suppress what has become the largest complex fire in California history," Richardson said. "Our thoughts remain with communities affected here and elsewhere by the fires, while our actions, part of a joint effort, provide much needed relief."
Outside of California, Oregon also is grappling with wildfires. More than 1,200 members of the Oregon National Guard are part of the 6,000 firefighters working in that state. The Oregon Guard has nine Black Hawk helicopters and two Lakota helicopters available to provide water bucket drops and fire mapping, said Stephen Bomar, spokesman for the Oregon Military Department.
Activated since Aug. 19, the aircraft have dropped more than 25,000 gallons of water, he said.
"We are currently in six counties and supporting the Warm Springs Tribal Nation with traffic control points to protect Oregonians from going into hazard areas and to support the return evacuees to their homes," Bomar said. "The Oregon Guard is also supporting Oregon State Police with fatality search-and-rescue operations while standing up recovery elements to further assist first responders as we plan for recovery phases."
With so many fires burning on the West Coast, smoke and ash have created unhealthy air quality throughout the region. Despite the conditions, there has been no impact to military training at Lewis-McChord, Camp Pendleton or within the Navy's 3rd Fleet.
Thayer.rose@stripes.com Twitter: @Rose_Lori