Marine dog is honored for combat valor, along with posthumous awards for three other dogs, two pigeons and a horse
by
Steve Beynon
November 15, 2019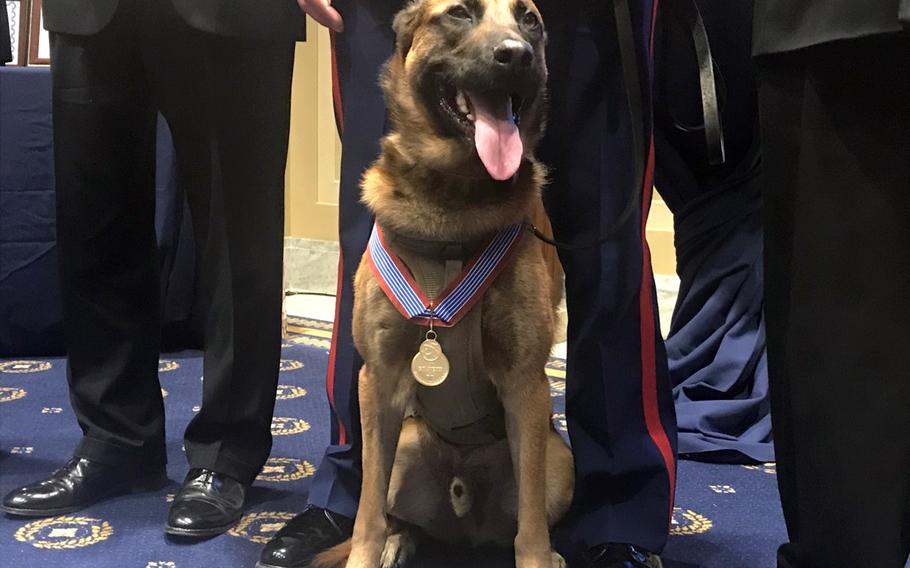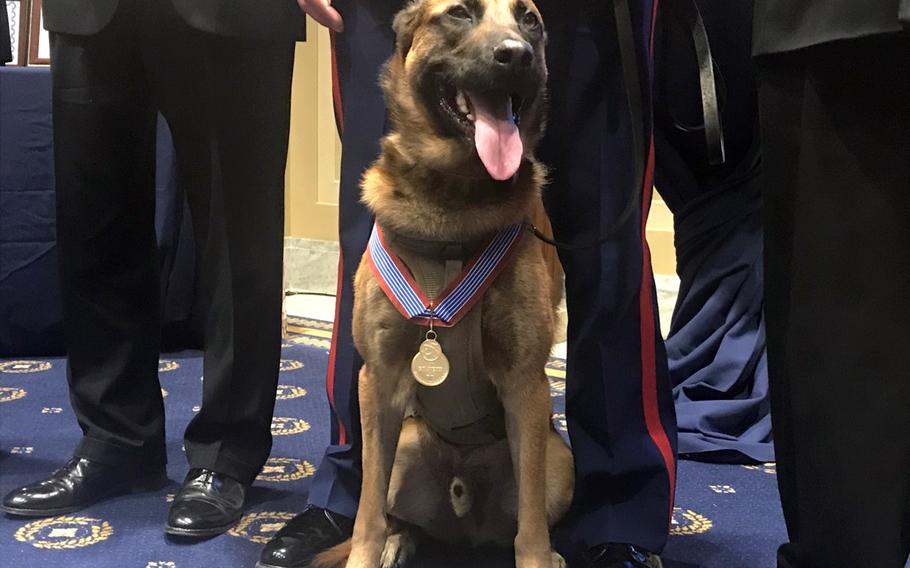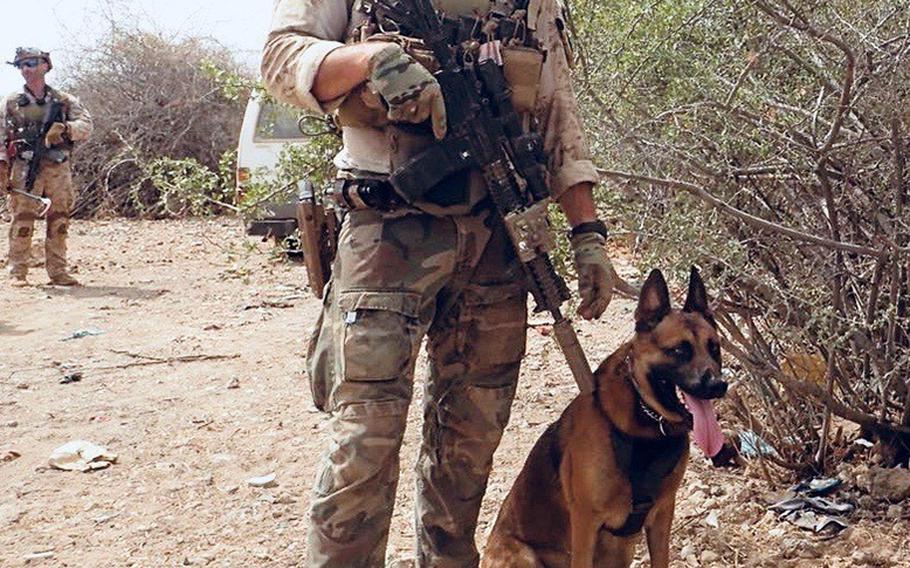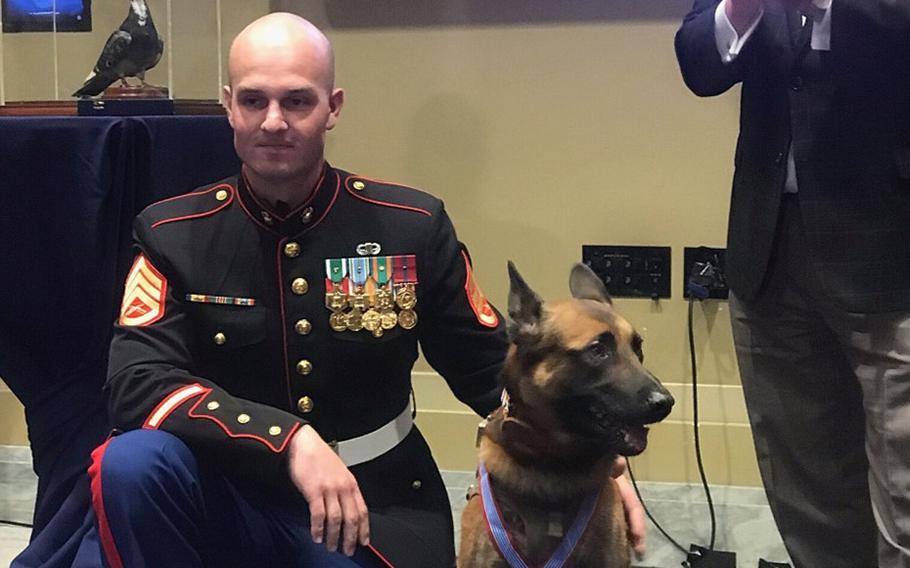 WASHINGTON – Bass, a Belgian Malinois, served more than six years in Marine Corps special operations in Iraq, Afghanistan and Somalia. During his time in Iraq, Bass conducted more than 350 explosive detections with his handler, Staff Sgt. Alex Schnell.
On Thursday, Bass was awarded the Medal of Bravery on Capitol Hill for his work with the Marines. The award, the first of its kind, was issued by Angels Without Wings, a nonprofit aiming to formally acknowledge valor of working animals at home and abroad. The Medal of Bravery was inspired by the Dickin Medal, a British award introduced in WWII to honor brave animals who served in combat.
The efforts of dogs in the military has received greater attention in recent weeks since Conan, another Belgian Malinois, helped hunt down Islamic State leader Abū Bakr al-Baghdadi -- the most wanted terrorist in the world. But Bass and Conan are two of many military working dogs who sniff out bombs, track down bad guys and assist troops on a wide range of missions overseas. Dogs and other animals have always supported troops in combat.
Bass was joined Thursday by Bucca, a dog that served with the New York City Fire Department. Bucca also received the Medal of Bravery and six posthumous medals were awarded to Cher Ami, a pigeon [WWI]; Chips, a dog, and GI Joe, a pigeon [WWII]; Sgt. Reckless, a horse [Korean War]; Stormy, a dog [Vietnam War], and Lucca, a dog [Iraq and Afghanistan wars].
In Somalia, Bass was involved in at least a dozen operations for high-value targets. Special operations units relied heavily on Bass to detect explosives. In Afghanistan, Bass was used to conduct 34 raids for high-profile individuals and lead troops during dangerous building clearings. Through Bass' four deployments across three countries, there were no Marine fatalities on his missions, according to the dog's award citation.
When special operators clear a building, the dog can be the first one through the door to attack and make it safer for troops to enter quickly to kill or detain enemies.
"The dog is often used like a flashbang," Schnell said. "The dog will enter first because a lot of times it'll distract the enemy. Especially if it's dark, it's hard for them [the enemy] to pick up on the dog. It gives you those seconds that are really valuable in that dangerous situation."
Beyond attacking terrorists, Bass has also routed out enemy fighters from hiding spots.
"His nose isn't just for finding stuff [explosives, drugs], it's for finding personnel," Schnell said. "They [enemies] have hiding holes and tunnels in these buildings. It's an awesome capability."
Bass retired from active duty in October and was adopted by Schnell. However, bringing a military working dog home isn't for everyone, and Belgian Malinois is a tough high energy breed that Schnell doesn't recommend as a family pet.
"They are definitely not chihuahuas," he said. "They are not for your average homeowners, especially for those that don't know anything about dog training. If you're going to buy one of these animals definitely research fully trained ones and that you know a bit about dog training yourself, or these dogs will control your whole life and possibly lead you to euthanize or get rid of them. That isn't good for anyone or the dog."
Here are some of the efforts of the military animals who received awards other than dogs:
During World War I, hundreds of American troops were trapped behind enemy lines without food or ammunition and were beginning to receive friendly fire from artillery units that didn't know their location. A pigeon named Cher Ami was able to carry a message to stop the artillery despite being shot by German troops. The bird was blinded in one eye and lost a leg. During World War II, another pigeon known as GI Joe carried a message that prevented a potentially devastating friendly fire tragedy. Allied forces planned a bombing campaign on an Italian town. However, it was occupied by British troops. GI Joe flew 20 miles in about 20 minutes to rely the message friendly forces occupied the town just before bombing planes took off. Staff Sgt. Reckless, a pack horse for Marines during the Korean War, quickly became as well treated as the troops. She roamed freely around camp and would even sleep in tents with Marines on cold nights. In one battle, the horse made 51 solo trips, covering more than 30 miles, to resupply front-line units with ammunition. Reckless was wounded twice by shrapnel. Beynon.Steven@Stripes.com Twitter: @StevenBeynon