Marine Corps mascot Chesty XV promoted to lance corporal
by
Rose L. Thayer
August 7, 2019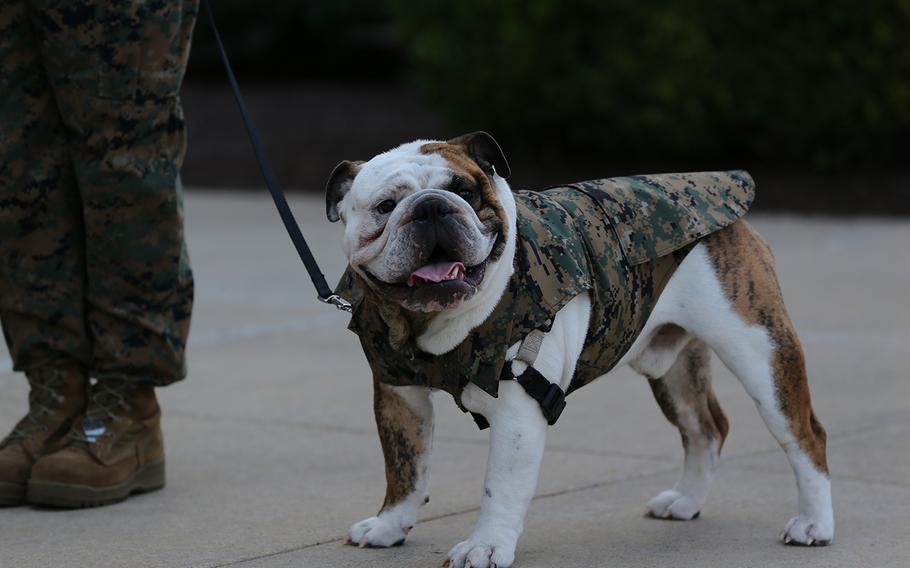 Obeying commands in the Marine Corps can lead to promotion. It did for Chesty XV.
After nearly one year serving as the Marines' mascot, Chesty was promoted from private first class to lance corporal during a ceremony last week at Marine Barracks Washington, D.C.
"He was happy to get promoted. It was a long time coming," said Staff Sgt. Alexander Spence, the assistant drill master and noncommissioned officer in charge of Chesty's handlers at the barracks.
Chesty barked as his new chevron was placed onto his uniform, Spence said, noting the nearly 2-year-old pedigreed English bulldog reached lance corporal more quickly than most privates first class.
Chesty celebrated his achievements with a nice meal Thursday evening that included an extra treat — a diversion from his strict diet that ensures Chesty, like all Marines, maintains his weight.
Named to honor Lt. Gen. Lewis B. "Chesty" Puller Jr., the most decorated Marine in history, the mascot has been a mainstay at the Marines' oldest active post since July 5, 1957. Chesty's main duties include participating in the Friday evening parades held during summer at the base, greeting visitors who tour the base, and going to special events to represent the Marines.
"He's on a strict training schedule," Spence said. Remaining focused on that schedule helped in Chesty's promotion. "He's very disciplined. He obeys commands very well. He's learning how to salute," Spence said.
Chesty is in his second parade season at the barracks. In his first year, Chesty disobeyed orders and instead of sitting when he was told, he rolled over and often refused to walk on his leash.
"He needs to sit in the parades when we want him to sit, and interact with the crowd, so that he's friendly and approachable," Spence said. "He's on the right path right now. If he can continue to do that, he'll continue to get promoted."
thayer.rose@stripes.com Twitter: @Rose_Lori