Mabus: 'We have flown the wings off' Hornets, other Navy aircraft
by
Tara Copp
January 11, 2017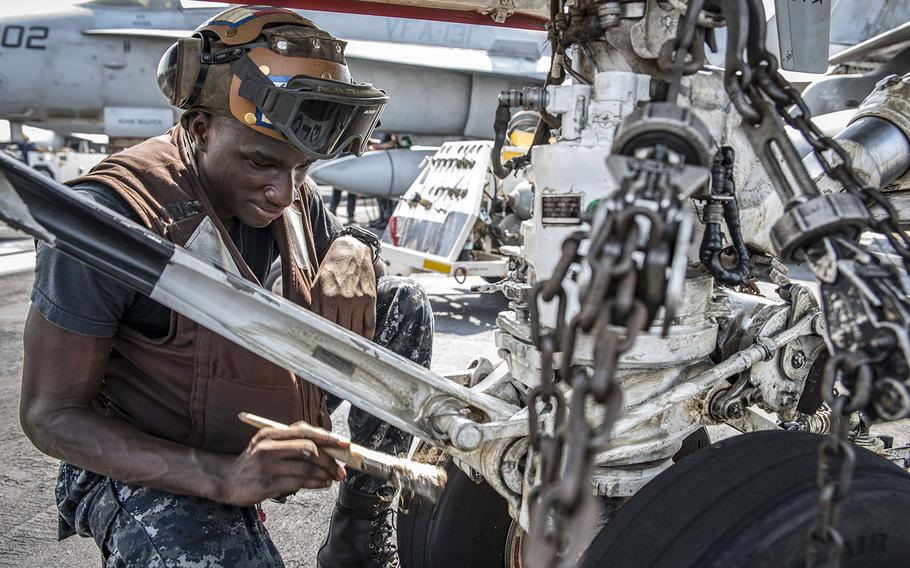 WASHINGTON – Departing Navy Secretary Ray Mabus said Wednesday that the Navy and the Marines continue to fly their aged fleet of aircraft, though he would not say whether he supports a push by President-elect Donald Trump to buy more Hornet fighter jets as a stopgap for long-awaited F-35s to replace them.
"We have flown the wings off of every one of our types of aircraft, not just Hornets," Mabus said during a final interview with reporters before he leaves office Jan. 20.
The F/A-18C Hornet has come under scrutiny recently because several jets have crashed during training flights. In 2016, seven F/A-18C Hornet crashes resulted in the loss of the aircraft and the deaths of three Marine pilots.
A Stars and Stripes investigation in September showed when the Navy was forced to cut its budget and reduced training and delayed maintenance, the accident rate for Hornets and Super Hornets jumped 44 percent, according to data provided by the Naval Safety Center in Norfolk, Virginia.
"Flying a Hornet off a carrier, or anywhere, is an inherently dangerous business," Mabus said.
The Hornets were envisioned to last 6,000 flight hours. The Hornets used by the Navy and Marines are undergoing service extensions to make the remaining aircraft fly between 8,000 and 10,000 hours, the Navy has previously said, so there's no gap as the services transition to the F-35 Joint Strike Fighter. As of September, the Navy had 259 Hornets, but only 55 that were ready for a mission. The Marines had reported 276 Hornets remaining, 87 of which were mission ready.
Mabus said the Hornets used by the Marines would be upgraded for extended use within in two years.
In December, President-elect Donald Trump tweeted he had asked the Boeing Company to "price out" substituting more F/A-18 Super Hornets for the F-35s, citing cost overruns and delays of the new fighter jets. On Wednesday, in his first news conference as president-elect, Trump went after the F-35 again, saying, "It's way, way behind schedule and many, many billions of dollars over budget. I don't like that. We're going to do some big things on the F-35 program and perhaps the F-18 program."
But the Marines only operate the Hornet version of the F/A-18. The service opted not to buy the more advanced Super Hornet.
"The Marines have no back up," Mabus said. "And so they have to have the F-35."
copp.tara@stripes.com Twitter:@TaraCopp