Legislation to pay Coast Guard stalls again on Capitol Hill
by
Claudia Grisales
January 24, 2019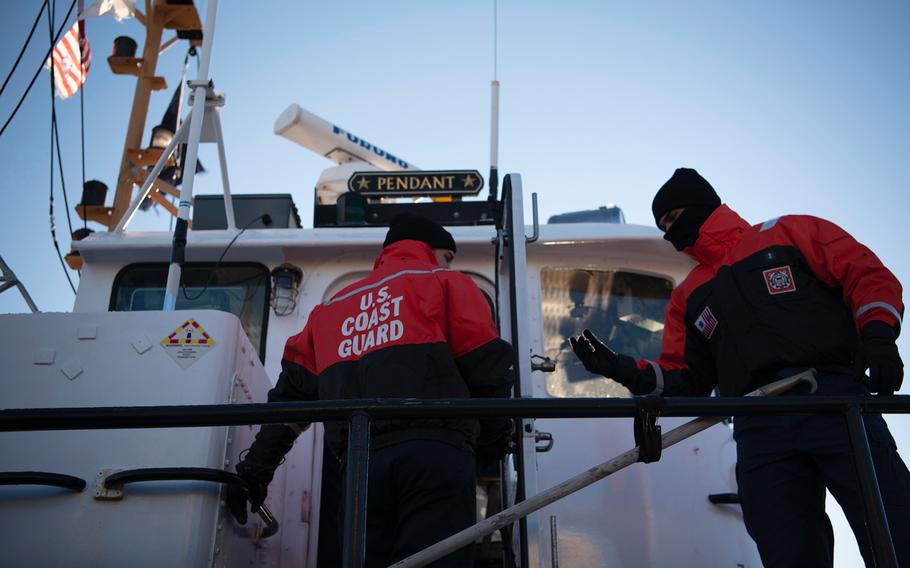 WASHINGTON — In another reminder that the Coast Guard remains handcuffed to a larger, protracted government shutdown, senators on Thursday failed to move key legislation forward that would have ended the stalemate on pay for servicemembers.
In a debate that boiled down to paying all federal workers caught up in the shutdown, an attempt to bring the Coast Guard legislation to a vote on the Senate floor was blocked after an extended back and forth between lawmakers.
"I think our members of the Coast Guard need to be paid during this shutdown," Sen. John Kennedy, R-La., said on the upper chamber's floor. "There's some good members of Congress but right now the American people are wondering what they're good for and it seems to me that we ought to be able to reach an agreement."
Kennedy said President Donald Trump would sign off on the plan. However, Kennedy's move to gain passage on the measure was met with an objection and failed to move forward Thursday. It came moments before two other Senate attempts to fund all closed portions of the government also failed.
Thursday marked the 34th day of the shutdown, the longest ever for the U.S. government. Trump has said he will not sign an overall funding bill without $5.7 billion for a border wall along the U.S.-Mexico border. And there's no end in sight as Trump and congressional Democrats have failed to reach a deal.
The Coast Guard was able to pay its members their Dec. 31 paychecks, but missed their next payday on Jan. 15. If the shutdown continues through next week, the nearly 42,000 members of the Coast Guard will miss a second round of pay on Feb. 1. Also that day, roughly 50,000 Coast Guard retirees and their survivors will miss their first check, as they are paid monthly.
Thursday's latest failed attempt to fund the Coast Guard comes after weeks of Capitol Hill lobbying to pay servicemembers. Other competing measures, such as S. 21, the "Pay Our Coast Guard Act" sponsored by Sen. John Thune, R-S.D., has also failed to gain traction.
Senate Minority Leader Chuck Schumer, D-N.Y., said he met recently with the Coast Guard Commandant Adm. Karl Schultz and asked the admiral to pressure Trump administration officials to "stop holding federal employees hostage."
"I reject to the original request because the senator from Louisiana has not allowed the rest of the government to get paid," Schumer said Thursday after Kennedy made his Senate floor request. "We could do a whole lot more good by funding and opening up the government for everyone."
The widening crisis facing the Coast Guard continues to produce anecdotal evidence as the shutdown enters its fifth week on Friday.
For example, retired Vice Adm. Peter Neffenger, a former vice commandant of the Coast Guard, said Thursday during a Capitol Hill panel discussion that recruits are the latest casualties showing wear from the shutdown. For Coast Guard recruits who began basic training after Dec. 31, they are training for a job for which they are uncertain when they will be paid, he said.
The service is also struggling to get graduates from the Coast Guard Training Center at Cape May in New Jersey to their next duty station. Graduates whose new units are unable to accept them are either being sent back home for hometown recruiting or are staying behind at Cape May until the shutdown ends.
"We are beginning to lose people who have talent and are capable," said Neffenger, who was also a former administrator of the Transportation Security Administration.
The partial government shutdown began Dec. 21 when Congress failed to pass a budget for certain departments, including Homeland Security, which includes the Coast Guard. Other military branches aren't affected by the shutdown because they are part of the Defense Department, which is fully funded through fiscal year 2019, which ends Sept. 30.
"Just like we are today paying for the members of the Army, Navy, Air Force and Marines, the Coast Guard members are the only service[members] out there now who are required …to perform their duties" without pay, said Sen. Roger Wicker, R-Miss., said on the upper chamber floor. "I think it would be a significant gesture on the part of Democrats and Republicans in this Senate and the House of Representatives to pass this one small change, which the president has said he will sign."
Stars and Stripes staff writer Rose Thayer contributed to this report.
grisales.claudia@stripes.com Twitter: @cgrisales