Lawyer cites Trump comments in seeking dismissal of Bergdahl case
---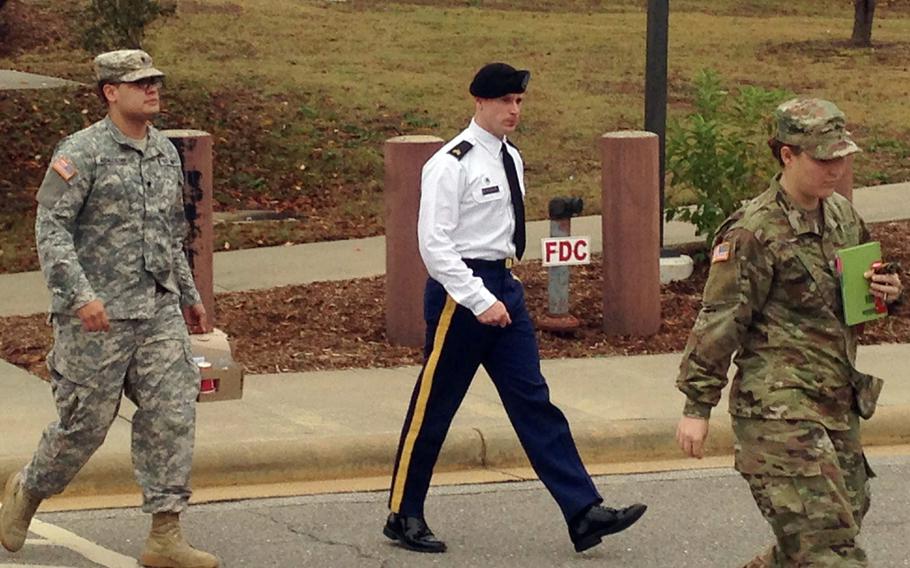 A year ago, Donald Trump revved up rallies across the U.S. by calling Sgt. Bowe Bergdahl a "traitor, a no-good traitor, who should have been executed."
Now that Trump will become commander in chief, Bergdahl's lead lawyer Eugene Fidell is planning to file a motion to dismiss the case, arguing that the president-elect had compromised Bergdahl's due process rights to a fair trial and an impartial jury.
Bergdahl spent five years held by the Taliban after he left his outpost in Afghanistan in 2009 and was captured hours later. He is charged with misbehavior before the enemy and desertion.
"I don't see how Sgt. Bergdahl could get a fair trial with Mr. Trump sitting in the White House," Fidell said in a phone interview on Monday. He said he would file the motion to dismiss the charges shortly after Trump's inauguration.
"There will never have been a case like this — where a successful candidate for the nation's highest office ran in part on the personal vilification of a particular individual," he said.
Bergdahl's lawyers have previously sought to have the case dismissed because of public comments by Sen. John McCain, chairman of the Senate Armed Services Committee. McCain said Bergdahl was "clearly a deserter" and vowed to hold a committee hearing on the case if Bergdahl was not punished.
Military judge Col. John Nance rejected that argument. Last week Fidell filed a brief asking the Court of Appeals for the Armed Forces to overrule Nance's decision.
Coming from a commander in chief, Trump's comments about Bergdahl take on a "much graver" significance than before, said Rachel VanLandingham, a former Air Force judge advocate who is now a professor at Southwestern Law School in Los Angeles. "They get at the primary vulnerability of the military justice system."
"Before [Trump was elected] it was a matter of inflammatory pretrial publicity by a public speaker," she said. "Now the issue really is unlawful command influence."
Officers in the chain of command are highly circumscribed in their statements to prevent UCI pressure — or even the appearance of pressure — by commanders on military judicial proceedings. After President Obama said in 2013 that servicemembers who engaged in sexual assault should be "prosecuted, stripped of their positions, court-martialed, fired, dishonorably discharged," scores of motions were filed in courts-martial claiming that what he said constituted UCI.
As a result, some judges ruled that defendants could not be sentenced to punitive discharges, and most gave defense attorneys more leeway than usual. At least one conviction was overturned on appeal.
"Now you've got a commander in chief who says very specific things about an individual," VanLandingham said. "If a courts found those generic statements [by Obama] were UCI, surely they're going to find it here."
VanLandingham said it wasn't clear how this case would play out, partly because there was no precedent for it. No president, she said, had ever made public comments about a servicemember headed to trial. "This is going to be interesting," she added.
Military appellate lawyer Zachary Spilman, lead writer for a military justice blog, agreed that Trump's statements would raise questions in jury selection. Prospective jurors would be questioned about whether the new commander in chief's statements about Bergdahl while he was campaigning had influenced them.
"We won't know that until the members are actually chosen by the convening authority and questioned during voir dire [preliminary examination]," Spilman said. "Say that the convening authority only selects members who voted for Hillary [Clinton], or even members who know about Trump's comments and consider them to be inappropriate, even offensive. Is it a problem then? The issue isn't whether the comments have the potential to affect the outcome — obviously they do."
Furthermore, Spilman said, "one well-written speech" could take care of any problem.
"Were President Trump to admit that while the case is emotional, the facts aren't totally clear, and also acknowledge that a court-martial is the best way to determine the facts and an appropriate response, it would be a major step in the right direction for this case and for the military justice system as a whole," he said.
Bergdahl, 30, an Idaho native, remains on active duty in a desk job at Joint Base San Antonio in Texas.
The desertion charge against him carries a maximum five-year prison sentence. The misbehavior charge, accusing Bergdahl of endangering troops who had to search for him, carries a potential life sentence.
Bergdahl told investigators and the "Serial" podcast that he left the post not to desert but instead to run to a bigger base and force the military brass to look into what he perceived were serious flaws in his command.
He was freed from captivity in May 2014 in a politically charged exchange for five senior Taliban leaders who had been held at the detention facility at Guantanamo Bay in Cuba and were sent to Qatar.
---
---
---
---