Lawsuit filed against VA secretary over delaying benefits for Blue Water Navy vets
---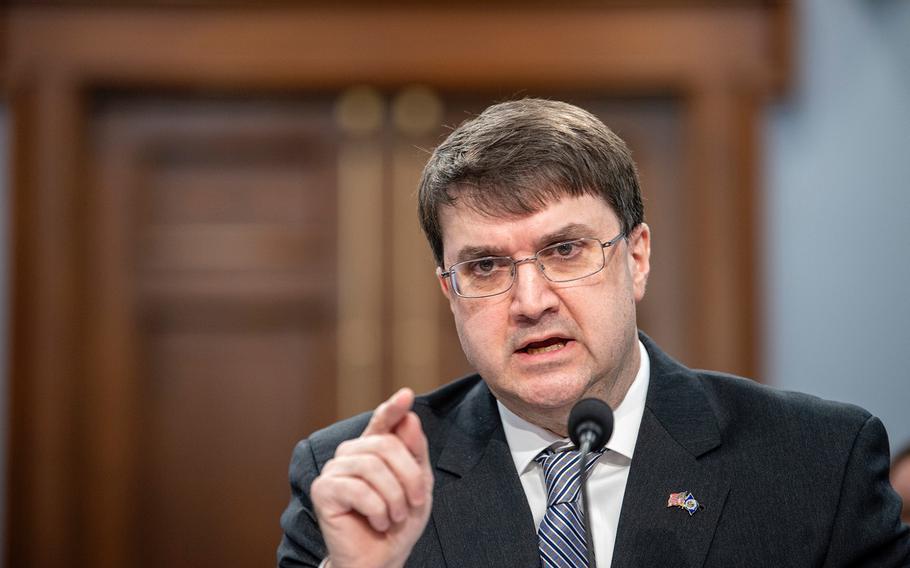 WASHINGTON — A lawsuit was filed Monday against Department of Veterans Affairs Secretary Robert Wilkie over his decision to delay claims processing for tens of thousands of "Blue Water" Navy veterans until next year.
Military Veterans Advocacy and the Blue Water Navy Vietnam Veterans Association filed the lawsuit in the U.S. Court of Appeals for the Federal Circuit, arguing Wilkie doesn't have the authority to delay work on the claims until Jan. 1, 2020 — a decision he announced earlier this month.
Blue Water Navy veterans served aboard aircraft carriers, destroyers and other ships in the territorial seas of Vietnam and fought for years to prove they were exposed to the chemical herbicide Agent Orange. Because of a federal court case and a new law passed by Congress, they became eligible in June for VA disability compensation.
Advocates stressed in their complaint that the veterans can't afford to wait for benefits. The lawsuits names one veteran, Johnnie Harper of Louisiana, who "is not expected to survive" until 2020.
"These veterans are dying at a high rate every single day," the complaint reads. "[They] deserve the peace of mind and sense of closure that accompanies a granted claim for earned benefits."
'Minimize the impact' Thinking it marked the end of a long-fought battle, lawmakers and veterans groups celebrated last month when President Donald Trump signed the Blue Water Navy Vietnam Veterans Act of 2019, which grants government benefits to thousands of Vietnam War veterans who were previously ineligible.
Blue Water Navy veterans cinched another victory when the Department of Justice decided not to appeal a federal court ruling that said they should be extended disability compensation and other benefits from the VA.
The two things coalesced in June, 50 years after the Vietnam War and at least a decade since the first Blue Water Navy veterans began pushing the VA and Congress for recognition.
Now, they'll have to wait awhile longer.
Wilkie announced July 5 that the VA would begin making decisions on the claims Jan. 1, 2020, not immediately. He cited a provision in the Blue Water Navy Vietnam Veterans Act of 2019 that says the secretary can enforce a stay on a claim until the law goes into effect Jan. 1.
In an official statement, Wilkie said the VA needed time to implement the law without causing adverse effects on other veterans awaiting claims decisions.
"We are working to ensure that we have the proper resources in place to meet the needs of our Blue Water veteran community and minimize the impact on all veterans filing for disability compensation," Wilkie said in the statement.
The VA said 420,000 to 560,000 Vietnam War veterans could be considered Blue Water Navy vets, but advocates argue those estimates are inflated. John Wells, a former Navy commander who leads Military Veterans Advocacy, believes the total is closer to 90,000 veterans.
Wells argued that Wilkie's decision to implement a blanket stay on all claims goes against the intent of Congress. Moreover, because a federal court decided in June that Blue Water Navy veterans were eligible for benefits, the VA should process those claims now, he said.
"We are asking the court to intercede and allow these claims to proceed in accordance with federal law," Wells said. "It is unconscionable to create more delays and stumbling blocks for veterans whose health and longevity are at stake."
'Disheartening and unnecessary' Wells isn't the only person fighting the delay.
Sens. Kristen Gillibrand, D-N.Y., and Steve Daines, R-Mont., sent a letter to Wilkie, decrying his decision as "disheartening and unnecessary." Eleven other senators signed another letter that requested the VA make decisions on claims for Blue Water Navy veterans "with as much urgency as possible."
"Issuing a stay on the resolution of all benefits decisions will only needlessly delay the delivery of critical health care and contribute to an influx of claims that could be more appropriately managed if processors could begin their work now," the senators wrote.
The letter was signed by Sens. Jon Tester, D-Mont.; Sherrod Brown, D-Ohio; Richard Blumenthal, D-Conn.; Mazie Hirono, D-Hawaii; Patty Murray, D-Wash.; Elizabeth Warren, D-Mass.; Brian Schatz, D-Hawaii; Bob Casey Jr., D-Penn.; Gary Peters, D-Mich.; Bernie Sanders, I-Vt.; and Joe Manchin, D-W.Va.
The group of senators also voiced concerns about whether the VA is communicating with Blue Water Navy veterans about the change in law or providing instructions to claim benefits.
John Rowan, president of Vietnam Veterans of America, wrote to Wilkie soon after the VA announced the delay. He called Wilkie's decision "frustrating" and a step backward in the progress made for Blue Water Navy veterans this year.
"Today, the average age of a Vietnam veteran is 73 years old. Time is of the essence as a grant of benefits can mean obtaining vital, lifesaving health care," Rowan wrote. "The saying, 'Delay, delay and hope they die' is the unfortunate reality for veterans and families that have been and continue to suffer from the lethal effects of Agent Orange."
Disabled American Veterans sent a message to its members last week, saying the organization was working with lawmakers and other veterans groups to lift Wilkie's stay on the claims. DAV encouraged Blue Water Navy veterans to file claims now, so they could receive benefits as soon as possible.
"VA and Congress must find a way to move forward and begin granting Blue Water Navy veterans claims before it's too late," the message reads.
wentling.nikki@stripes.com Twitter: @nikkiwentling
---
---
---
---