Lawmakers write more letters, propose more legislation to extend Guard deployments, benefits
by
Rose L. Thayer
May 22, 2020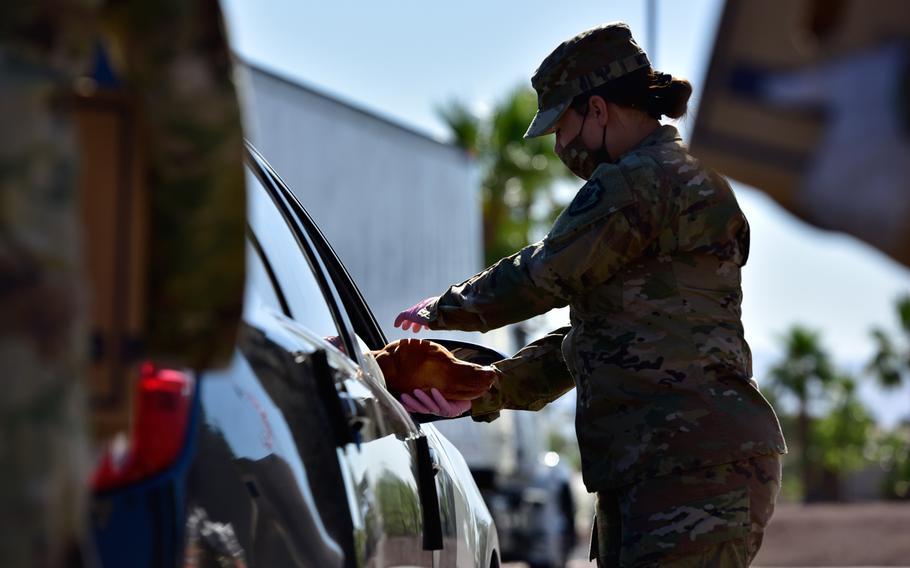 Stars and Stripes is making stories on the coronavirus pandemic available free of charge. See other free reports here. Sign up for our daily coronavirus newsletter here. Please support our journalism with a subscription.
AUSTIN, Texas — Lawmakers have escalated their efforts to extend federal deployments for National Guard members combating the coronavirus by sending letters to President Donald Trump and filing legislation that they say would help states still grappling with the virus and provide better benefits for troops.
Rep. Annie Kuster, D-N.H., introduced legislation Friday that would extend federal status to National Guard troops through the end of the public health emergency, according to a news release from her office. It is the companion bill to the National Guard COVID-19 Response Stability Act filed in the Senate on Wednesday by Sen. Tammy Duckworth, D-Ill.
As of Friday, about 46,000 National Guard troops were deployed with about 39,900 working under a federal status known as Title 32, which keeps them under the control of the state's governor but pays for them with federal funds. Missions under this status must be approved by the Federal Emergency Management Agency.
The status also gives troops federal benefits such as Tricare health insurance, death gratuity and a housing allowance. For those serving in a federal status for at least 90 days in a fiscal year, service members also are eligible to receive their retirement compensation three months sooner and receive greater support through the post 9/11 GI Bill.
But the planned June 24 end for the deployments would leave many troops with only 89 days of federal service against the coronavirus, which is also referred to as COVID-19.
"Across the nation, the National Guard is working tirelessly to support communities through the COVID-19 pandemic," Kuster said. "The Trump administration's decision to cut these COVID-19 deployments just short of the 90-day benchmark to receive benefits under the GI Bill is misguided and downright unpatriotic."
The date also brings an "an early end to the critical support that the National Guard is providing to communities in every state across the nation," she said.
That work includes manning mobile and drive-thru testing sites, going into nursing homes to clean and test personnel and residents, and working in food banks to get meals out to families in some of the most economically hard-hit areas of the country.
In New York, where nearly 3,000 Guard members are approved for federal status through June 24, operations are under constant reevaluation based on the changing needs of communities, said Col. Richard Goldenberg, spokesman for the New York National Guard.
"As the pandemic response continues to develop, we will reassess the need for New York state military forces for missions across the state beyond that date. Leaders and staffs continue to refine enduring mission needs and troops to those tasks," he said.
In Maryland, leadership will determine whether missions carried out by about 1,000 Guard members will need to end on June 24 or continue under state and local agencies, said Maj. Kurt Rauschenberg, spokesman for the Maryland National Guard.
"The Maryland National Guard will continue to successfully accomplish missions based on critical needs from the state and local governments until about mid-June," he said. "Our soldiers and airmen will need time to take accrued leave and receive medical care as needed prior to June 24 and before returning to their civilian careers."
A bipartisan group of 125 senators and representatives sent a letter Friday to Trump, Defense Secretary Mark Esper and FEMA Administrator Peter Gaynor asking for them to address four areas of concern among the National Guard: federal status, leave, health care, and GI Bill and retirement benefits.
"Our national success in flattening the curve will not be possible without the contributions of the National Guard. We believe it is critical to ensure that all National Guard personnel are taken care of during this crisis and after, recognizing that the threat of COVID-19 will not immediately go away and the National Guard is likely to be called on again in the future," wrote the group of 95 Democrats, 29 Republicans and one Independent.
When it comes to Guard health care, the group asked the administration to provide Transition Assistance Management Program benefits for 180 days after coming off orders. This would ensure the Tricare health coverage earned for troops and their families while on federal orders would continue once service members return home.
Two Democrats, Rep. Adam Smith of Washington, who is the chairman of the House Armed Services Committee, and Rep. Jackie Speier of California, the chairwoman of the committee's subpanel on military personnel, also sent a letter Friday to Trump asking that Title 32 status be extended to September.
"An extension is critical to ensuring the safety and health of our citizens across the nation. Thousands of National Guard service members have been providing invaluable support for testing civilians and Guard personnel, logistics, and warehouse distribution support, and all these efforts are essential to mitigating the impact of COVID-19 on every state," they wrote.
Esper hinted Friday that an extension could be in the works when questioned about the National Guard during a television interview with NBC's Today show.
"If they have a valid mission assignment verified by FEMA, then my view is we should extend those tours of duties," he said. "I'm not worried about the number of days. [I'm worried about] making sure we win the fight against the coronavirus and fully support the young men and women who are serving on the streets of America in the National Guard."
thayer.rose@stripes.com Twitter: @Rose_Lori
---
---
---