Lawmakers face long to-do list that could have big impacts for veterans and service members
by
Steve Beynon
December 3, 2019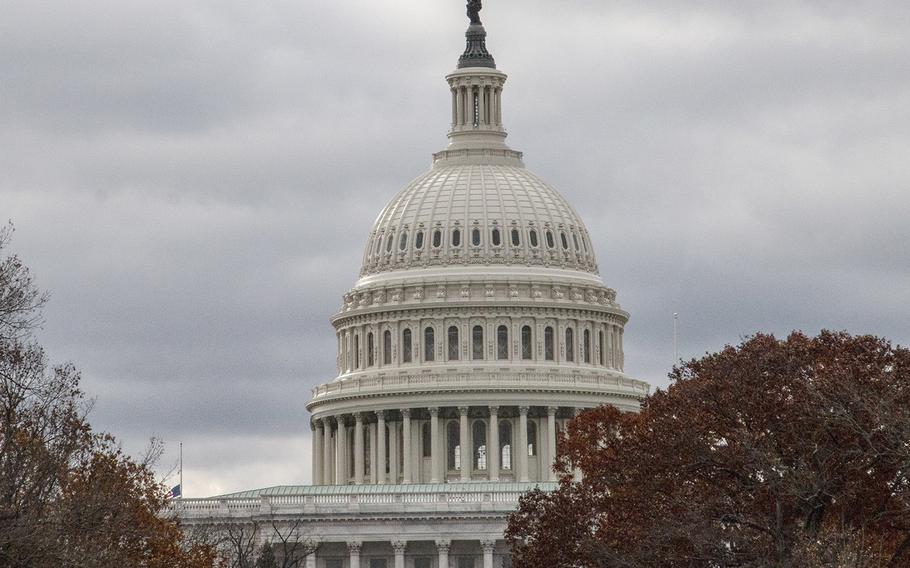 WASHINGTON — As the year comes to a close, the fate of multiple big-ticket issues including health care and education benefits impacting thousands of service members and veterans remain uncertain with only a few legislative days left and federal employees eyeing Christmas vacation.
New Year's kick-off for Blue Water claimsThe Department of Veterans Affairs will start processing Agent Orange disability claims Jan. 1 for Blue Water Navy veterans though lawmakers are skeptical the VA will be ready.
VA Secretary Robert Wilkie said his department will work through the December holidays to prepare for a long roster of veterans claiming overdue benefits. Estimates range from 90,000 to more than 400,000 veterans could be entitled to Blue Water claims.
The Blue Water Navy Act of 2019, which was signed into law in June, states veterans aboard American vessels off Vietnam's coast between Jan. 9, 1962, and May 7, 1975, are presumed to have been exposed to Agent Orange, a chemical herbicide, and might be entitled to disability benefits.
Suicide bill to expand care beyond VAA House bill aimed to combat the crisis of veteran suicides by giving federal funds to programs outside the VA is expected to move forward despite some tense exchanges between lawmakers and the VA. There are multiple versions of the bill on the table, including a compromise from Republicans that aims to quell some concerns from Democrats. The VA estimates the program will cost $85 million for three years, but that amount could change.
Wilkie's office lobbied congressional offices to get support for the bill, drawing the ire of House Committee on Veterans' Affairs chairman, Rep. Mark Takano, D-Calif. Takano contended Wilkie stepped out of line interfering in negotiations over the bill.
Wilkie got into a tense exchange with Takano at a hearing over the measure, saying committee leadership is focusing too much on the process instead of the bipartisan support to expand mental health care and that action has to be swift after years of efforts have seemingly had little impact. Takano pressed Wilkie with questions on oversight limitations, concerned federal dollars could be unaccounted for and that there aren't clear standards for which organizations get elevated at taxpayers' expense.
Despite the squabbling, Takano and Wilkie said they are confident some version of the measure will see progress by Christmas.
Hearing on military housing crisisAfter a series of news reports, hearings, and lawsuits filed by military families that have pushed for base housing reform, there is a hearing in both chambers of Congress this week on substandard housing conditions at bases across the country.
The three service secretaries and four service chiefs testified Tuesday before the Senate Armed Services Committee. The House on Thursday is set to question representatives of some housing companies about substandard conditions provided to military families.
The crisis has been a hot button issue for years in the military, drawing near universal indignation within the ranks and families highlighting shockingly poor living conditions with health hazards, dodgy infrastructure, and generally poor upkeep from private companies contracted to provide housing.
GI Bill on the southern borderNational Guard troops who have deployed to the U.S.-Mexico border have not been accruing GI Bill benefits, despite President Donald Trump's emergency declaration entitling soldiers to federal benefits, and universal agreement on Capitol Hill and veteran advocacy groups that some troops have been seemingly short-changed and not given a lot of answers.
Maj. Gen. Dawne Deskins, director of manpower and personnel at the National Guard Bureau, told lawmakers in October that the issue just recently reached the Defense Department. National Guard and DoD officials said the Pentagon is reviewing the issue, but it remains unclear whether soldiers will get their education benefits ahead of the spring semester.
Congressional staffers are working with defense officials on a fix. However, two top Republicans on the House VA committee wrote a letter in September to the defense secretary, asking for the Pentagon to explain what's holding up benefits for soldiers. They have not yet received a response.
Some unit leadership have told soldiers that they aren't entitled to GI Bill benefits for their domestic service, spurring confusion within the ranks. However, some troops are getting letters from the VA instructing them on how to attain GI Bill benefits for their southern border deployment.
beynon.steven@stripes.com Twitter: @StevenBeynon
---
---
---
---