Lawmakers call for probe into firing of virus-stricken aircraft carrier's commander
by
Corey Dickstein
April 3, 2020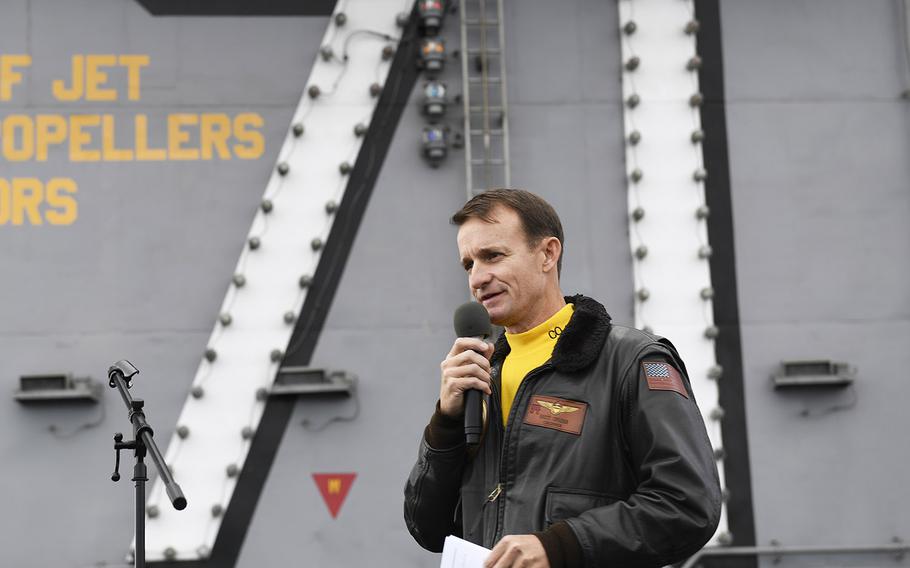 Stars and Stripes is making stories on the coronavirus pandemic available free of charge. See other free reports here. Sign up for our daily coronavirus newsletter here. Please support our journalism with a subscription.
WASHINGTON — Lawmakers on Friday called on the Pentagon's inspector general to investigate the Navy's decision to fire the commander of a coronavirus-stricken aircraft carrier after his letter demanding help was leaked to the news media.
In a letter to the inspector general, Reps. Ted Lieu, D-Calif., and Ruben Gallego, D-Ariz., wrote they were "disturbed" by acting Navy Secretary Thomas Modly's decision late Thursday to relieve Capt. Brett Crozier of command of the USS Theodore Roosevelt. Modly said in a hastily called Pentagon news briefing that he had lost trust and confidence in Crozier's ability to command because his scathing four-page letter seeking approval to remove most of the nearly 5,000 crew members aboard the ship was too widely distributed. By Friday, 137 Roosevelt sailors tested positive for the coronavirus.
"Secretary Modly's personnel action looks like retaliation and sends the message that the Navy does not want commanders to speak out to protect personnel," wrote Lieu and Gallego, who are military veterans. "We request an investigation into whether the action by Secretary Modly was appropriate or legal."
At least 17 Democratic senators signed on to a similar but separate letter Friday demanding an IG probe into Crozier's firing, just two days after the captain's letter to Navy higher-ups leaked to the San Francisco Chronicle, the Reuters news agency reported.
Modly on Thursday told reporters that Crozier had failed to address his concerns properly through his chain of command by distributing his letter to as many as 30 people, including some outside that chain, via a "non-secure unclassified email."
"I could reach no other conclusion that Capt. Crozier had allowed the complexity of his challenge with the [coronavirus] breakout on the ship to overwhelm his ability to act professionally, when acting professionally was what was needed most at the time," Modly told reporters Thursday.
Modly did not accuse Crozier of leaking the letter himself, which he said Wednesday would be the trigger for a decision to relieve the captain of command.
The acting Navy secretary said the decision to relieve Crozier of command was his alone. He even praised the captain as an "incredible man."
"I have no doubt in my mind that Capt. Crozier did what he thought was in the best interest of the safety and well-being of his crew," Modly said. "Unfortunately, it did the opposite. It unnecessarily raised the alarm of the families of our sailors and Marines with no plans to address those concerns."
Crozier left the Roosevelt, docked off the coast of Guam, Friday morning with scores of his sailors cheering him as he walked alone from the ship that he had commanded since November, videos posted Friday to various social media sites showed.
"That's how you send out one of the greatest captains you ever had," said a person on one of the videos, who then used an acronym for greatest of all time. "The GOAT, the man for the people."
Crozier is expected to be reassigned within the Navy and keep his current rank, Pentagon officials said Friday.
The military's top general in an appearance Friday on Fox News defended Modly's decision to relieve Crozier of command.
Army Gen. Mark Milley, the chairman of the Joint Chiefs of Staff, said Modly was justified in his decision because the military relies on keeping critical information confined to the chain of command.
"I don't have all the facts, but I trust Secretary Modly and his judgment, and I'm going to support him, obviously, because he is the responsible, accountable official to the American people," Milley said. "He thought [Crozier] operated with poor judgment in a time of crisis … And when [Modly] loses trust and confidence in a ship's captain, then that's it. It's target down."
Defense Secretary Mark Esper also supported the decision, Jonathan Hoffman, the Pentagon's chief spokesman said late Friday. Hoffman declined any additional comment on Crozier's removal.
Milley said the military was working Friday to remove sailors from the Roosevelt. Officials have said they plan to remove all but about 1,000 sailors from the ship to self-isolate for two weeks in hotel rooms and Navy facilities on Guam to ensure the coronavirus cannot be spread further.
Modly said Wednesday about 1,000 sailors were needed aboard the Roosevelt to conduct critical missions including securing weapons, munitions and the ship's nuclear reactor. In his letter, Crozier had sought to reduce the number of sailors aboard the ship even more to stem the "ongoing and accelerating" outbreak.
Like several other Democrats, former Vice President Joe Biden blasted the Navy's decision.
"Navy leadership sent a chilling message about speaking truth to power," the front runner for the Democratic presidential nomination tweeted Friday. "The poor judgment here belongs to the Trump administration, not a courageous officer trying to protect his sailors."
President Donald Trump was asked late Thursday whether Modly's decision could be viewed as punishment for an officer speaking out to protect his troops.
"I don't agree with that at all," Trump responded. "Not at all. Not even a little bit."
dickstein.corey@stripes.com Twitter: @CDicksteinDC