Lawmaker: Closure of military immigration centers 'shameful'
by
Claudia Grisales
March 7, 2018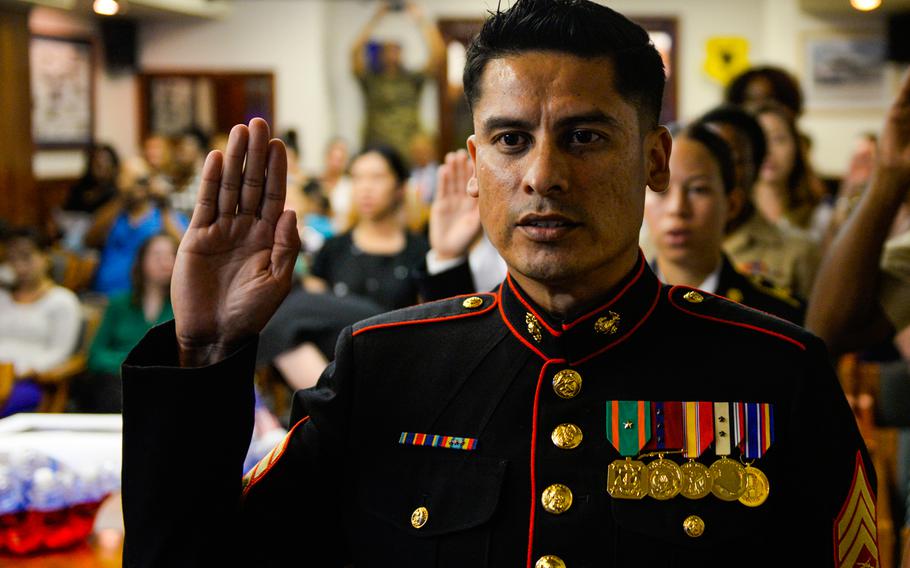 WASHINGTON – Lawmakers on Tuesday slammed reports that offices for the U.S. Citizenship and Immigration Services have been closed on several large military bases in recent weeks.
The offices are a lifeline for immigrant military recruits and active members seeking citizenship, and help expedite the protracted process.
On Monday, BuzzFeed News reported that the offices at U.S. Army basic training locations in Fort Benning, Ga.; Fort Jackson, S.C.; and Fort Sill, Okla.; were closed Jan. 26.
"Our military is stronger because of the diversity of those who serve in it," Sen. Tammy Duckworth, D-Ill., a combat pilot who lost both legs in the Iraq War, said Tuesday. "No matter where you were born and what background you come from, if you are able and willing to wear the uniform of this great nation, you should have the opportunity to become an American citizen."
The comments come in the wake of heated and controversial rhetoric over border security and the role of immigrants under President Donald Trump. He has railed against certain immigrants' access to the U.S., saying some have fueled terrorism, hurt the national job market and created other concerns.
"This is indefensible," Sen. Mark Warner, D-Va., tweeted Tuesday of the closures. "These military recruits are willing to put their lives on the line for our country and fill key positions in our Armed Forces. We need to honor their service."
Rep. Joaquin Castro, D-Texas, also pushed back against the move Tuesday.
"Yet another barrier for immigrants who were promised naturalization after service," he tweeted.
This comes as Congress has failed to reach a deal on a fix to the Deferred Action for Childhood Arrivals, or DACA, program, which could force recipients known as Dreamers to be deported. Defense Secretary Jim Mattis has said Dreamers serving in the military would not be deported, but it's not clear how if an executive order Trump signed last year definitively ends DACA.
For now, the fate of the program lies in a legal effort making its way through the courts. The Pentagon estimated late last year that 900 Dreamers were serving in the military.
Duckworth called out the the closure of the citizenship offices on military bases as another Trump-initiated roadblock against immigrants.
The offices are critical to the Military Accessions Vital to National Interest, or MANVI, program, which helps immigrants join the military with a fast track to citizenship.
"The closure of the offices makes it significantly harder and it violates the commitment we have made to thousands of brave men and women who signed up to defend our country through the MAVNI program," Duckworth said. "It's disappointing to see the Trump administration head in such a shameful direction."
Duckworth has introduced several bills to prevent veterans and servicemembers from being deported and denied the opportunity to become citizens of the nation they swore to defend.
For example, her legislation would establish naturalization offices at military training facilities to make it easier for servicemembers to become citizens, prohibit the administration from deporting veterans and give legal permanent residents a path to citizenship through military service, her office said.
Duckworth said she has also co-sponsored legislation to protect military recruits who have enlisted through the MAVNI program from being discharged or deported due to their immigration status.
Her office estimates 1,000 to 1,800 recruits – including hundreds of Dreamers – have skills that are underrepresented in the U.S. military and are currently waiting for the chance to serve.
grisales.claudia@stripes.com Twitter: @cgrisales