'LaDavid fought like a hero:' Family of soldier killed in Niger attack receives posthumous medal
by
Chad Garland
August 17, 2019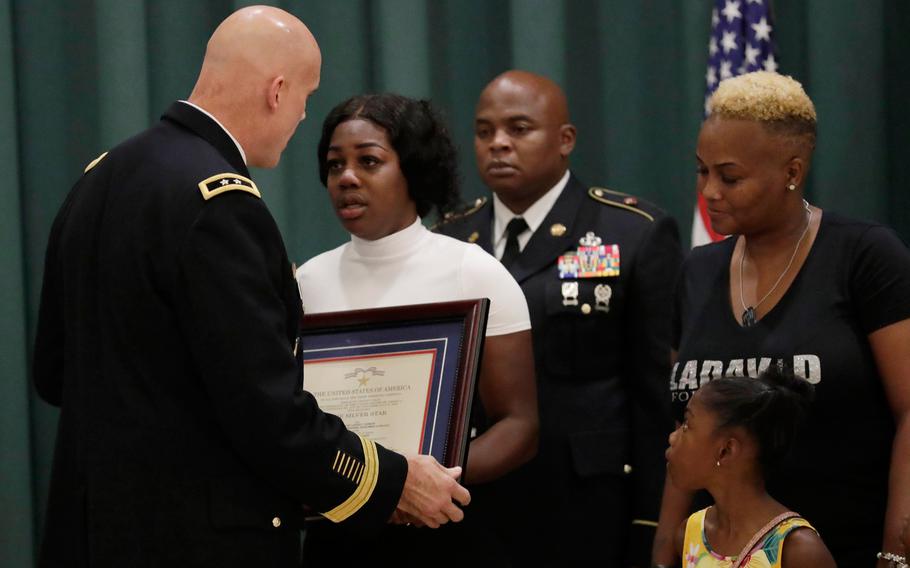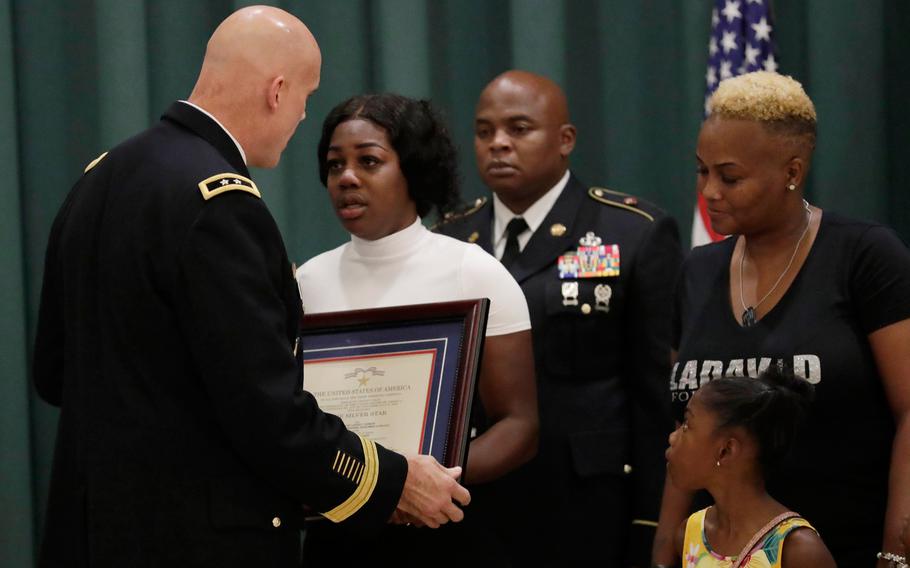 The family of a U.S. soldier killed during an October 2017 ambush in West Africa was presented the country's third-highest valor award Friday in Florida, the fourth posthumous medal for valor in that incident presented in the past week.
Sgt. LaDavid Johnson's widow received the Silver Star medal on her husband's behalf from Maj. Gen. John Deedrick during a ceremony at Miami Gardens City Hall, Miami's WPLG Local 10 reported.
The 25-year-old soldier was among four Americans killed in the ambush and ensuing six-hour firefight outside the rural village of Tongo Tongo near Niger's border with Mali on Oct. 4, 2017. A team of some 40 Green Berets, support soldiers and Nigerien partner forces had been on a mission to capture or kill an Islamic State group leader in West Africa when they were attacked by more than 100 militants.
"Facing overwhelming force, LaDavid fought like a warrior," Deedrick said at the ceremony. "LaDavid fought like a hero."
Johnson joined the Army in January 2014 as a wheeled vehicle mechanic and was assigned to 3rd Special Forces Group. He was on his second deployment to Niger when he was killed.
"Don't no medal really bring my husband back to me, but I acknowledge them for ... recognizing my husband for his sacrifice for our country," his widow, Myeshia Johnson, told WPLG.
The couple's young son and two daughters, as well as Johnson's parents and siblings attended the ceremony. Some wore shirts printed with his name. They were the last family of the four soldiers killed in the ambush to receive a valor award presented posthumously in the past seven days.
In the aftermath of the attack, Johnson's body was not immediately recovered, leading to rumors he had been captured, which the Army has denied. An investigation later found that he had run some 960 meters seeking cover from the attackers, and was killed in a barrage of small-arms and heavy machine gun fire.
His death also drew attention as the center of a political spat between President Donald Trump and a Florida Democratic Rep. Frederica Wilson. Wilson and Johnson's family members said that in a phone call to the soldier's pregnant widow, Trump said her husband "knew what he signed up for," as the family was traveling to meet the sergeant's body in October 2017.
The furor, and the surprising loss of life in the ambush in a country many Americans seemed unaware the U.S. had troops on the ground in, stoked continued interest in the incident for months.
A summary of the Army's investigation released in May 2018 said that the joint U.S.-Nigerien team Johnson was with had dismounted their vehicles after first coming under fire and shot back while attempting to counter the attack. But realizing they were outnumbered by a well-trained force that was about to envelop them, they returned to their vehicles and broke contact.
In the confusion, two Nigerien vehicles and one U.S. vehicle with three American soldiers did not withdraw. The trio — Staff Sgt. Dustin Wright, 29; Staff Sgt. Bryan C. Black, 35; and Staff Sgt. Jeremiah W. Johnson, 39 — continued to fight to their deaths and their bodies were later recovered near the initial ambush site.
Johnson, the driver of another vehicle, had been among the soldiers who fell back to a second position and began again engaging the enemy again. When they were forced once more to break contact, Johnson and two Nigerien soldiers who tried to get into their vehicle were driven back into fighting positions by heavy enemy fire and then were forced to flee on foot as the militants closed in.
The two Nigerien soldiers were killed within about 600 meters. Johnson made it nearly a kilometer and took cover behind thick brush, continuing to fight under suppressive enemy fire from a vehicle-mounted heavy machine gun, the investigation said. His body was found there two days after the attack.
The sergeant's "courage and dedication to his team were unmatched, engaging a numerically superior hostile force, disrupting the enemy's freedom of movement, and killing several enemy fighters before succumbing to his wounds," his Silver Star citation reads, WPLG reported.
Johnson had been hit as many as 18 times by fire from M-4 rifles — probably stolen by the insurgents — and Soviet-made heavy machine guns, officials told The Associated Press in the months after the attack.
As the incident and its aftermath garnered headlines, it brought scrutiny on special operations missions in Africa and led to multiple reviews.
Military officials have said mistakes were made in the mission's planning and approval, and they have blamed tactical confusion and a failure to rehearse ahead of the operation as factors contributing to its bloody outcome — the deadliest combat incident for U.S. forces in Africa since the 1993 downing of a Black Hawk helicopter in Somalia.
In its wake, U.S. Africa Command ordered changes to reduce risk to American troops and better prepare them for operations.
The long initial investigation into the incident drew criticism, however, after it resulted in reprimands for mostly junior and mid-grade officers and enlisted personnel, while only one general officer was punished. Another review, completed this spring, brought no additional disciplinary actions.
Johnson's widow and mother had reportedly walked out of an Army briefing on that review, at which families were presented the redacted investigation report in early June. They and members of the other soldiers' families have complained about a long wait for answers about the incident, and some have said they wanted more senior officers held accountable for their part in ordering or overseeing aspects of the mission.
Meanwhile, the Army has approved nine valor awards for soldiers' actions on the day of the attack, including three Bronze Stars for valor and four Silver Stars.
In recent days, the Jeremiah Johnson and Black families were presented those soldiers' Bronze Star medals with "V" devices for valor. Wright's parents were presented his Silver Star in his hometown.
The other awards include Silver Stars for two unnamed team members, a Bronze Star with valor, an Army Commendation Medal with valor and the Army Commendation Medal with "C" device for combat, the Pentagon has said.
Johnson's parents were honored that their son and the other soldiers who died with him nearly two years ago received valor medals, WPLG reported.
"I am so honored and grateful," his mother Cowanda Johnson said.
For the soldier's widow, even though the Friday ceremony was recognizing her husband's heroism, it was painful, she told the news station.
"It's a sad moment for me," Myeshia Johnson said. "It still hurts me."
garland.chad@stripes.com Twitter: @chadgarland