Kenneth Braithwaite is sworn in as the 77th Secretary of the Navy
by
Caitlin M. Kenney
May 29, 2020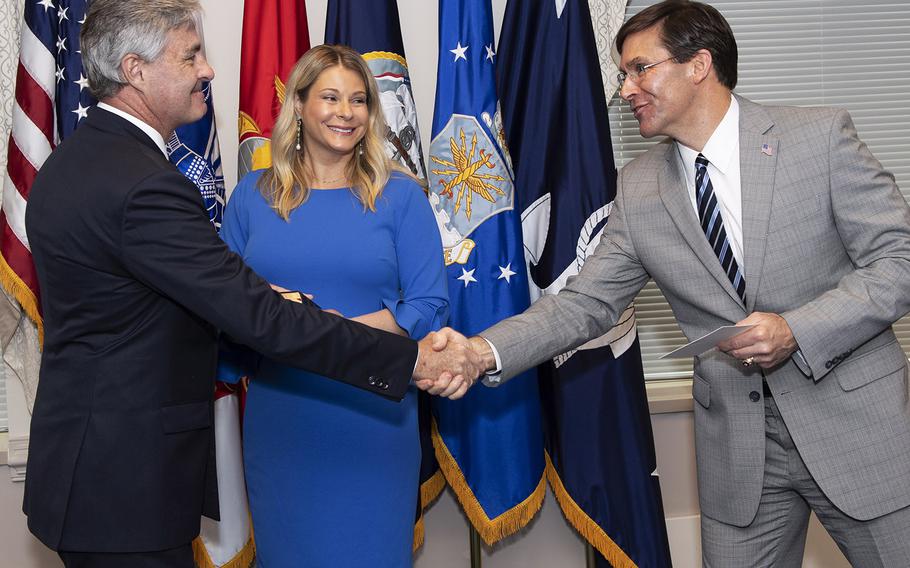 WASHINGTON — The Navy has a new secretary to lead the service, amid a pandemic and an upcoming budget fight on Capitol Hill.
Kenneth Braithwaite, a Navy veteran, was sworn in as the 77th Navy Secretary on Friday morning, according to the Navy. The former ambassador to Norway was confirmed by the Senate last Thursday in a voice vote.
Braithwaite on Friday wrote a message to the fleet, reminding sailors and Marines to be guided by the service's core values "honor, courage, and commitment" as they operate around the world.
"Make no mistake, we face significant challenges today. Our nation is up against perhaps the greatest test of our commitment to the ideals we hold dear than at any time in our history...surely since the end of World War II. We must recognize this challenge for all it is and all it presents, lurking in the shadows of deceit or the depths of dishonesty," he wrote.
He also wrote the Navy and Marine Corps have faced tough times before and will "persevere again" by relying on its core values.
Braithwaite is taking on the top civilian position at a tough time in the Navy's history. The coronavirus pandemic has sickened almost 2,400 sailors and killed one sailor assigned to the USS Theodore Roosevelt. Congress is also about to begin working on the Defense Department's budget for fiscal year 2021, in which the Navy has requested less funding for buying ships and more on operations, while at the same time trying to increase their fleet to more than 355 warships.
The Navy has had a great deal of turnover in leadership in the past six months, from the firing of Navy Secretary Richard Spencer to the resignation of the acting Navy Secretary Thomas Modly.
During his nomination hearing May 7, Braithwaite said the service is in "troubled waters," listing some of the recent failings he believes have caused a breakdown of trust in Navy leadership. His list included the Fat Leonard scandal, the 2017 collisions of the USS Fitzgerald and USS John S. McCain, as well as "judicial missteps" and the coronavirus outbreak on the Roosevelt that infected more than 1,100 sailors.
kenney.caitlin@stripes.com Twitter: @caitlinmkenney
---
---
---