Journalists, students press lawmakers to help secure return of Marine vet Austin Tice
by
Nikki Wentling
September 23, 2019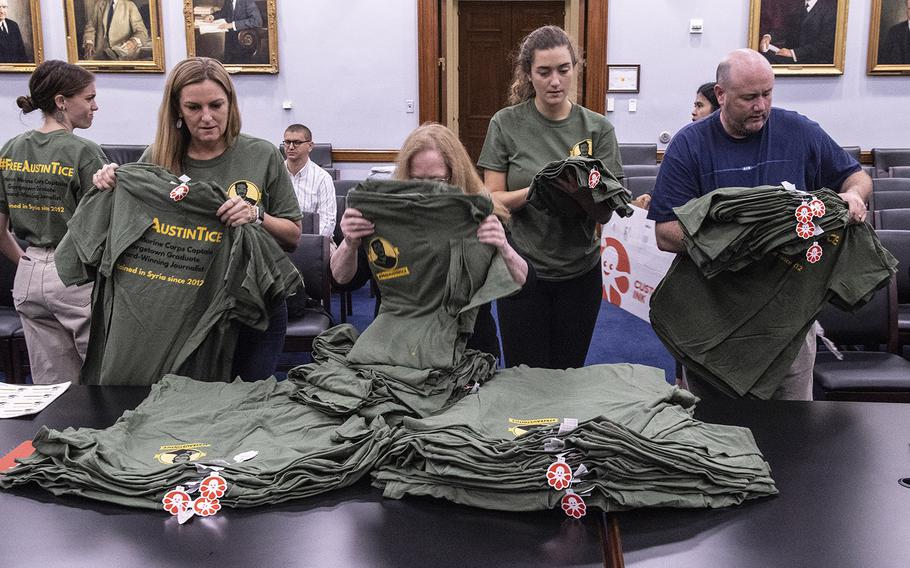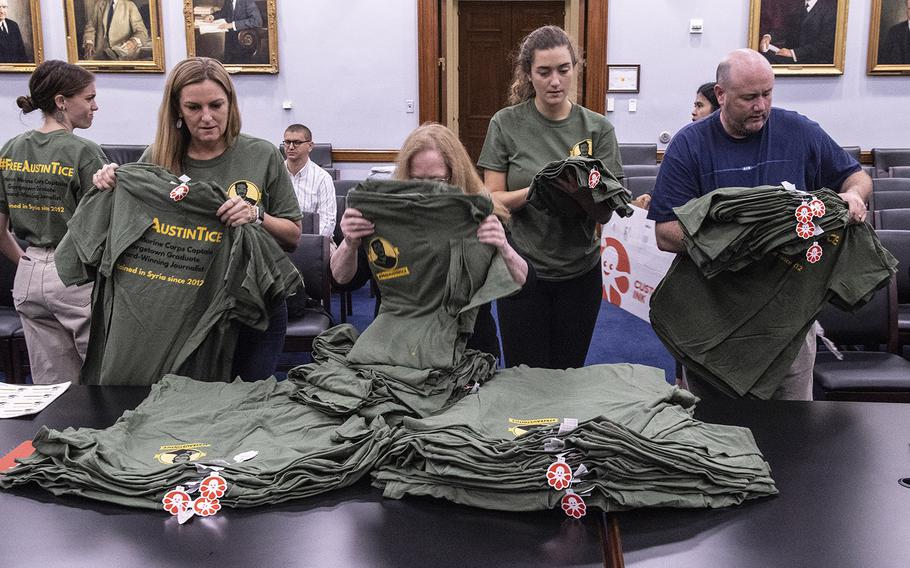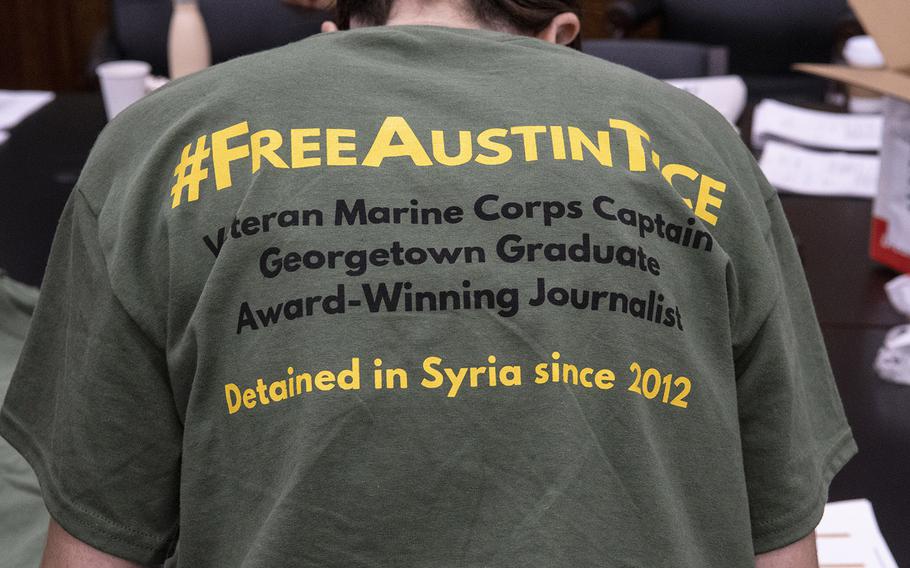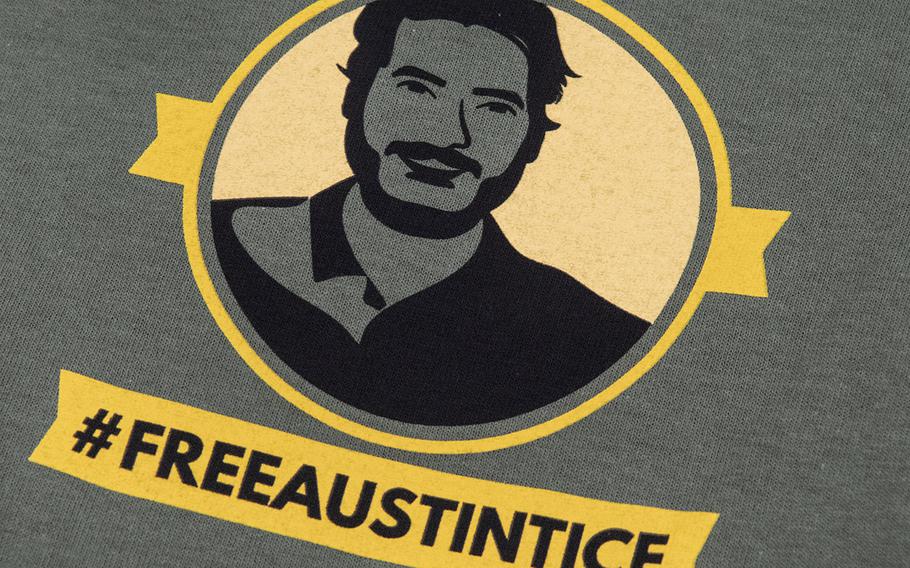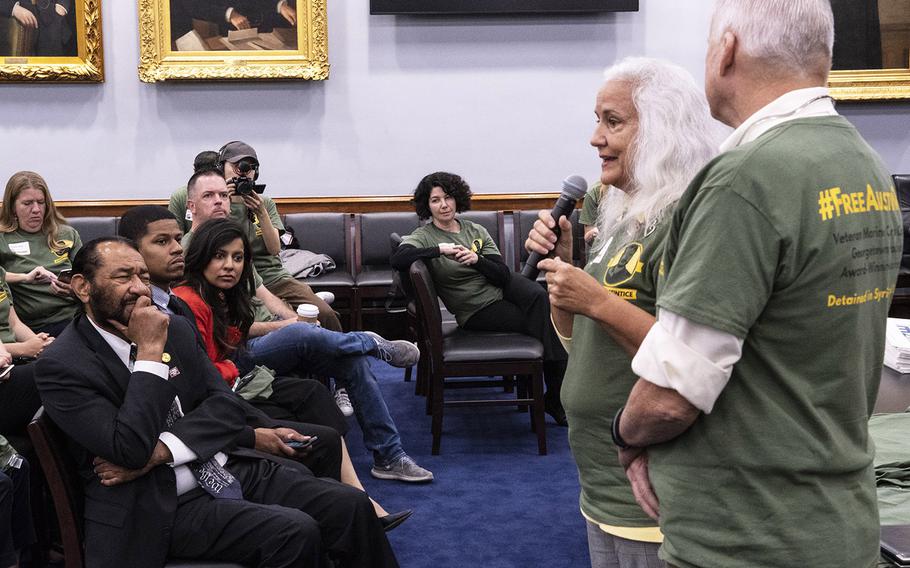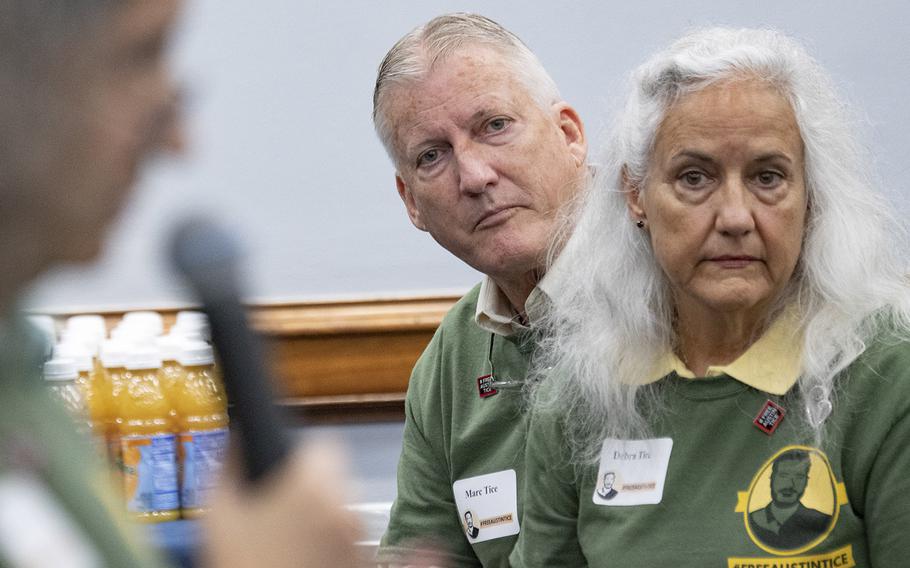 WASHINGTON — The president of the National Press Club entered the office of House Minority Leader Kevin McCarthy on Monday morning, her 12-year-old son by her side. Both wore T-shirts emblazoned with the image of an American journalist and Marine Corps veteran abducted in Syria.
"We are here on behalf of Austin Tice," Allison Kodjak told a staff member for McCarthy, who represents the 23rd District of California.
She then delivered the same well-practiced message she would relay to several other congressional offices in quick succession throughout the morning: Tice's parents, Marc and Debra, and the National Press Club want him freed, and they need the help of Congress and President Donald Trump.
"He's the only American journalist being held overseas right now," Kodjak told Daniel Bleiberg, foreign policy adviser for Rep. Lois Frankel, D-Fla. "The idea is to keep him at the forefront. Our understanding is the more people talk about him, in Syria he becomes more valuable."
Kodjak and her son Forrest were among 100 volunteers who dispersed across Capitol Hill on Monday to raise awareness about Tice and build support for a letter that lawmakers plan to send to Trump, urging his administration to secure Tice's release.
Tice, a former Marine captain who fought in Iraq and Afghanistan, was about to enter his final year at Georgetown Law School in 2012 when he went to Syria to work for the summer as a freelance journalist. He was reporting in Damascus when he was abducted, and he's believed to be held by the Syrian government or allied forces.
Monday's mobilization on Capitol Hill was organized by Tice's family and the National Press Club, which has been working with the Tices to make his release a priority with the U.S. State Department.
Volunteers congregated in the Rayburn House Office Building early Monday, where they grabbed T-shirts with Tice's image on the front and the hashtag #FreeAustinTice in bold lettering across the back. Each volunteer took a stack of folders containing information about Tice and a copy of the letter to be sent to Trump.
The letter asks Trump to "use the full weight" of his national security team and send a special envoy to Syria to help free him.
After seven years of their son's captivity, the Tices have found new reason to be hopeful. Last week, Trump named Robert O'Brien, his chief hostage negotiator, as his new national security adviser. O'Brien has worked on Tice's case and has said he believes Tice is still alive.
"We are very happy to see him now in a position of more authority and influence to continue to push efforts for Austin's release," Marc Tice told Stars and Stripes over the weekend.
Trump has praised his administration's hostage negotiations. In the past two years, at least a dozen Americans have been freed, including three basketball players and rapper A$AP Rocky.
"We would have to say the current administration certainly sounds and feels to us to have a stronger, more action-oriented commitment to bringing hostages home," Marc Tice said.
Volunteers on Monday consisted primarily of other journalists, as well as high school and Georgetown University students. They spoke with lawmakers and staff members, and in some cases added their folders to the stacks on lawmakers' reception desks.
When they did get to speak to someone, they made an earnest appeal to get Tice home.
"He was 31 when he was captured," Kodjak told one staff member. "He's now 38. That's a lot of life."
Staff writer Neil Fotre contributed to this report.
Wentling.nikki@stripes.com Twitter: @nikkiwentling