Jon Stewart teams up with lawmakers to push for benefits for more veterans exposed to burn pits
by
Steve Beynon
September 15, 2020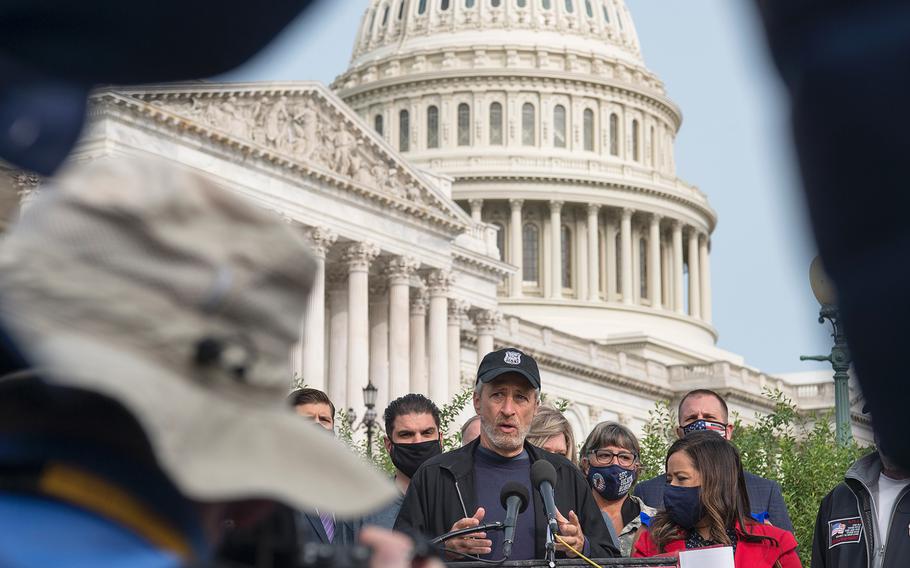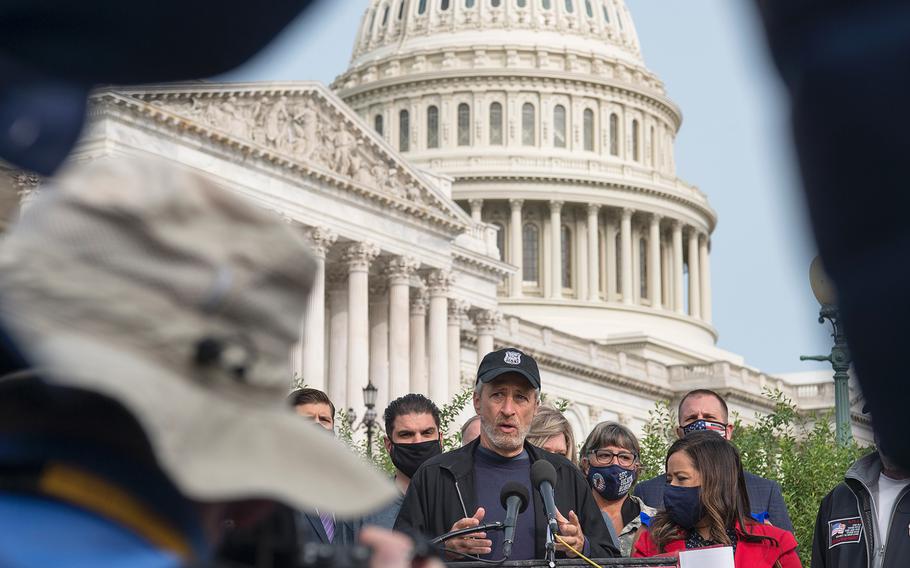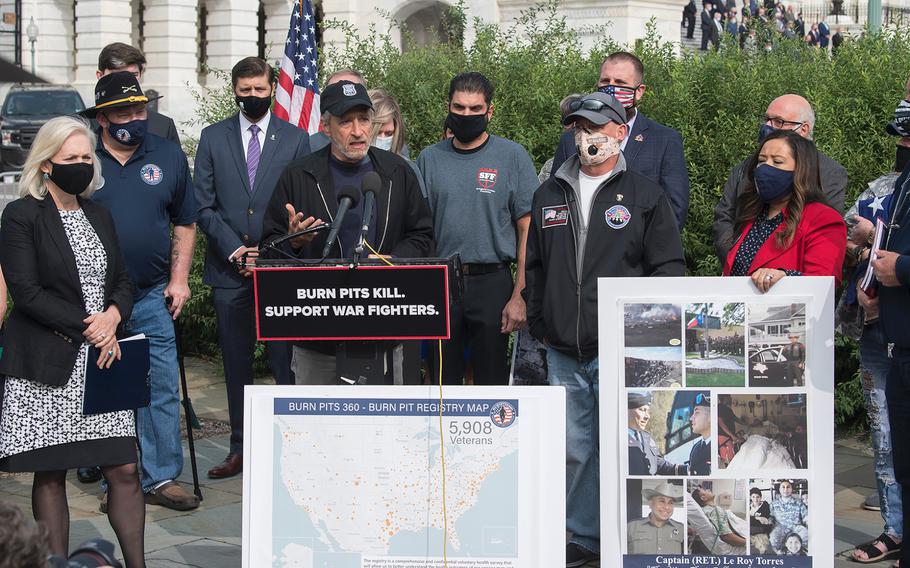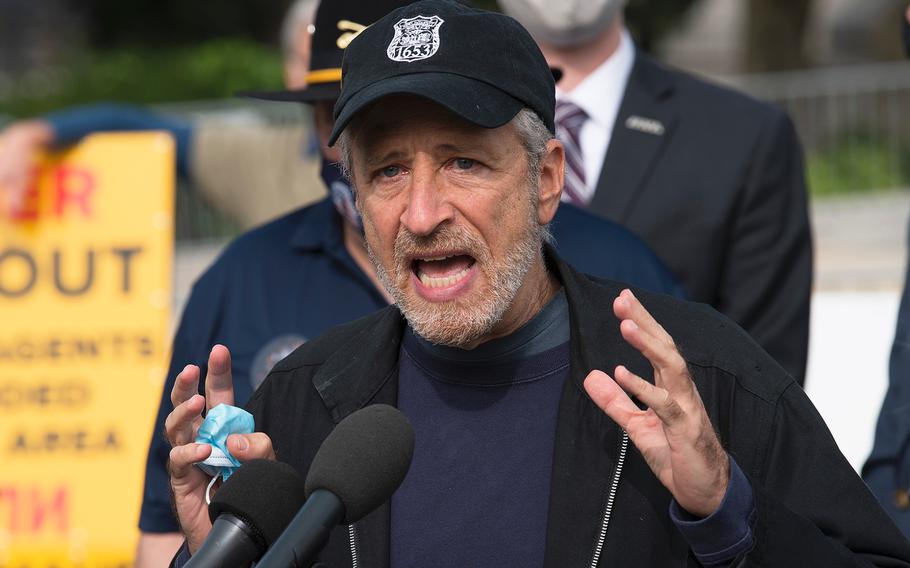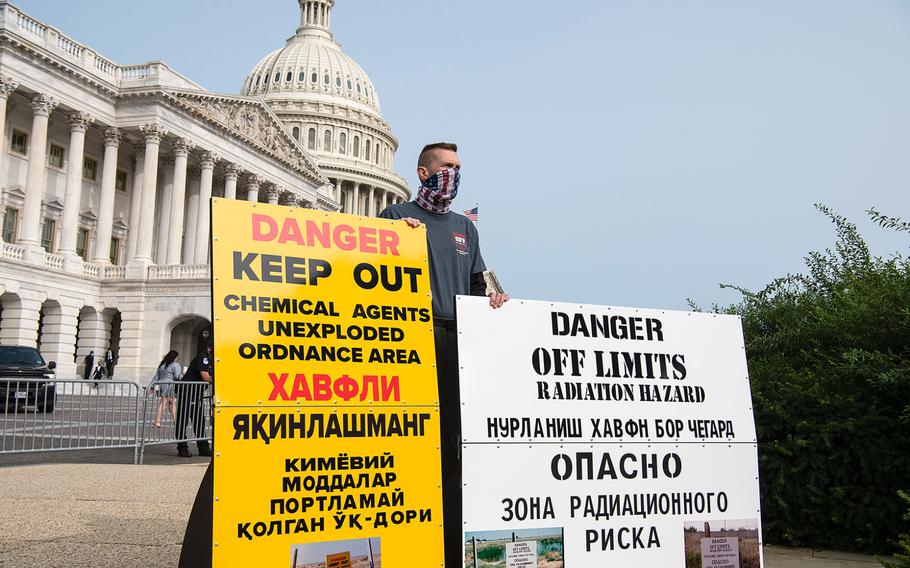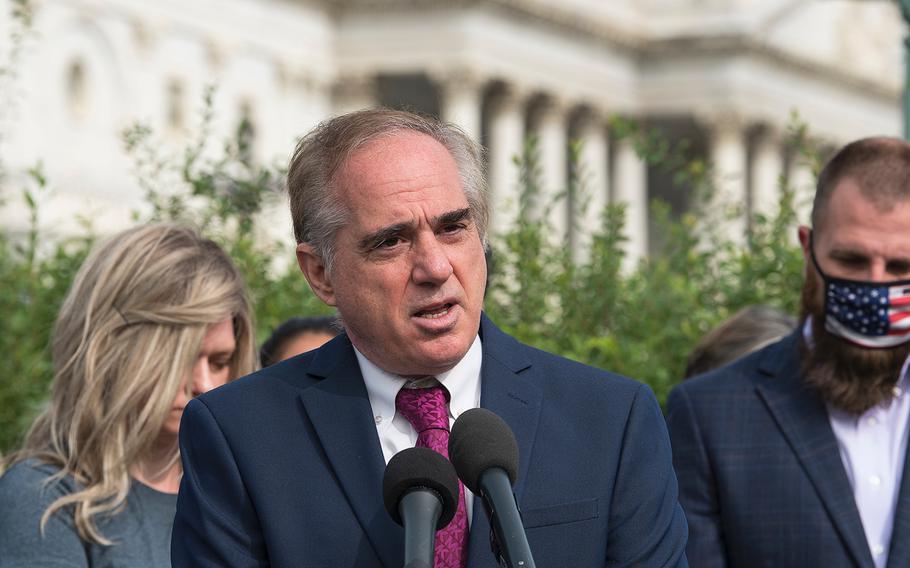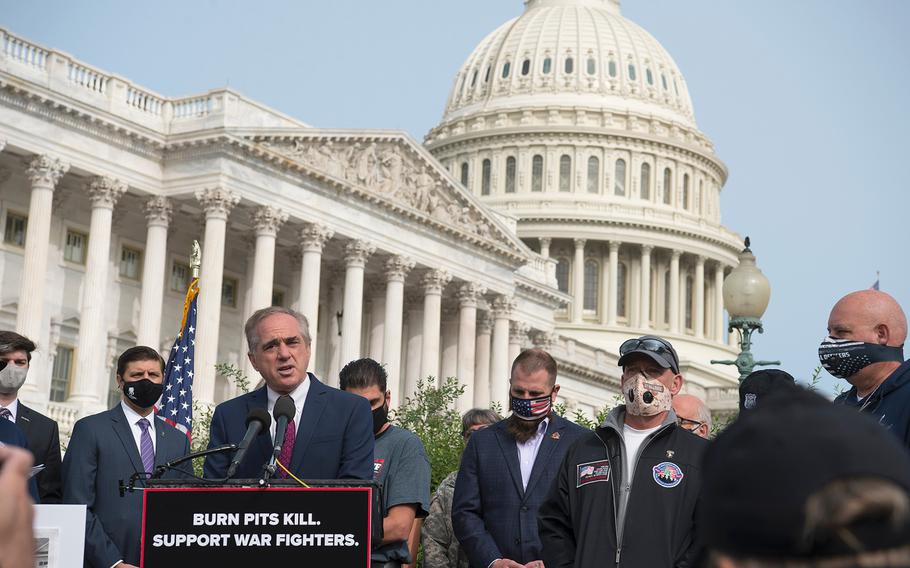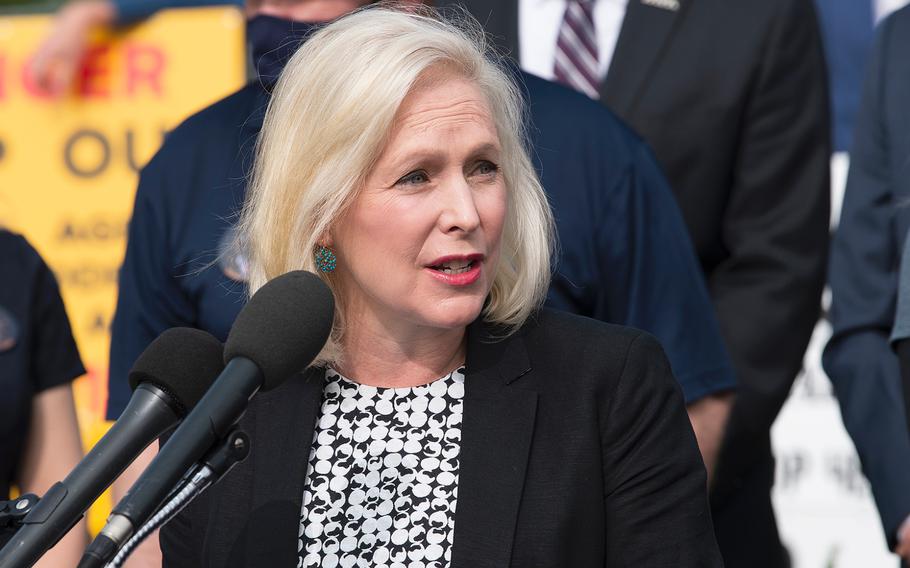 WASHINGTON — Comedian Jon Stewart joined lawmakers and advocates Tuesday on Capitol Hill to help draw attention to legislation designed to compensate and care for veterans suffering from illnesses linked to toxic burn pits in combat zones.
Stewart, who was a fierce advocate for getting benefits for first responders in the 9/11 terrorist attacks, is shifting his focus to the millions of veterans who have been exposed to toxic burn pits overseas in what some have called this generation's Agent Orange.
Stewart, the former host of "The Daily Show," Rep. Raul Ruiz, D-Calif., Sen. Kirsten Gillibrand, D-N.Y., and former VA Secretary David Shulkin are pushing for legislation that would streamline the process of obtaining VA benefits for burn pit and toxic exposure, potentially opening up disability compensation to roughly 3.5 million veterans.
"We thought it was done," Stewart said during a news conference. "But it turns out that the warfighters who were sent to prosecute the battle, based on the attacks on 9/11, now suffer the same injuries and illnesses that the first responders suffered from."
The Presumptive Benefits for War Fighters Exposed to Burn Pits and Other Toxins Act of 2020 was introduced by Ruiz in the House and Gillibrand in the Senate, and aims to remove the burden of proof from a veteran to show that he or she served near one of the estimated 230 burn pits across Iraq and Afghanistan.
Linking illnesses to burn pits can be a difficult task for a veteran. Under the measure, the veteran would only have to submit proof that he or she served in one of 33 countries where the United States frequently used burn pits.
Through the 1990s and the post-9/11 wars, the military used open-air pits in order to burn garbage, jet fuel, paint, medical waste, plastics — and in the cases of some small combat outposts, human waste. Veterans contracting cancers, respiratory issues, and lung diseases at a young age have largely blamed exposure to toxic fumes for the illnesses. However, the VA has contended there is not sufficient evidence to support those claims. The agency also has said if burn pit care was expanded the volume of patients would create enormous costs.
A new report sponsored by the VA published Friday by the National Academic of Sciences, Engineering, and Medicine found there is insufficient evidence to determine whether U.S. troops' exposure to burn pits in combat zones is linked to respiratory issues and stated there needs to be further studies.
But Shulkin said Tuesday that the VA should move towards giving veterans the benefit of the doubt.
"What we're doing now is making our veterans wait," Shulkin said, likening delaying care for burn pit victims to delayed care for World War II veterans who participated in classified mustard gas experiments and Vietnam War veterans exposed to Agent Orange. "That's simply wrong, and showing we have a backward system."
The Defense Department moved away from burn pits amid a whirlwind of lawsuits and claims from post-9/11 veterans that they were getting sick at a young age. The military now mostly uses clean-burning incinerators in conflict regions. But the Pentagon's policy makes allowances in areas where burn pits are the only feasible way of getting rid of waste.
Stewart urged the bill is long away from becoming law and he said every member of Congress will be lobbied to back it.
"Our veterans cannot afford to wait decades...like they had to with Agent Orange," Ruiz said, underscoring presumptive benefits is the only course of action given the difficult burden for veterans to navigate linking their illnesses from breathing in toxic fumes.
Under the proposal, veterans could obtain the medical benefits for burn pit exposure if they received a campaign medal for deployment to one of the missions considered part of the Global War on Terror, Gulf War or served on active duty on or after August 2, 1990 and spent a minimum of 15 or more cumulative days in one of the following countries/territories: Afghanistan, Bahrain, Burkina Faso, Cameroon, Chad, Diego Garcia, Djibouti, Egypt, Ethiopia, Gabon, Ghana, Iraq, Jordan, Kenya, Kuwait, Kyrgyzstan, Libya, Mali, Niger, Nigeria, Oman, Pakistan, Philippines, Saudi Arabia, Somalia, South Sudan, Sudan, Syria, Tajikistan, Tunisia, Turkey, United Arab Emirates, Uzbekistan and Yemen.
"To put it simply, the bill says that if you were there you are covered. Plain and simple," Gillibrand said. "This bill applies common sense and common decency to a very broken process."
The presumptive conditions covered would include: asthma that was diagnosed after service in a country or territory listed, cancer of any type, chronic bronchitis, chronic obstructive pulmonary disease, constrictive bronchiolitis or obliterative bronchiolitis, emphysema, granulomatous disease, interstitial lung disease, lymphoma, pleuritis, pulmonary fibrosis and sarcoidosis.
Beynon.Steven@Stripes.com Twitter: @StevenBeynon