Incredible survival, inspiring recovery: Carpenter receives his Medal of Honor
---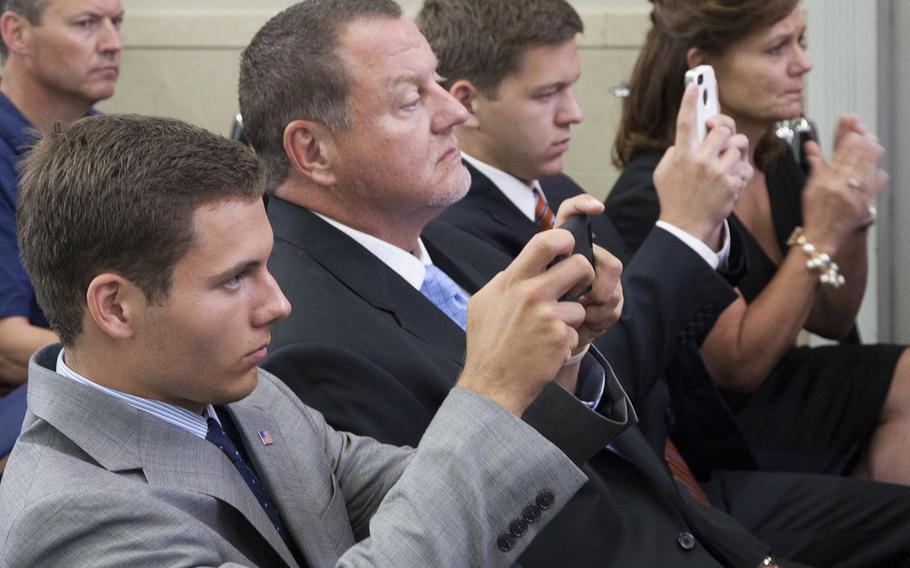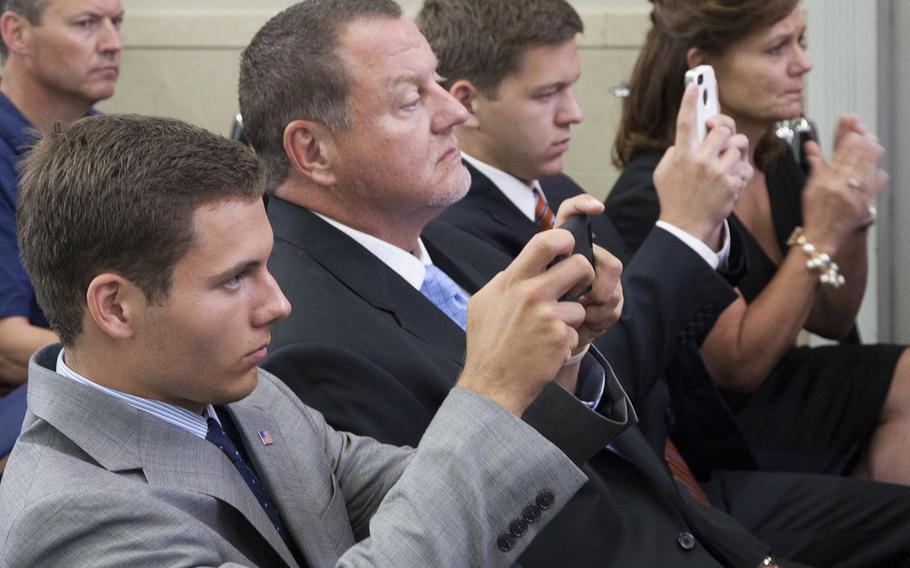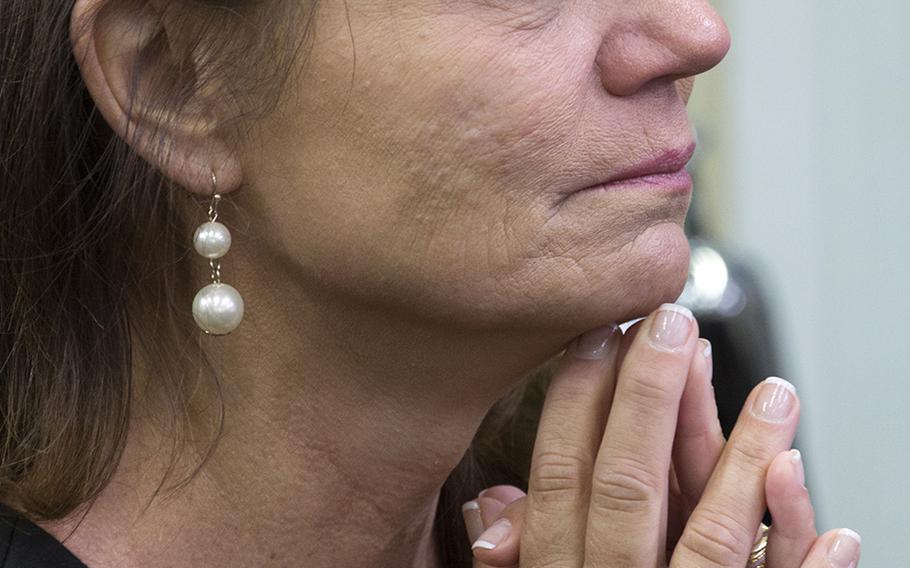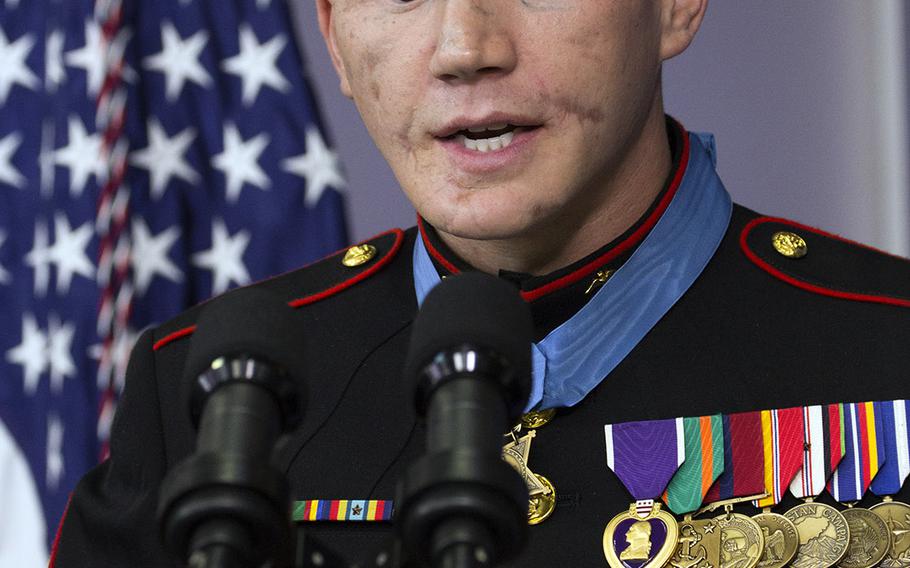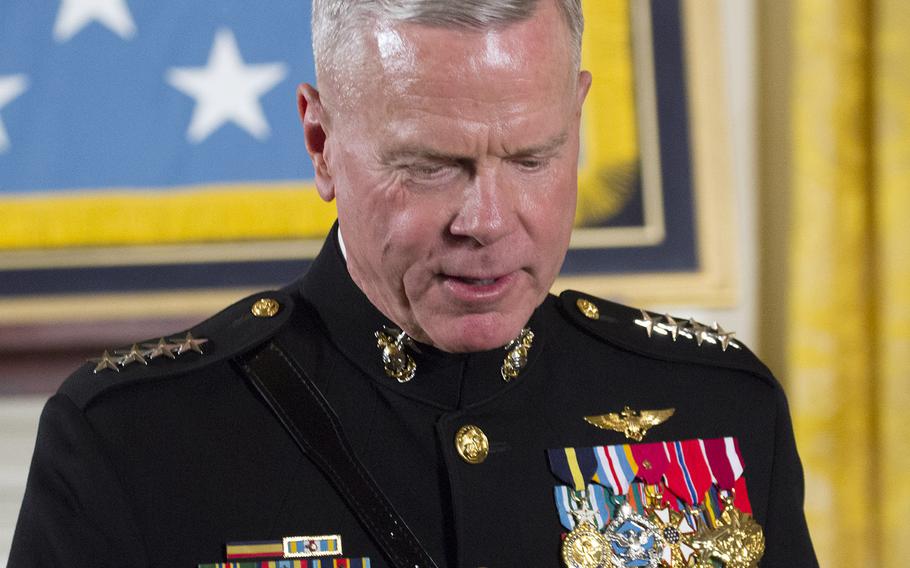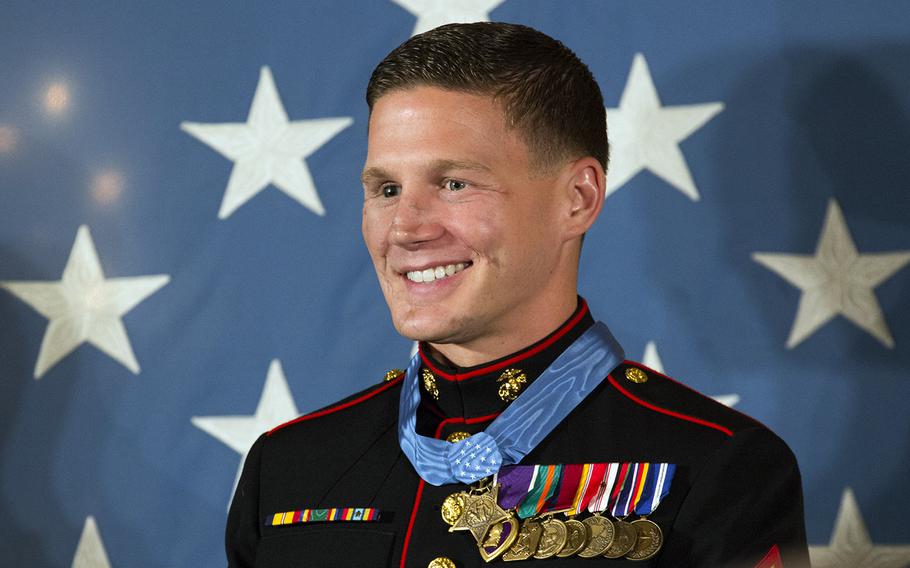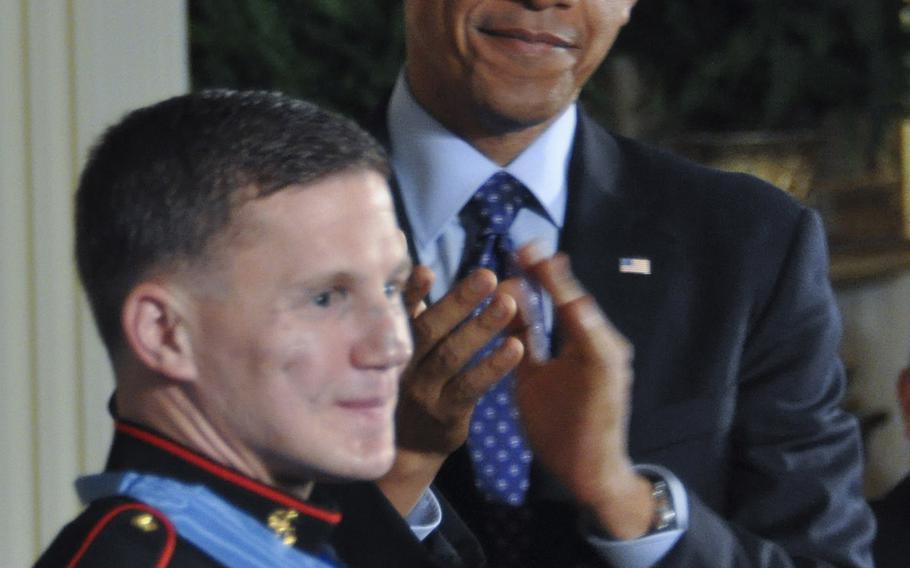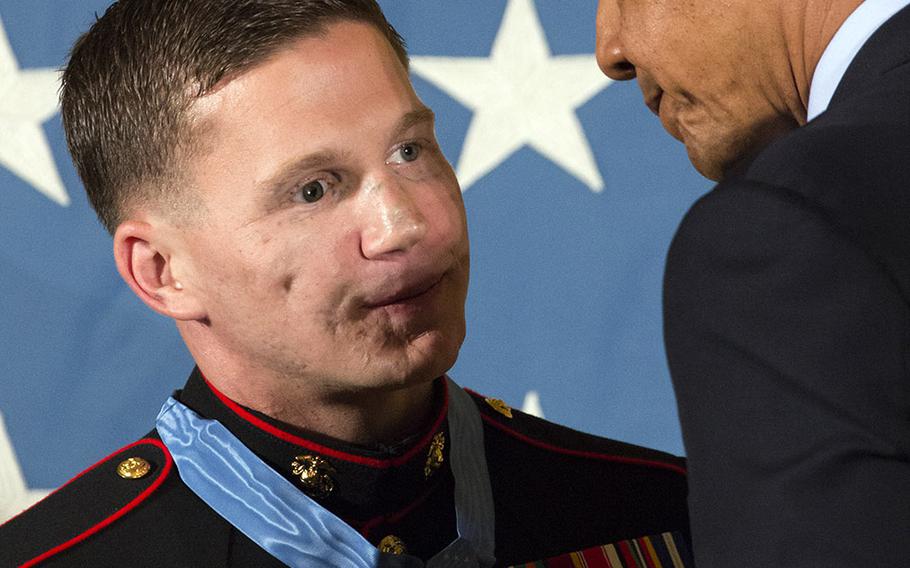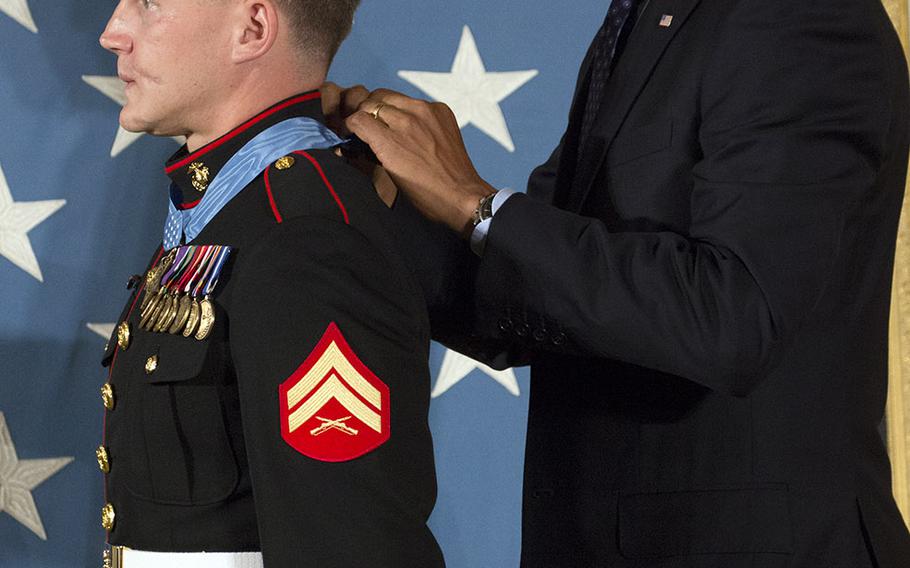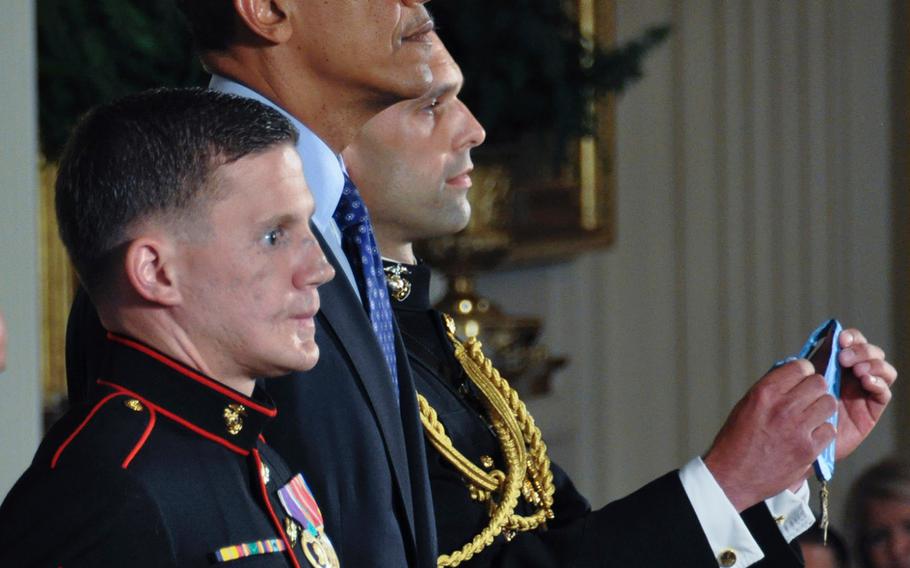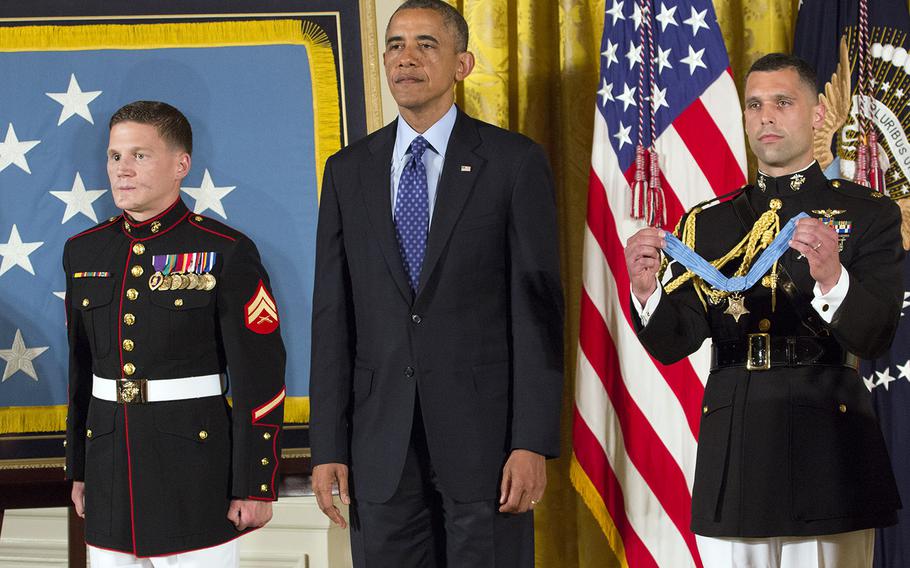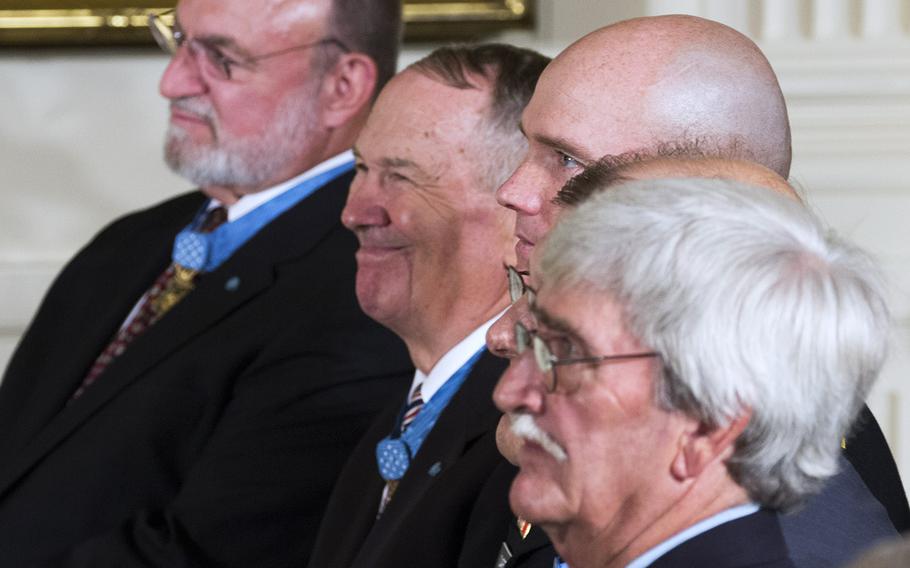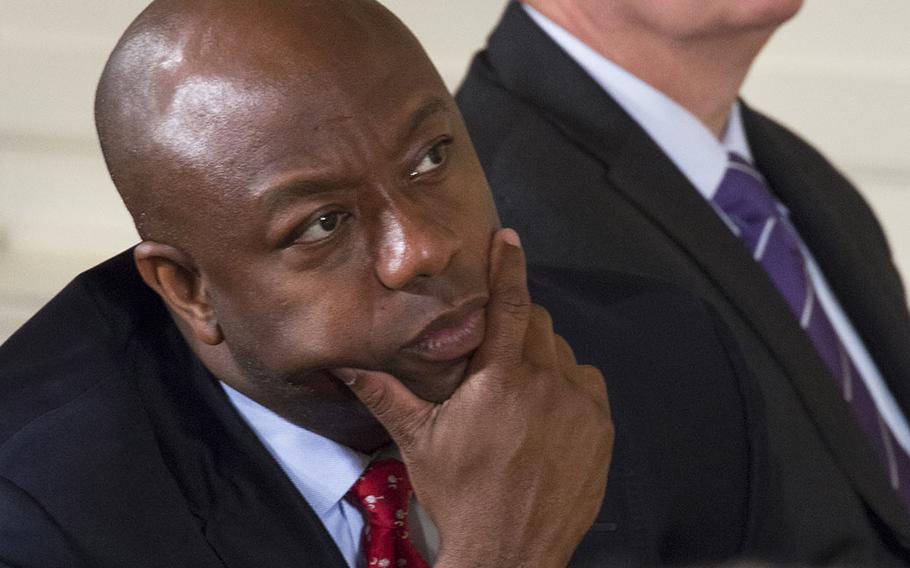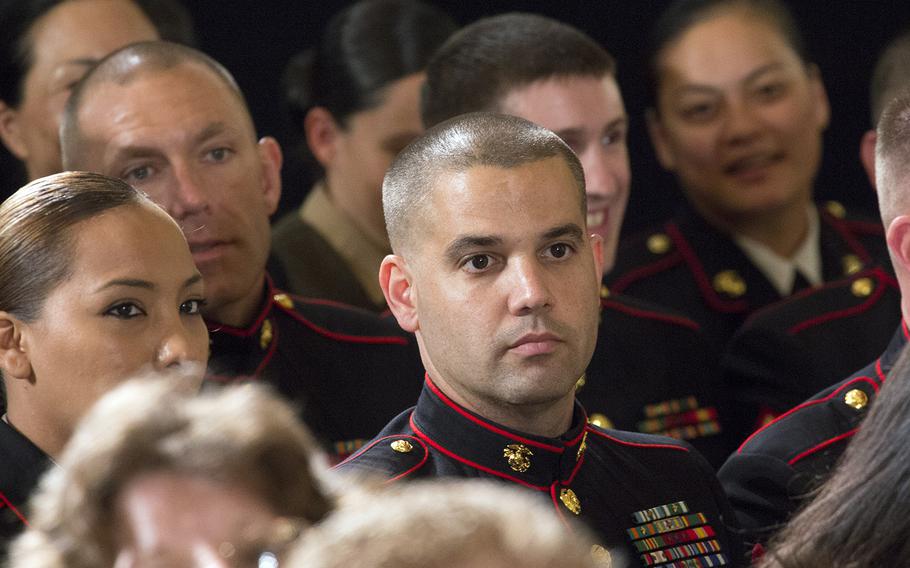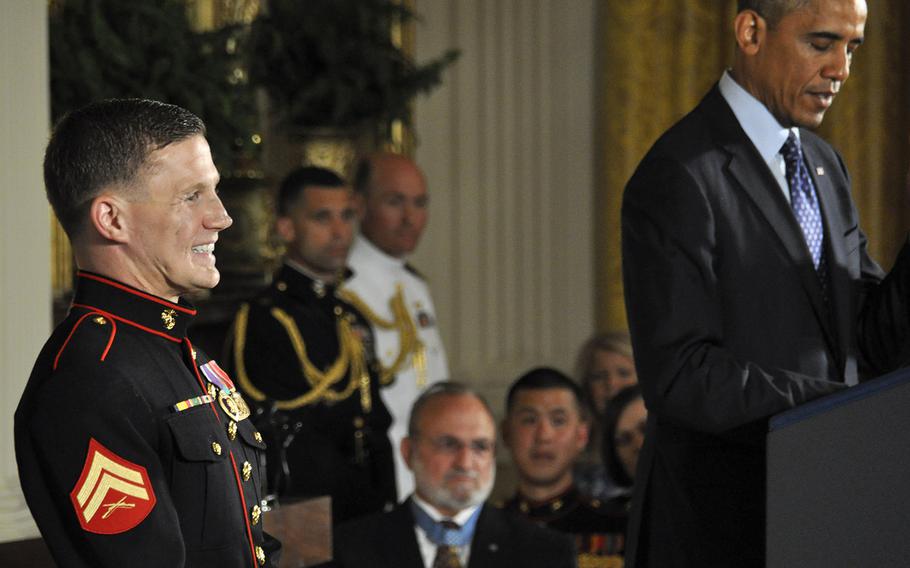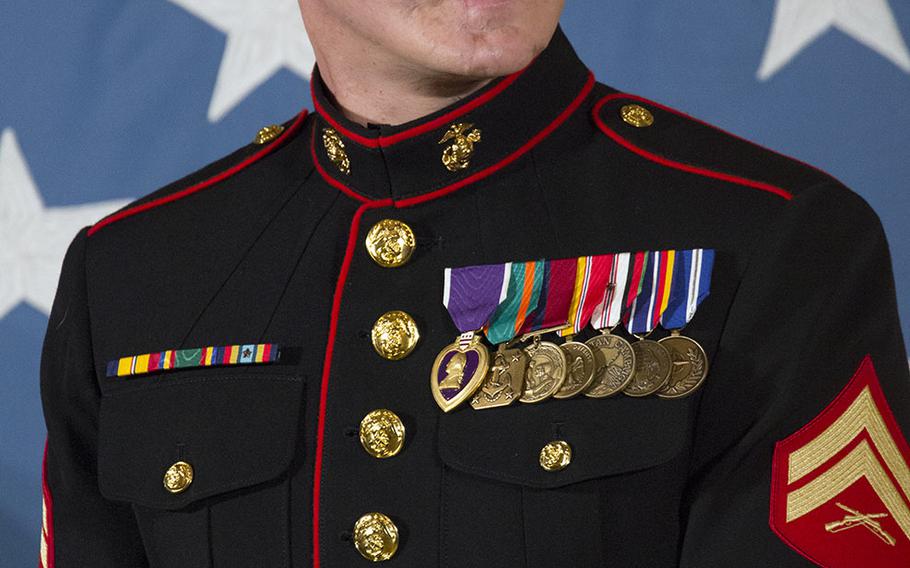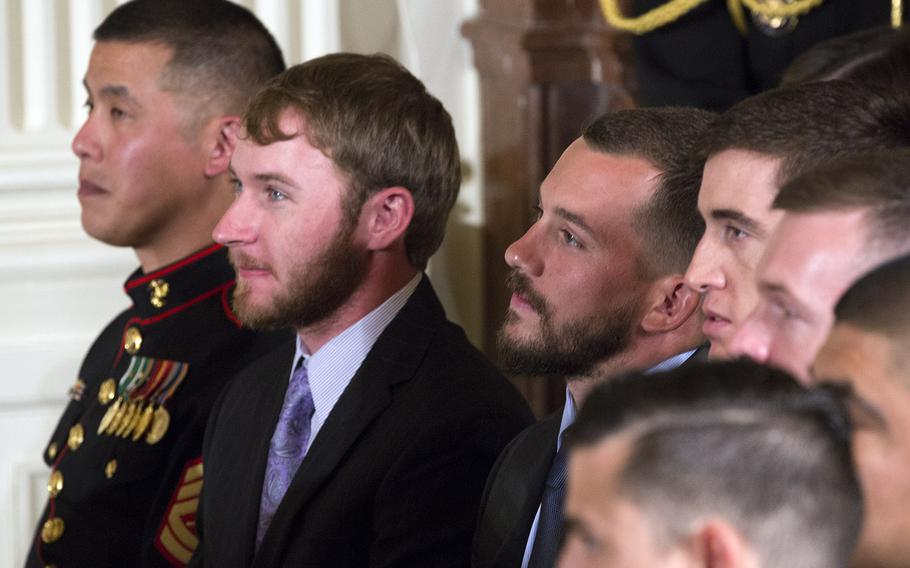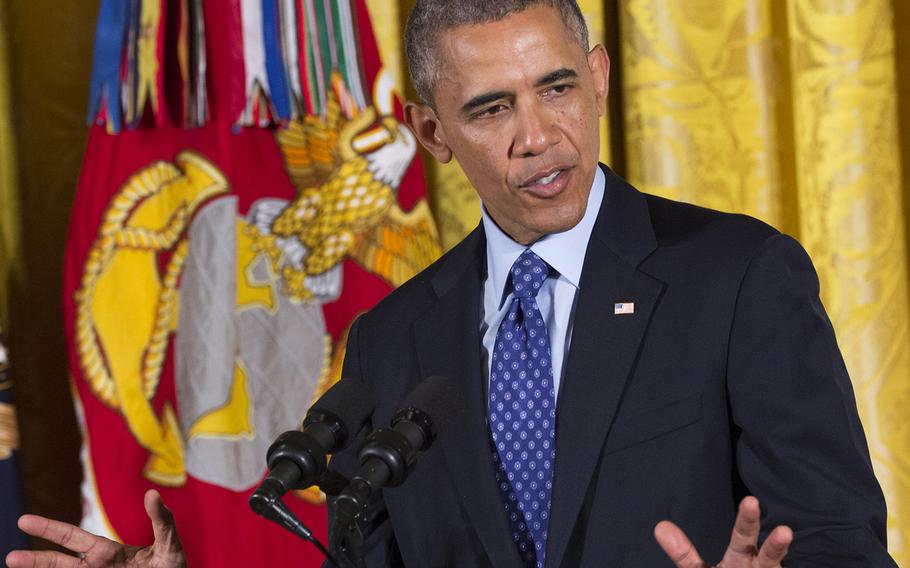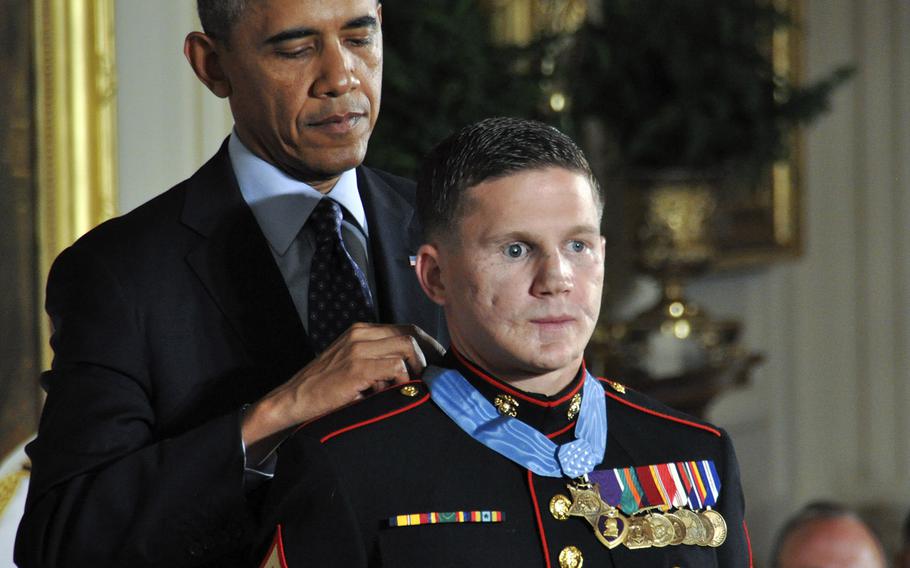 WASHINGTON — "Cpl. William 'Kyle' Carpenter should not be alive today," President Barack Obama told those gathered at the White House Thursday to witness the severely wounded Marine receive the Medal of Honor.
The nation's highest award for military valor was bestowed on Carpenter for pouncing on an enemy grenade to save a fellow Marine who was standing watch with him on a rooftop in the Marjah district of Helmand province, a Taliban stronghold, on the morning of Nov. 21, 2010.
Carpenter was serving as an automatic rifleman with Company F, 2nd Battalion, 9th Marines, Regimental Combat Team-1, 1st Marine Division (Forward), I Marine Expeditionary Force (Forward), when an insurgent tossed a grenade near him and his battle buddy, Lance Cpl. Nicholas Eufrazio.
The blast seat of the grenade was found under Carpenter's torso, indicating that he had smothered it intentionally.
"Hand grenades are one of the most awful weapons of war," Obama said when recounting Carpenter's bravery. "Even at a distance, the spray of shrapnel can inflict devastating injuries on the human body. Up close, it's almost certain death."
Carpenter was found lying face-down directly over the blast area, his helmet riddled with holes and his gear melted. He was "literally wounded from the top of his head to his feet," according to one of the doctors who treated him.
"My last thought was to make peace with God. I asked for his forgiveness. I was trying to make the best and most of my last few seconds here on Earth," Carpenter later recalled, according to Obama.
Carpenter was on the brink of death many times after suffering "catastrophic" injuries.
"While being treated, he went into cardiac arrest, and three times he flatlined. Three times, doctors brought him back," Obama said.
Carpenter's parents call their son's survival "our miracle."
An account of the medically retired corporal's grueling recovery from his war wounds received almost as much attention at the ceremony as his combat heroism.
"The Medal of Honor is presented for gallantry on the battlefield, but today we also recognize Kyle Carpenter for his valor since, in the hard fight for recovery," Obama said.
Carpenter, the youngest living recipient of the Medal of Honor, spent five weeks in a coma and more than two and a half years in the hospital undergoing nearly 40 surgeries — including brain surgery. Doctors had to remove shrapnel from his head and repair a collapsed lung, fractured fingers, and a right arm that was broken in more than 30 places. He received a new prosthetic eye, a new jaw, new teeth, and multiple skin grafts.
The doctors at Walter Reed in Bethesda, Md., "put me back together well," Carpenter has said.
In a moment of levity, Obama said that Carpenter is reaping unexpected benefits from his wounds.
"You'll notice that Kyle doesn't hide his scars. He's proud of them and the service that they represent. And now he tells me … the girls definitely like them," so "he's working an angle on this thing," Obama joked.
Doctors Debra Malone and Lauren Greer and other members of Carpenter's medical team were on hand, and Obama took a moment to honor them.
"So many of our wounded warriors from today's wars are alive not just because of remarkable advances in technology, but primarily because of the extraordinary dedication and skill of our military and our VA medical professionals," Obama said. "I see their amazing work … every time I visited Walter Reed. It's pretty rare where you got a job where you just know you're doing God's work every single day. And they do an incredible job."
Carpenter has bounced back from his injuries and performed more impressive physical feats than most people who have never been hurt.
"If any of our wounded warriors seek an example… [and] if any American seeks a model of the strength and resilience that define us as a people, including this newest 9/11 generation, I want you to consider Kyle," Obama said. "After everything he's been through, he skis, he snowboards, he's jumped from a plane … He trudged through a six-mile mud run, completed the Marine Corps Marathon, [and] says he wants to do a triathlon."
Carpenter is a motivational speaker and an advocate for Wounded Warriors. He is currently attending the University of South Carolina, and is considering majoring in psychology so he can use his own experiences to help others.
"By the way, he's only 24 years old," Obama noted.
Carpenter wasn't the only Marine honored during the ceremony. Two unit mates who were killed during that deployment — Lance Cpl. Timothy Jackson and Lance Cpl. Dakota Huse — were singled out for recognition, as was Eufrazio, the Marine whose life Carpenter saved on the rooftop.
Eufrazio was Carpenter's best friend. The two had met in training, and they later patrolled together through the battlefields of Afghanistan.
Obama described their relationship as "a friendship forged in fire."
"He was my point man, and I loved him like a brother," Carpenter said, according to Obama.
Although Carpenter bore the brunt of the grenade blast, Eufrazio still suffered traumatic brain injury and couldn't speak for more than a year. After enduring multiple surgeries, he is still recovering, and lives at home with his family in Plymouth, Mass. Unable to attend the ceremony, he was watching it on TV, according to Obama.
"As I stand before you today, I am truly honored and humbled. Yet I accept this honor with a heavy heart," Carpenter told reporters after the ceremony. "I think about the Marines who were with me in Marjah. If I close my eyes today, I can still hear their desperate medevacs being called over the radio as they bled out in the fields of Afghanistan. Today I accept the medal for them."
Carpenter ended his remarks with some advice: "Be thankful for what you have, appreciate the smaller and simpler things, be kind and help others, let the ones you love know you love them and when things get tough, trust there's a bigger plan and that you will be stronger for it."
harper.jon@stripes.com Twitter: @JHarperStripes
---
---
---
---