In wake of Marines United nude-photo scandal, lawmakers question DOD social media policies
by
Tara Copp
March 21, 2017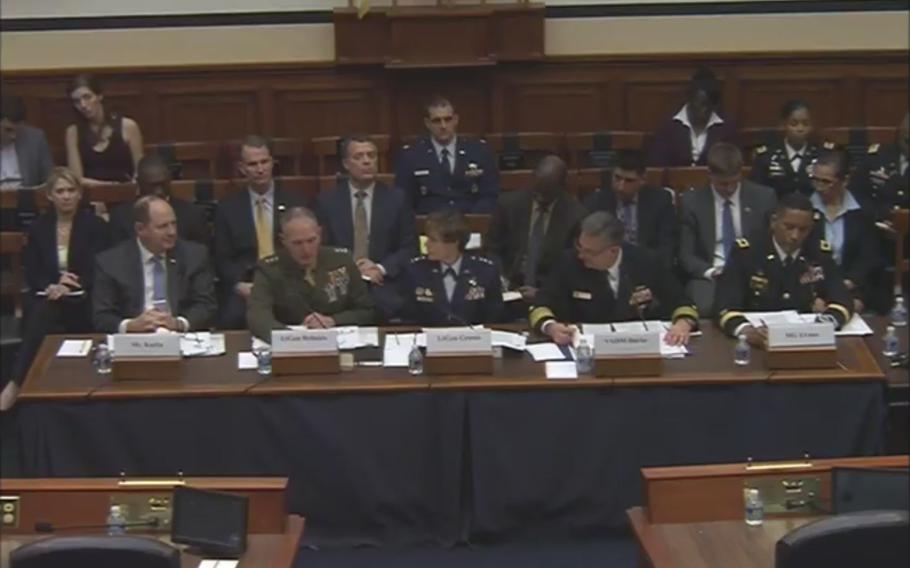 WASHINGTON — A House lawmaker on Tuesday urged leadership from all four military services to create one Defense Department policy for social media and questioned them about maintaining separate guidelines and the lack of enforcement in the wake of an online photo-sharing scandal.
Leaders from the Marines, Navy, Air Force and Army testified during a hearing held by a House armed services subcommittee about each service's social media policies and the training in place after reports that some Marines and sailors had participated in a Facebook site called Marines United that distributed nude photos of women in the service.
"To think that we need separate social media policies from one service to another makes no sense," said Rep. Jackie Speier, D-Calif., who is a member of the House Armed Services Subcommittee on Military Personnel, which held the hearing. "If you take a picture without the consent of someone and them post it on the Internet with their name, rank and serial number, it would seem to me that whether you are a Marine or sailor or any one of the other services, you are violating the law."
To date, more than 20 women have come forward saying images of them were taken or posted without their consent on the webpage, according to the Naval Criminal Investigative Service. The Facebook group had a reported 30,000 members before it was taken down. NCIS said it has identified 1,253 Marines United page members, including 725 active-duty and 150 Reserve Marines, as well as 15 sailors.
Now the Air Force and Army are also investigating whether airmen or soldiers were similarly targeted or participated in the sharing of nude photographs of female servicemembers on websites. The Coast Guard and FBI have also joined the investigation.
Maj. Gen. Jason Evans, the Army's director of military personnel management, said Tuesday that a Tumblr site that might have displayed photos of Army personnel and other services is now part of a multi-service task force investigation.
Leaders from each service told House lawmakers that they are reviewing training and social media policies.
Rep. Martha McSally, R-Ariz., and Speier said employing multiple Defense Department social media policies isn't the answer. McSally cautioned against a knee-jerk reaction by requiring military men and women to undergo more training or more policies that could exacerbate the problem.
"We're not going to be able to police 24-7," said McSally, who is also a member of the subcommittee. "If we inculcate resentment against female troops from the beginning," it could make things worse.
Speier also questioned whether the services had adequate experience with social media to know the extent of the harm that it could do to targeted servicemembers.
Of the five senior military leaders testifying Tuesday, only Evans had a Facebook page. Evans said his page with his personal family photos has been hacked and wrongly duplicated 12 times.
Anthony Kurta, the acting undersecretary of defense for personnel, defended the decision to allow each service to shape its own social media policy.
"[Defense Secretary Jim Mattis] has been very clear that the cultures of the individual services are great warfighting readiness advantages," Kurta said. "What is right and best for an Army soldier in a brigade combat team in Italy is not the same for a sailor that is out on an aircraft carrier somewhere out in the Middle East."
Though each service is pursuing a separate social media policy, many of the offenses reported in the Marines United scandal should be punishable by the Uniform Code of Military Justice, said Rep. Steve Russell, R-Okla., a subcommittee member.
In 2011, Congress amended the Uniform Military Code of Justice to include Article 120 C for "other sexual misconduct." Under the code, a person who knowingly or wrongfully views, films or photographs another person's private parts without their consent is subject to court-martial. Air Force and Navy leadership testified they had used the code previously to punish personnel. Leaders form the Marines and the Army said they would have to report back at a later date about whether the article had been used.
Marine Corps Lt. Gen. Mark Brilakis said there still was not enough experience with the article.
"120c is a relatively new article and there's not a lot of experience behind it," Brilakis said. "Right now, at NCIS, this is their No. 1 priority" to identify activity that occurred online that the services could prosecute under the code.
Copp.Tara@stripes.com Twitter: @taracopp