'I'm having a good day,' Trump says at wounded warrior event following release of Mueller report
by
Nikki Wentling
April 18, 2019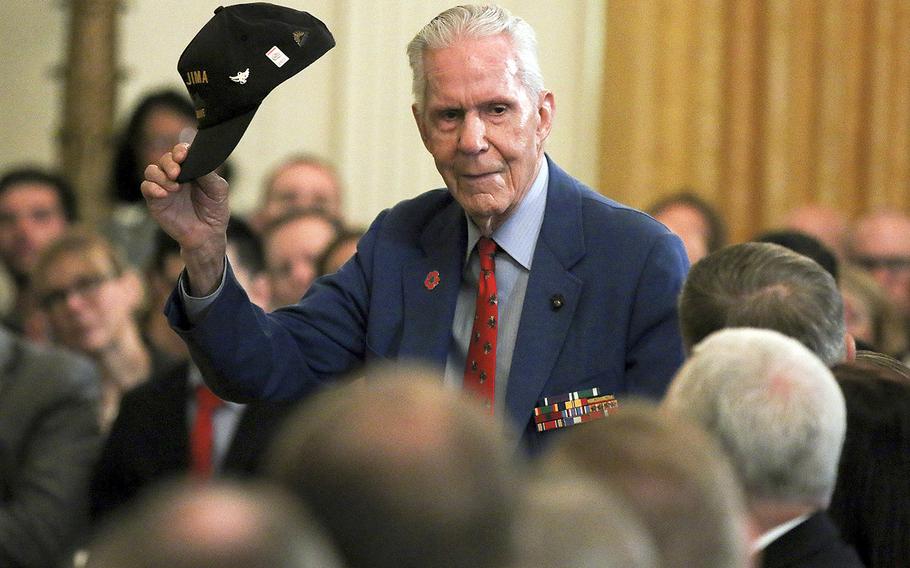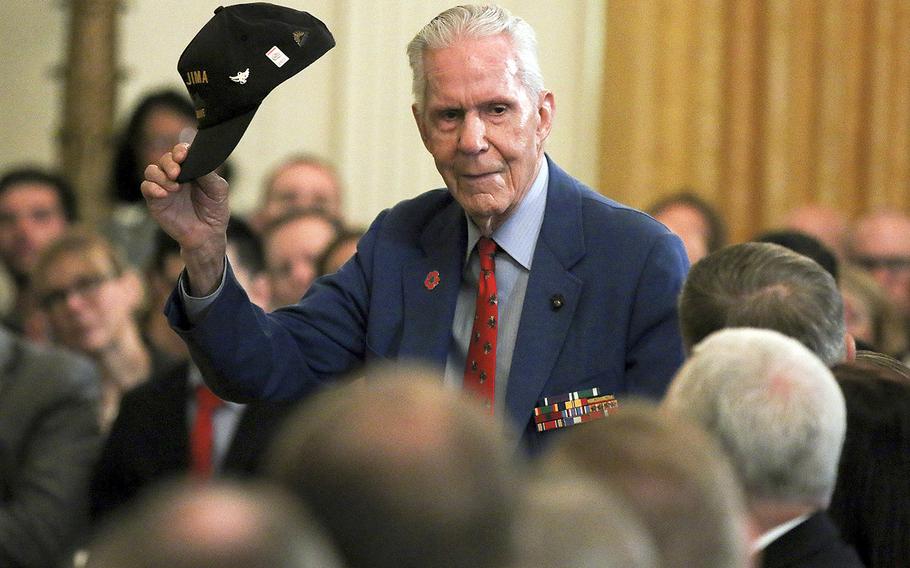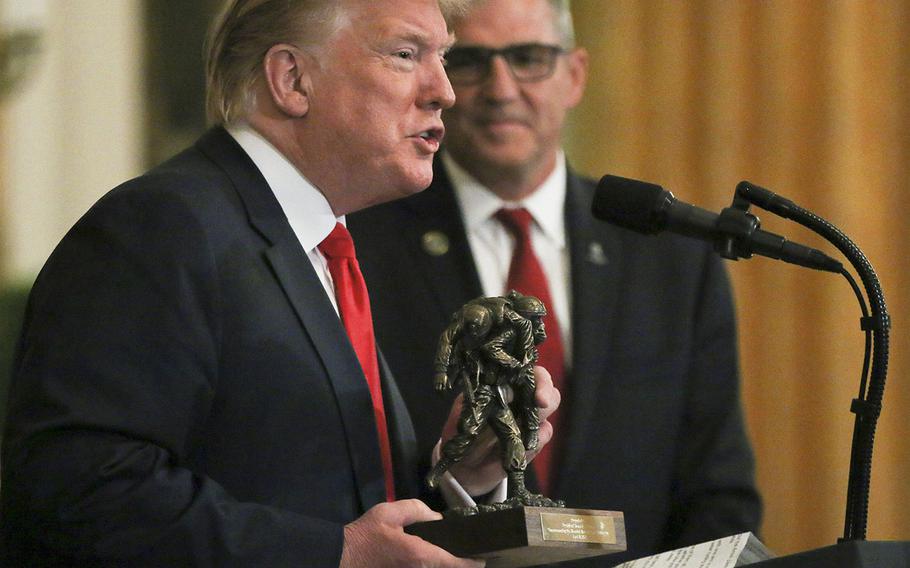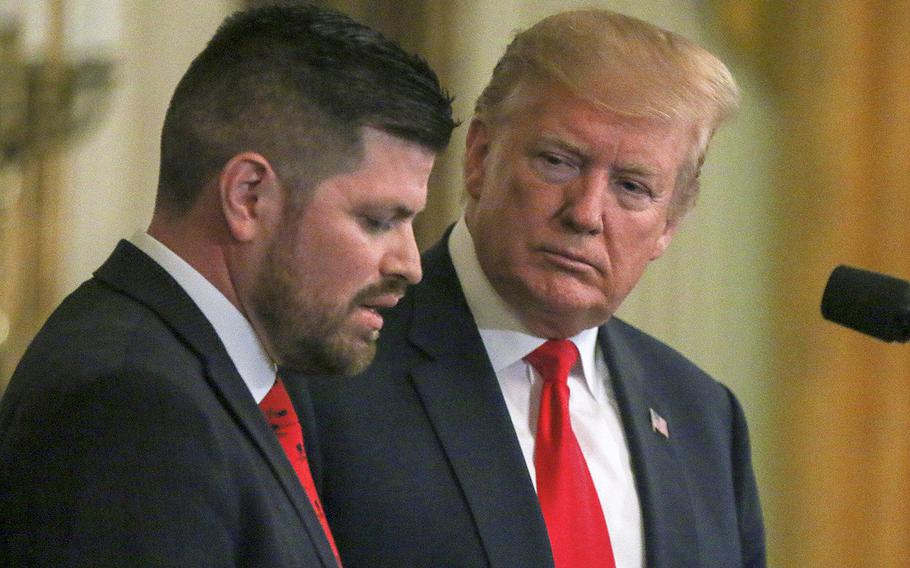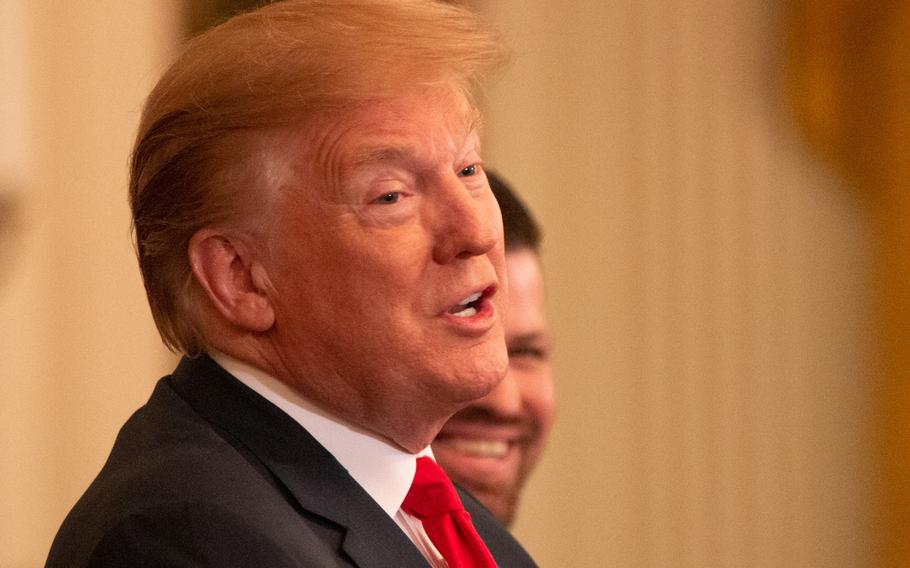 WASHINGTON – In front of a backdrop of 29 veterans, President Donald Trump on Thursday expressed vindication following the release of special counsel Robert Mueller's redacted report on possible collusion efforts between his campaign and Russia to influence the 2016 elections in his favor.
The report detailing the investigation, which also probed possible obstruction of justice charges against Trump, was made public Thursday morning, about the same time that the president was scheduled to speak at an event hosted by the Wounded Warrior Project, a charity that offers a variety of programs, services and events for wounded veterans of the military actions following 9/11.
"They're having a good day," Trump said of the veterans who stood behind him in the White House. "I'm having a good day, too. It's called no collusion, no obstruction. There never was, by the way. And there never will be."
The crowd, made up of lawmakers, veterans, Department of Veterans Affairs and Department of Defense officials, answered back with a loud round of applause.
Trump said he intended to "get to the bottom of these things." He's previously alluded to crimes being committed by the Democrats and the FBI, and Attorney General William Barr has vowed to investigate the origins of Mueller's investigation.
"I say this in front of my friends, wounded warriors … This should never happen to another president again," Trump said. "This hoax, it should never happen to another president again."
Trump stayed on script for the remainder of the event, which was held to honor 29 veterans participating in the annual Soldier Ride – a four-day cycling event intended to show the strength and resilience of injured servicemembers.
Combined, the 29 veterans in this year's ride have 73 deployments. They suffered from paralysis, amputations, post-traumatic stress disorder, traumatic brain injury and other injuries and ailments.
The group cycled through Annapolis, Md., on Wednesday and they'll continue Friday with a ride through northern Virginia.
"We know with the right support and resources, wounded veterans regularly overcome the adversity of their injuries and rise to their fullest potential as role models and leaders in their communities," said Wounded Warrior Project CEO Mike Linnington. "And that's what today is all about – providing a venue for wounded servicemembers to bond, continue healing and realize that we are here for them."
wentling.nikki@stripes.com Twitter: @nikkiwentling