"I'm good at settling arguments": Trump could step in to resolve USS Theodore Roosevelt controversy
by
Caitlin M. Kenney
April 7, 2020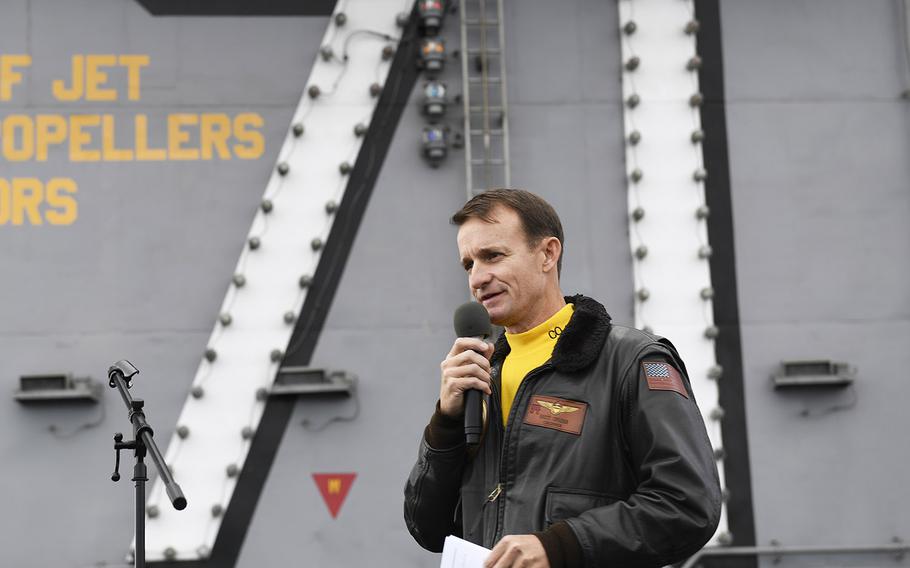 Stars and Stripes is making stories on the coronavirus pandemic available free of charge. See other free reports here. Sign up for our daily coronavirus newsletter here. Please support our journalism with a subscription.
WASHINGTON — President Donald Trump said Monday that he might step in to mediate the ongoing Navy controversy involving acting Navy Secretary Thomas Modly and his decision to fire Capt. Brett Crozier, the commander of the USS Theodore Roosevelt, after a letter about the coronavirus outbreak aboard the ship leaked to the media.
"You have two good people and they're arguing. And I'm good, believe it or not, at settling arguments," Trump said from the White House during a briefing on the government's response to the coronavirus pandemic.
Trump's comments followed news earlier Monday of a recording and transcript of a Modly speech to the Roosevelt crew about his decision to fire Crozier that included inflammatory comments about the captain.
In the recording, Modly is heard saying if Crozier did not believe his letter requesting help for the virus outbreak on the ship would not be leaked to the media after sending it to more than 20 people, then he was "too naïve or too stupid to be the commanding officer of a ship like this."
The aircraft carrier has more than 150 sailors infected with the coronavirus as of Monday, including reports that Crozier has the illness, and the crew of 5,000 sailors is slowly being evacuated from the ship where it is in port in Guam.
Trump called Modly's statement "rough" but added Crozier's decision to email the letter to so many people was "a mistake that shouldn't have been made."
"It's unfair to the families of the people on the ship because they get nervous. And it shows weakness and there's nothing weak about us now. Not anymore," Trump said. "We have the strongest military we've ever had. And we're not going to be showing weakness to anybody because that ship is incredible."
By getting involved, Trump said he was going to find out what was happening "because I don't want to destroy somebody for having a bad day."
kenney.caitlin@stripes.com Twitter: @caitlinmkenney