Hyten confirmed as Joint Chiefs vice chairman despite sexual assault allegations
by
Neil Fotre
September 26, 2019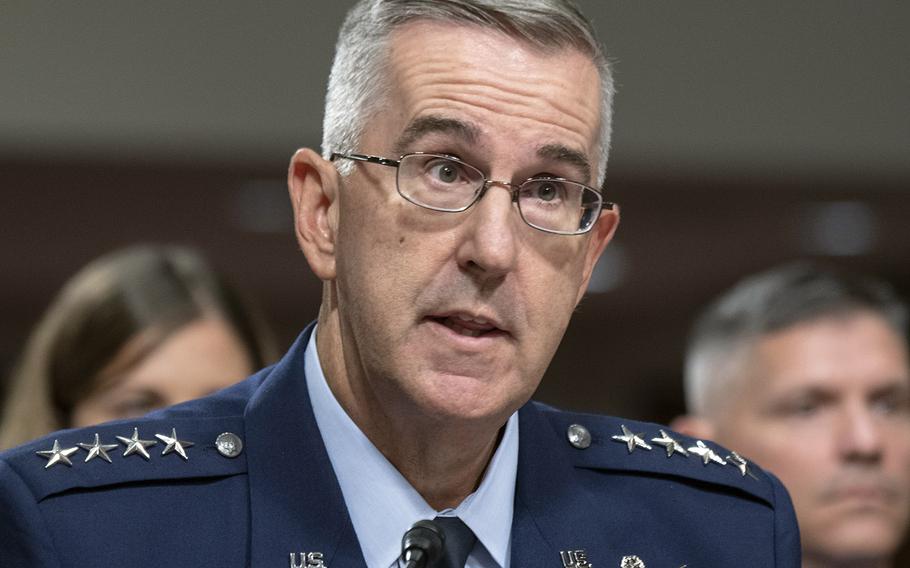 WASHINGTON — Air Force Gen. John Hyten, who withstood several months of intense scrutiny over claims of sexual assault, was confirmed Thursday by the Senate as the next vice chairman of the Joint Chiefs of Staff.
Hyten, 60, has served in the Air Force for 38 years and was most recently in charge of U.S. Strategic Command. He was originally nominated for the position in April by President Donald Trump to replace Air Force Gen. Paul Selva, who retired during the summer.
Hyten was confirmed in a 73-21 vote of the Senate. Six senators did not vote, and opposition to Hyten came from Democrats, except for Sen. Joni Ernst, R-Iowa. Democrats who voted "no" included Sen. Tammy Duckworth of Illinois, a combat veteran, Senate Minority Leader Chuck Schumer of New York and Sen. Richard Blumenthal of Connecticut, a member of the Senate Committee on Veterans Affairs.
Hyten's confirmation to Joint Chiefs vice chairman was delayed by allegations of sexual assault. His former aide, Army Col. Kathryn Spletstoser, accused Hyten of making multiple propositions toward her and trying to forcibly assault her in a hotel.
Hyten has publicly denied the allegations and an Air Force investigation into the accusations uncovered no evidence that the assault happened. Spletstoser was ultimately dismissed from Hyten's command due to an internal military assessment that deemed she had created a toxic work environment. Questions also had been raised during the assessment about her mental state and erratic behavior.
Hyten's nomination was confirmed in July by the Senate Armed Services Committee, including Sen. Martha McSally, R-Ariz., a former Air Force officer. McSally had announced earlier in the year that she had been a victim of rape by a superior officer during her time in the Air Force.
"Sexual assault happens in the military, it just didn't happen in this case," McSally said during a Senate hearing in July about the allegations against Hyten.
Marine Gen. Joseph Dunford, chairman of the Joint Chiefs of Staff, released a statement Thursday on Hyten's confirmation.
"He is a visionary leader with an unparalleled strategic perspective that will be very beneficial to the president, the secretary of defense and our military as we confront today's national security challenges," Dunford said in a prepared statement.
Fotre.neil@stripes.com Twitter: @Neil_Fotre