Husband shoots airman wife during domestic violence incident at Hurlburt Field, Fla.
by
Caitlin M. Kenney
July 27, 2020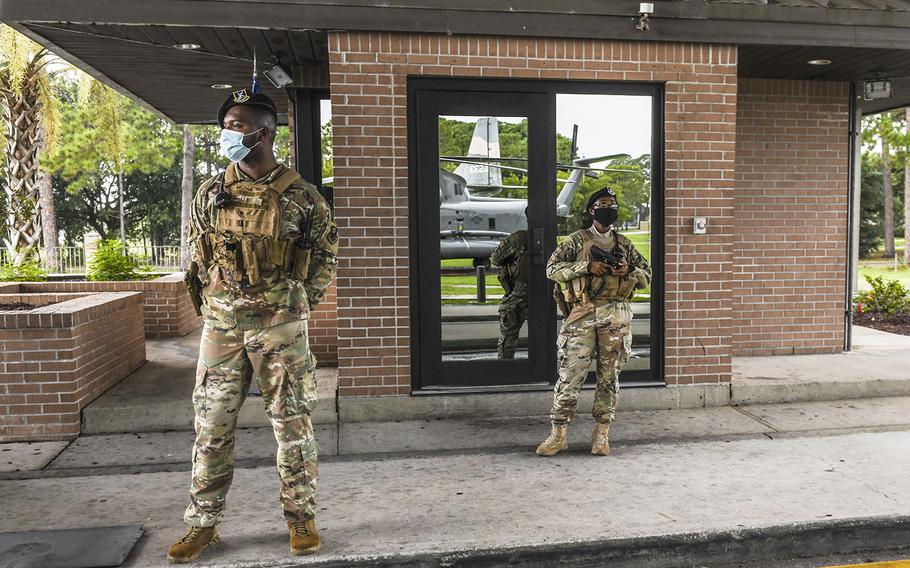 WASHINGTON — An airman was shot Friday evening at Hurlburt Field, Fla., by her civilian husband in an incident that ended nearly 90 minutes later with the shooter killing himself, base officials said.
The shooter, Elliot Alexeichik, died of a self-inflicted gunshot wound at the scene of the incident at the air force base, according to a statement by 1st Special Operations Wing, a unit at Hurlburt Field.
His wife, Airman 1st Class Kimberly Alexeichik with 1st Special Operations Wing, was transported to a local hospital with a gunshot wound. As of Sunday, she was in stable condition and "focused on recovery," base officials said.
The shooting is being investigated by Air Force Office of Special Investigations.
The base was put on lockdown Friday after the shooting was reported at about 4:28 p.m., base officials said. The lockdown was lifted at about 5:55 p.m. when the scene was secured by military and local law enforcement.
Statements by 1st Special Operations Wing do not identify where the shooting happened, however people living in base housing were told to shelter in place during the lockdown, Northwest Florida Daily News reported.
The commander of 1st Special Operations Wing called the incident Friday a "senseless tragedy."
"The 1st Special Operations Wing does not condone domestic violence. We constantly work to mitigate this needless violence through our on-base resources and programs that are offered to all Hurlburt Field members," Air Force Col. Jocelyn Schermerhorn wrote in a post on the unit's official Facebook page.
1st Special Operations Wing is one of five Air Force active-duty special operations wings under Air Force Special Operations command. It provides air support to special operations missions around the world, according to Hurlburt Field's official website.
Hurlburt Field is located about 38 miles east of Pensacola. The base has more than 8,600 service members and employs about 4,300 civilian personnel, according to its website.
kenney.caitlin@stripes.com Twitter: @caitlinmkenney