House passes bill enabling gun sales to veterans deemed 'mentally incompetent'
---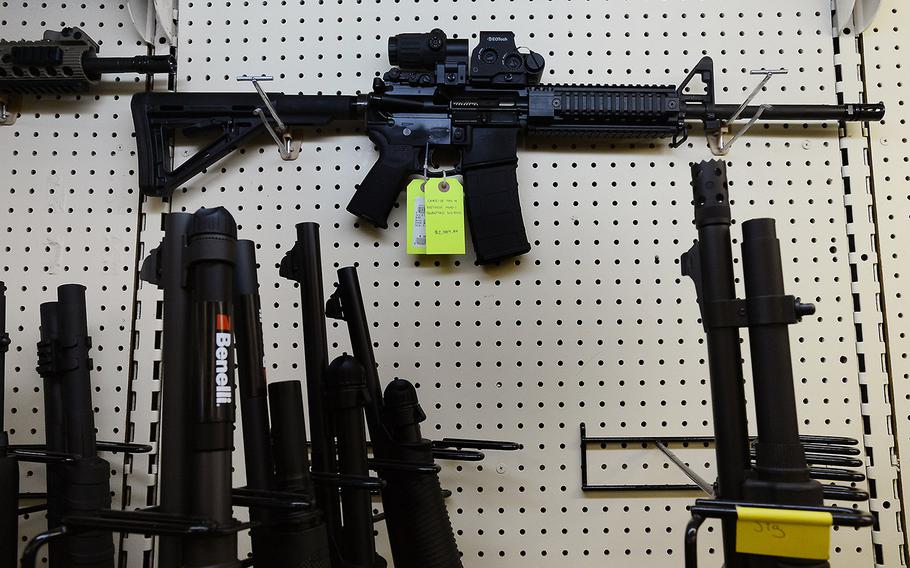 WASHINGTON – The House on Thursday passed legislation prohibiting the Department of Veterans Affairs from placing veterans on a no-gun list, despite outcry from some Democrats and former military leaders.
The House voted 240-175 approving the Veterans Second Amendment Protection Act, which will now go to the Senate. Critics of the bill said it would make it easier for veterans with mental illnesses to access firearms, which would increase risk of suicide and pose a danger to families.
"It's going to result in more deaths, more suicides of veterans throughout this nation," retired Navy Capt. Mark Kelly said Thursday on a call with reporters. "It weakens our background-check system and makes our country a less safe place."
Kelly, along with his wife Rep. Gabrielle Giffords, D-Ariz., created Americans for Responsible Solutions, a gun-control advocacy group, after she was shot outside a Tucson, Ariz., supermarket in 2011.
Under current law, the Department of Veterans Affairs considers veterans who cannot manage their VA benefits and need another person to help with their finances as "mentally incompetent." The department reports the names of those veterans to the FBI, which adds them to the National Instant Criminal Background Check System – the national database that gun merchants are required to check before selling a firearm.
The bill would do away with that practice, and instead require the court system to determine whether veterans pose a threat to themselves or others before they're added to the database.
Rep. Phil Roe, R-Tenn., who sponsored the bill, said the VA was violating veterans' Second Amendment rights. Rep. Doug Collins, R-Ga., said he worried the current practice was discouraging veterans from seeking VA care out of fear they'd be added to the list.
"What it says [is] if you can't balance a bank account, you can't handle a firearm. There is no relation between the two," said Rep. Ken Buck, R-Fla., who also spoke in favor of the bill. "So many people have been trapped by this overbroad rule."
President Donald Trump's administration issued a statement Thursday stating advisers would recommend Trump sign the bill into law if it passed the Senate.
The VA had contributed 167,815 names to the FBI database as of Dec. 31, 2016. It began adding names in 1998.
There was confusion among lawmakers Thursday about whether those veterans would be removed from the list if the bill were to pass into law. Roe said the names would remain on the list, but Democrats argued the language was retroactive and those 167,815 veterans would be allowed to purchase and keep firearms.
Rep. Elizabeth Esty, D-Conn., a member of the House Committee on Veterans' Affairs, criticized the committee last week for advancing the measure to a vote without a hearing.
"This bill was rushed to the floor, with no… time for all of us to understand its full implications," Esty said. "It's fair to say that reasonable people disagree on how this would be implemented. The disagreement alone illustrates why this House should be taking its time."
Esty, who has been the most vocal opponent of the bill, represents Newtown, where 26 people were gunned down at Sandy Hook Elementary School in 2012. She's also vice chair of the congressional Gun Violence Prevention Task Force.
On Tuesday, a group of 14 former military officials wrote to lawmakers, describing the legislation as "irresponsible," "dangerous" and "life-threatening." The letter writers include Gen. Stanley McChrystal, Gen. David Petraeus and Admiral Thad Allen.
Like Democrats who spoke Thursday, the military officials who signed the letter focused on the issue of veteran suicide. An average of 20 veterans commit suicide every day, according to the latest VA statistics. Two-thirds of those suicides are committed using a firearm.
"The tragedy of veteran suicides has affected families across the country, including my own," said Rep. Mark Takano, D-Calif., speaking of his uncle, a Vietnam War veteran who committed suicide with a firearm. "To this day, it continues to plague our communities."
Takano conceded there were veterans in the FBI database who shouldn't be there. Instead of prohibiting the VA from reporting names to the database, he said a process was needed for veterans to easily appeal their status in the system.
Takano asked that lawmakers be allowed to amend the bill, but the House voted without considering amendments.
Esty called it a "rush process" and said "no genuine attempt was made to work across the aisle."
The bill's passage Thursday follows the success of a resolution that revoked a rule banning Social Security beneficiaries from owning guns if they are mentally ill or deemed incapable of handling their finances.
Former President Barack Obama initiated the rule in 2013 following the Sandy Hook shooting, but it hadn't fully gone into effect. On Feb. 28, Trump signed a resolution that revoked it.
wentling.nikki@stripes.com Twitter: @nikkiwentling
---
---
---
---