House lawmakers urge Pentagon to help military families suffering financially from travel ban
by
Caitlin M. Kenney
April 6, 2020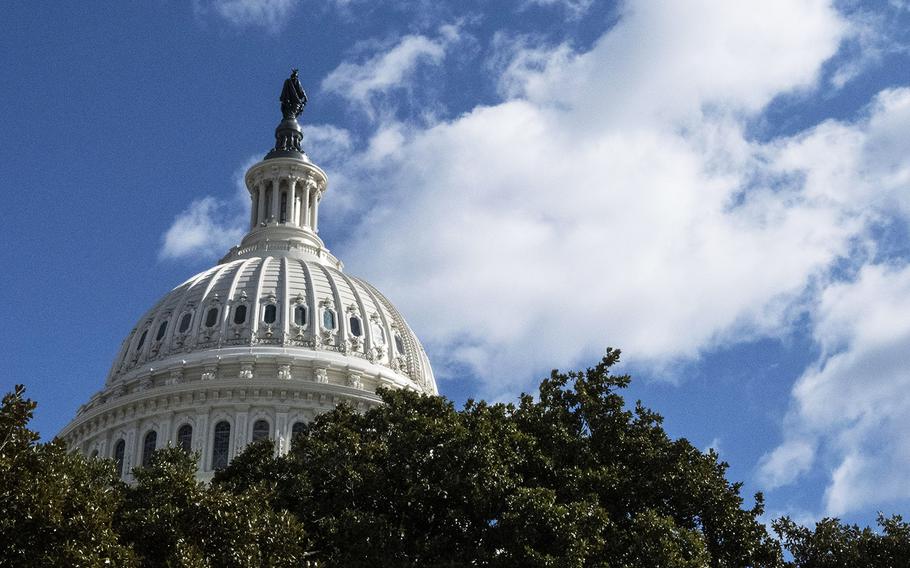 Stars and Stripes is making stories on the coronavirus pandemic available free of charge. See other free reports here. Sign up for our daily coronavirus newsletter here. Please support our journalism with a subscription.
WASHINGTON — More than 30 lawmakers have requested that Defense Secretary Mark Esper provide more direction and support to help service members and military families financially impacted by the Pentagon's 60-day stop movement orders.
"While the stop-movement order was noble and necessary, this unprecedented action left thousands of military families in extreme financial distress," the letter states.
Two stop-movement orders were issued in March by Esper in response to the spreading coronavirus outbreak and barred all travel including military moves and redeployments. The travel restrictions have impacted thousands of service members and their families around the world, according to the letter. In one example of the order's large impact to the military, U.S. Forces Korea estimated it would affect almost 8,000 service members and their families moving to or leaving South Korea.
The letter addressed to Esper was sent Thursday by 35 House lawmakers — six Republicans and 29 Democrats -- requesting he issue guidance to the service branches and installation commanders for them to "use the greatest possible breadth of relief options" for service members and families, to include coordinating with local governments and non-profits.
The letter stated since the 60-day travel restriction was implemented, several lawmakers have heard from families who are paying rent on a home at their next duty station while stuck living in a house from which they intended to move. Spouses have left jobs due to anticipated moves and families who have already shipped their household goods must pay to replace some of their necessities during the travel restriction.
Jonathan Hoffman, the chief spokesman for the Pentagon, said in a statement Monday that the Defense Department "understands that [the coronavirus] has impacted many throughout DoD and we are working to help our men and women in uniform weather this crisis. We will use all means available to assist service members who were impacted by [the virus]."
The military's main moving season starts in the spring and ends in the fall. About 400,000 service members, Defense Department civilian workers, and their families are moved each year, with 40% of moves happening between May 15 and August 31, according to the Pentagon.
The travel restriction, while necessary for the health and safety of service members and families, has caused these unintended consequences, said Rep. Debra Haaland, D-N.M., who led the effort behind the bi-partisan letter. Haaland, who is the daughter of a Vietnam veteran, said she understands firsthand the struggles other military families face such as frequent moves.
Barriers cited in the letter are the low monetary caps for programs meant to help families during their moves and capacity at local installations and family readiness centers to be able to process claims.
"This unparalleled order issued to save lives has led to an unparalleled need for assistance, critically straining the staff and resources available and inevitably resulting in long delays before relief reaches military families," the letter states.
The lawmakers want any cap on funds meant to help families to be removed during the pandemic, Haaland said.
She said the purpose of the letter was to raise the lawmakers' concerns with military leadership and to urge them to do something. The letter asked Esper to "exercise every measure within your authority to provide the [military] services with the guidance and resources needed to ensure care and support to every military member and family" affected by the order.
"They need to move -- put out some uniform guidance, so that people know what they should do. There needs to be more coordination among the military and we need to expedite programs, more coordination with all of the military bases, I should say," Haaland said. "And then we should expedite programs that already exist, remove barriers to help families so that they can make it month to month until we can see clear of this pandemic."
Kenney.Caitlin@stripes.com Twitter: @caitlinmkenney