House lawmakers subpoena Pentagon for documents on military assistance to Ukraine
---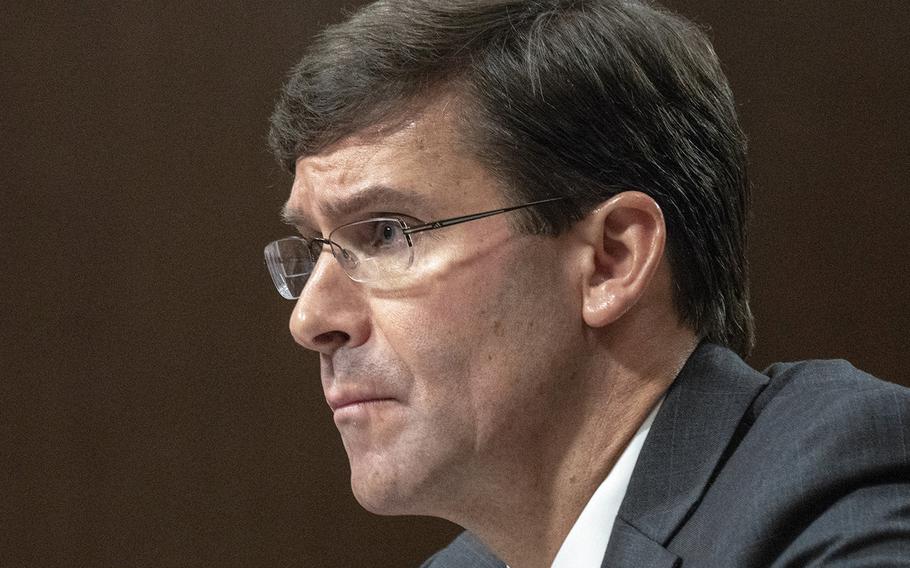 WASHINGTON — The Pentagon on Monday was issued subpoenas from three House committees in an effort to obtain documents related to the withholding of military assistance to Ukraine as part of the impeachment inquiry into President Donald Trump.
The chairmen for the House Intelligence, Foreign Affairs, and Oversight and Reform committees directed a letter with the subpoena to Defense Secretary Mark Esper requiring him to produce the requested documents by Oct. 15.
"The committees are investigating the extent to which President Trump jeopardized U.S. national security by pressing Ukraine to interfere with our 2020 election and by withholding military assistance provided by Congress to help Ukraine counter Russian aggression, as well as any efforts to cover up these matters," Reps. Adam Schiff, D-Calif., Eliot Engel, D-N.Y., and Elijah Cummings, D-Md., wrote in the letter.
Last week, Jonathan Hoffman, the Pentagon's chief spokesman, announced the Defense Department General Counsel Paul Ney had instructed defense officials to provide his office with all documents and records related to Pentagon activities in Ukraine for cataloging and review. The step was made to ensure the records would be available if requested by Congress or inspectors general, he said.
The impeachment inquiry was launched Sept. 24 by House Democrats over Trump's interactions with Ukraine President Volodymyr Zelenskiy. In a memorandum describing the content of a July 25 phone call between the two leaders that was released more than a week ago by the White House, Zelenskiy told Trump his country was ready to purchase more Javelin missiles from the U.S.
Ukraine has said the missiles have been critical in its efforts to fend off Russian-backed forces in the Donbass Region, where war has continued since Russia annexed the nearby Crimea region from Ukraine in 2014.
"I would like you to do us a favor though because our country has been through a lot and Ukraine knows a lot about it," Trump responded to Zelenskiy, according to the memorandum. Trump asked Zelenskiy to investigate U.S. political issues, including former Vice President Joe Biden and his son, Hunter Biden. The elder Biden is among the front-runners for the Democratic nomination for president in the 2020 election.
The four-page document accompanying the subpoena requests Esper to produce documents and communications from Jan. 1 of this year to now on 14 matters, including documents related to the July 25 call. The committees also are requesting documents related to foreign assistance including security assistance to Ukraine for fiscal year 2019.
Last week, Hoffman described the hold on security assistance to Ukraine as "a brief pause" and he said the bulk of that aid has been delivered to Ukraine.
The aid included money for training operations and nonlethal military gear.
Hoffman said his understanding was the aid, first announced by the Pentagon in June, was withheld amid corruption concerns in Ukraine. However, he declined to discuss who made the decision to withhold the funding or the timing of that decision.
Stars and Stripes staff writer Corey Dickstein contributed to this report. kenney.caitlin@stripes.com Twitter: @caitlinmkenney
---
---
---
---