House committee votes to keep troop pay raises, benefits
by
Travis J. Tritten
May 8, 2014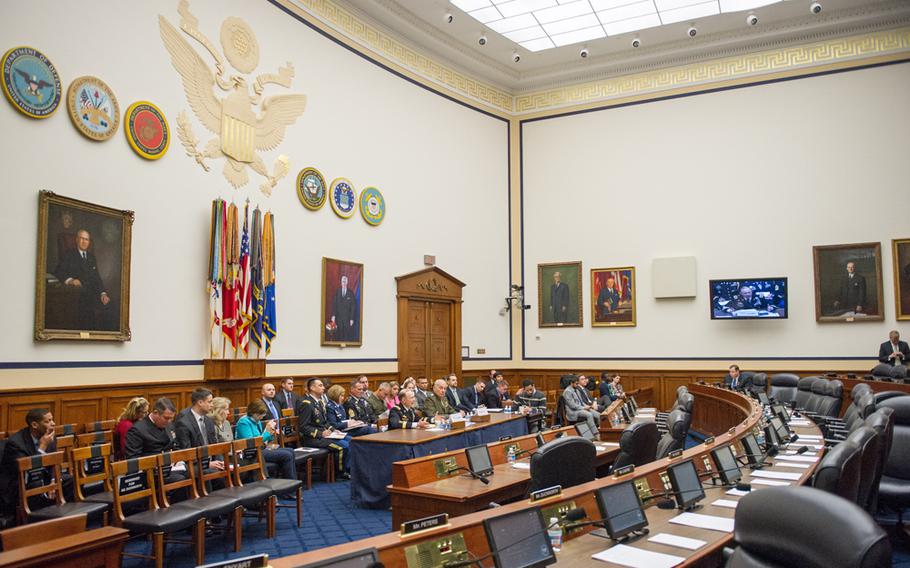 WASHINGTON – The House pushed ahead Wednesday with a vote to preserve troop pay raises and benefits over the coming year despite dire budget warnings from military leadership that not making cuts will harm readiness.
The House Armed Services Committee passed a 2015 military personnel budget that rejected the Department of Defense's proposals to cap troop pay raises at 1 percent and slash the costs of base supermarkets, housing allowances and health care.
Military brass has warned it needs the reforms to fund a force that's equipped and ready to fight. But in a marathon debate and amendment session, House lawmakers worked up a draft version of the nation's defense budget that maintains the slate of benefits and wrings funding out of some ship, aircraft and construction programs.
Committee Chairman Buck McKeon, R-Calif., said the House strategy is to keep up military funding and investment as much as possible until Congress can reverse the Budget Control Act of 2011, also known as sequestration, a measure that requires steep reductions in defense and other federal funding.
"I think it's best for the nation that we hold on to as much as we can until we find ourselves in a better [fiscal] situation," McKeon said.
In addition to the 1 percent pay raise, the DOD wants to cut subsidies to base supermarkets from $1.4 billion to $400 million annually, reduce housing allowances until servicemembers pay about 5 percent for residences and utilities, and consolidate the Tricare health care system.
The House draft budget includes measures to poll troops and study commissaries, but otherwise ignores the DOD personnel recommendations. It is now headed to the House floor for a final vote later this month.
The Democratic minority tried to offset some of the budget spending by initiated a new round of military base closures and sidelining 11 of the Navy's Ticonderoga-class cruisers. But the proposals gained no traction Wednesday during the House debate.
Rep. Adam Smith, D-Wash., introduced the proposal to trigger the Base Realignment and Closure act, which would mean a review and possible closure of military facilities. The last BRAC process began in 2005 and remains controversial; critics contend that projected savings from that round have never been realized.
"This is going to need to be done in terms of saving money," Smith said. "We are simply not in a position to have the Department of Defense spending money on facilities they do not need."
But Smith pulled the amendment and said he would introduce it to the full House later.
He also proposed to take the cruisers off duty following a budget recommendation by the Navy that would save about $4 billion over five years.
"The Navy looked at their entire situation … and concluded one of the best things they could do is this plan, to save a little money and spend it elsewhere," Smith said.
But the cruisers will be seaworthy for years to come and Republicans on the committee rose up against the measure to take them out of service and do a refurbishment.
"We are going to take ships out of active duty that have 10 years left in their service life," Rep. Rob Wittman, R-Va. "It just doesn't make sense to me."
tritten.travis@stripes.com Twitter: @Travis_Tritten
---
---
---