Hagel worried unethical servicemembers 'stain the honor' of US military
---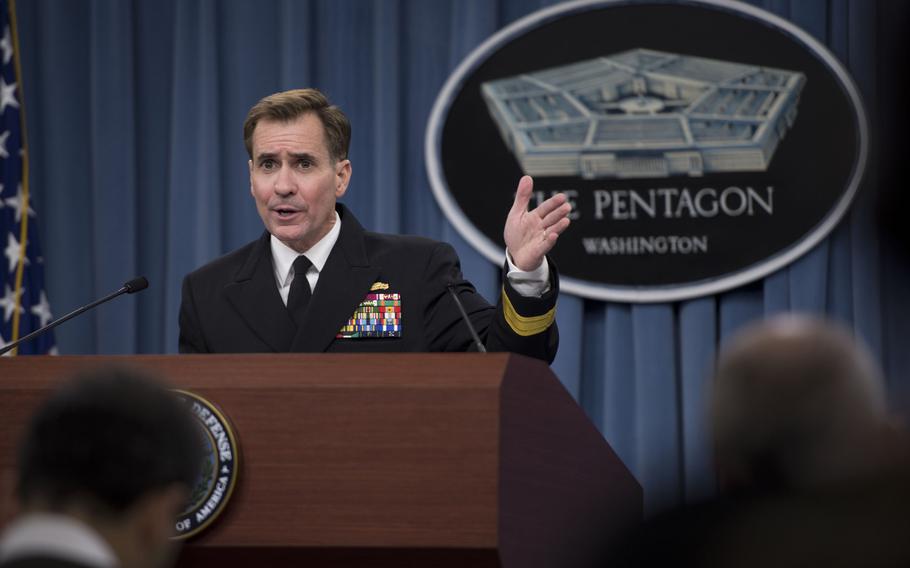 WASHINGTON — Secretary of Defense Chuck Hagel is concerned that a series of ethical lapses by servicemembers might be indicators of a systemic problem within the U.S. military, Pentagon Press Secretary Rear Adm. John Kirby told reporters at the Defense Department Wednesday.
On Tuesday, Navy leaders announced that staff members at the Navy's nuclear propulsion school in Charleston, S.C., allegedly cheated on a written qualification exam for instructors who teach sailors how to operate nuclear reactors. Last month, the Air Force was rocked by revelations that nuclear launch officers were involved in a cheating scandal and an illegal narcotics scandal.
Kirby said Hagel is "deeply troubled" by these incidents. A 60-day review of the U.S. nuclear enterprise is under way, and service leaders are expected to develop an action plan to deal with personnel, management and cultural problems within the force.
In the press conference, Kirby pointed out that the military is still tackling the issue of sexual assault within the ranks, which has received a lot of attention from lawmakers alarmed by statistics released by the Pentagon indicating that thousands of servicemembers are sexually assaulted by their comrades each year.
Examples of bad behavior among general officers prompted Gen. Martin Dempsey, the chairman of the Joint Chiefs of Staff, to conduct an ethics review of the senior officer corps in 2012.
"If you just take a look at recent incidents, and I'm not just talking about in the last few weeks, last few months, even the last couple of years, I think [Hagel is] generally concerned that there could be at least at some level a breakdown in ethical behavior and in the demonstration of moral courage," Kirby said.
Kirby defined moral courage as "doing the right thing when nobody is looking [and] treating people the right way, even when they can't do anything for you."
Hagel believes that malfeasance within the military is getting worse.
"He definitely sees this as a growing problem. And he's concerned about the depth of it. I don't think he could stand here and tell you that … anybody has the full grasp here. And that's what worries the secretary is that maybe we don't — maybe he doesn't have the full grasp of the depth of the issue, and he wants to better understand it," Kirby said.
Dempsey told the Wall Street Journal last week that the military will focus more on ethics training going forward, and he suggested that an officer's character should be given more emphasis in the promotion system.
One military ethicist said the problems are complex.
"There is a long tradition in the Navy — when I was at the Academy — of circulating good test preparation; so good, in fact, that sometimes it was the real answers," said Dr. Nancy Sherman, a philosophy professor at Georgetown University in Washington, D.C., who was the inaugural Distinguished Chair in Ethics at the Naval Academy in the mid-1990s when there was a big cheating scandal.
"The pressures that people feel who wear the uniform, who have an idealized view of what it means to wear the uniform, can sometimes cause them to put undue pressure on themselves. In battle, especially, many unduly blame themselves for enemy action or accidents that take their buddies' lives. That same solidarity means that they sometimes pledge unconditional fidelity to each other, and that means they will sometimes act in ways that can be seen as unethical."
But Sherman is skeptical on the usefulness of any review.
"Will a review do anything? No. Not if it's a 15-minute classroom review of codes of conduct. Small groups, with real, candid discussion to find out the motivations of people who cheat, that might work."
The U.S. military is the most respected public institution in the United States, according to numerous surveys taken since 9/11. But Hagel fears that high-profile scandals could damage the image of the Armed Forces among the American people.
"He's mindful that the vast majority serve very honorably every day, but it doesn't take more than a few to stain the honor and the integrity of the entire force. And I think that's what we're starting to see now," Kirby said. "He's concerned about the health of the force and the health of the strong culture of accountability and responsibility that Americans have come to expect from their military."
Kirby said putting more focus on ethics will be a high priority for Hagel and DOD leaders going forward, although he did not announce any new initiatives in this regard.
Stars and Stripes Patrick Dickson contributed to this report.
harper.jon@stripes.com Twitter: @JHarperStripes
---
---
---
---