Hagel will have general officer be point man on ethics issues
---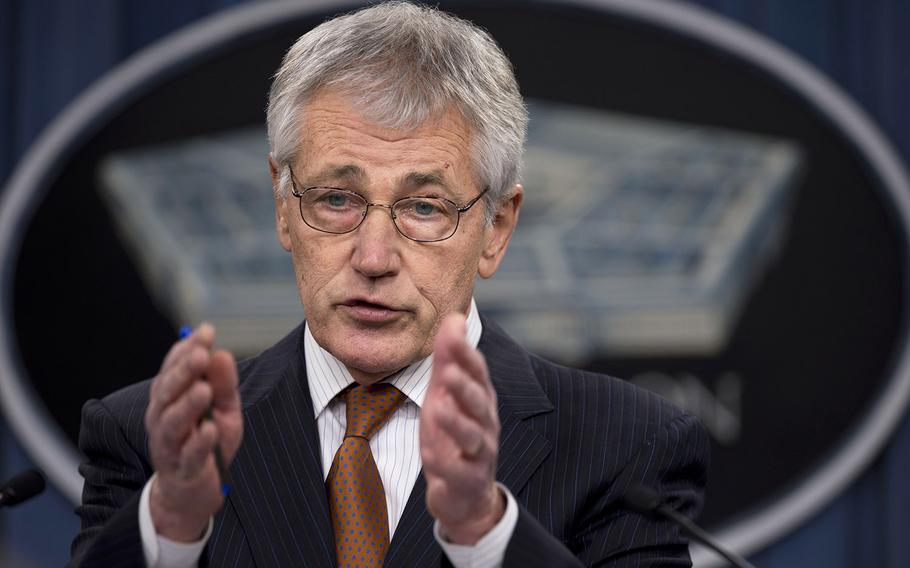 WASHINGTON — Secretary of Defense Chuck Hagel announced Friday that he will assign to his senior staff a general officer who will report directly to him on issues related to military ethics, character and leadership. The officer will also work directly with the service secretaries and the service chiefs and coordinate the actions of the services on these issues. Hagel will receive weekly reports from the Defense Department's senior officer and enlisted leadership on the progress DOD is making to tackle systemic ethics problems, he said.
"This will be an absolute top priority for the service secretaries, the service chiefs, [chairman of the Joint Chiefs) General Dempsey and me," Hagel told reporters at the Pentagon.
"I think we need to find out, is there a deep, wide problem? If there is, then what's the scope of that problem? How did this occur? Was it a constant focus of 12 years on two long land wars, taking our emphasis off some of these other areas? I don't know. We intend to find out."
Hagel said he has not yet selected the officer who will fill the position.
The latest revelation came to light Thursday when CNN reported that Brig. Gen. Martin Schweitzer is no longer allowed to brief Secretary of Defense Chuck Hagel because Schweitzer made inappropriate sexual comments about a congresswoman in an email he sent to Army colleagues. Schweitzer was a colonel with the 82nd Airborne Division when he sent the email. Schweitzer was promoted to general officer even though the Army knew about the email at the time of his promotion.
Hagel said that in the coming weeks he and Dempsey will announce specific actions that the services will be taking.
"We're going to continue to address [the problem] and we're going to fix it," he said.
But ethicists who have advised the military on ethical issues say it's a complex problem to tackle, and it isn't a new one.
"There is a long tradition in the Navy — when I was at the Academy — of circulating good test preparation; so good, in fact, that sometimes it was the real answers," said Dr. Nancy Sherman, a philosophy professor at Georgetown University, who was the inaugural Distinguished Chair in Ethics at the Naval Academy in the mid-1990s when there was a big cheating scandal.
Dr. Ann Buchholtz, a professor of leadership and ethics at Rutgers Business School who gave a two-hour presentation on ethics at an Army leadership course in January, suggested that directives and admonitions by senior officials won't be enough.
"The strongest effects are the immediate managers. We know that the biggest effect on how somebody behaves at work is the manager right above them, the ones they see every day. And that's why it can be such a challenge to get a culture of ethics," she said. "Senior leaders can't do it alone."
Sherman said a sense of loyalty with their peers can make servicemembers unwilling to call out their comrades when they don't live up to ethical standards.
"The pressures that people feel who wear the uniform, who have an idealized view of what it means to wear the uniform, can sometimes cause them to put undue pressure on themselves. In battle, especially, many unduly blame themselves for enemy action or accidents that take their buddies' lives," she said. "That same solidarity means that they sometimes pledge unconditional fidelity to each other, and that means they will sometimes act in ways that can be seen as unethical."
A recent cheating scandal among nuclear launch officers at Malmstrom Air Force Base, Mont. might be an example of this phenomenon. Nearly 100 missileers at the base were suspended after it was discovered that some officers cheated on a routine proficiency exam. But not all of those sidelined participated directly in the cheating; some just knew it was going on but didn't report it to their commanders.
Sherman said classroom lectures about ethical principles won't be effective.
"If it's a 15-minute classroom review of codes of conduct [it won't work]. Small groups, with real, candid discussion to find out the motivations of people who cheat, that might work," she said.
Buchholtz said using case studies and real examples of ethical dilemmas that people might find themselves in are much more effective tools than teaching abstract ethical concepts.
"Practice with scenarios — and typically they are experiences people really had and decisions people really had to make — and just walking though it and what would you do in that situation, that is the best preparation for doing the right thing later on," she said.
In her business ethics courses at Rutgers, Buchholtz makes her students examine cases where people did the right thing as well as cases where people made bad ethical decisions so that they can learn from others' experiences.
Buchholtz has found that senior-level managers are typically more open to ethics training than more junior people.
"My experience has been … that the more somebody has lived life, particularly if they've been in positions of responsibility, the more they want to know about ethics, [especially] when they've had to make tough decisions," she said. "If you've been in a situation where you've had to address an ethical dilemma, you want all the help you can get."
Buchholtz said younger people used to be harder to teach, but the situation is improving.
"There can be [challenges], but what's been interesting to me is that I think that's shifting … The millennial generation is different. I just don't feel resistance in any way anymore, and that includes undergrad classes. They're very receptive, very open. I think some if it might be generational, and I've heard that, and I have to admit my experience supports it. I also think the Great Recession might have affected people in that they've seen people suffer and it's changed their outlook," she said. "I find less resistance now than I might have ten years ago."
Buchholtz said an overworked military should use outside consultants to help them find ways to mitigate ethics problems.
"Anytime that you want to make decisions, you want to bring in a variety of perspectives [because] it gets people thinking," she said. "Military people have their hands full with everything they do on an ongoing basis, so for somebody to come in who focuses on ethics all the time, that can help certainly to guide the discussion and bring fresh insight into it."
harper.jon@stripes.com Twitter: @JHarperStripes
---
---
---
---