Hagel: DOD will develop new 'offset strategy'
by
Jon Harper
November 16, 2014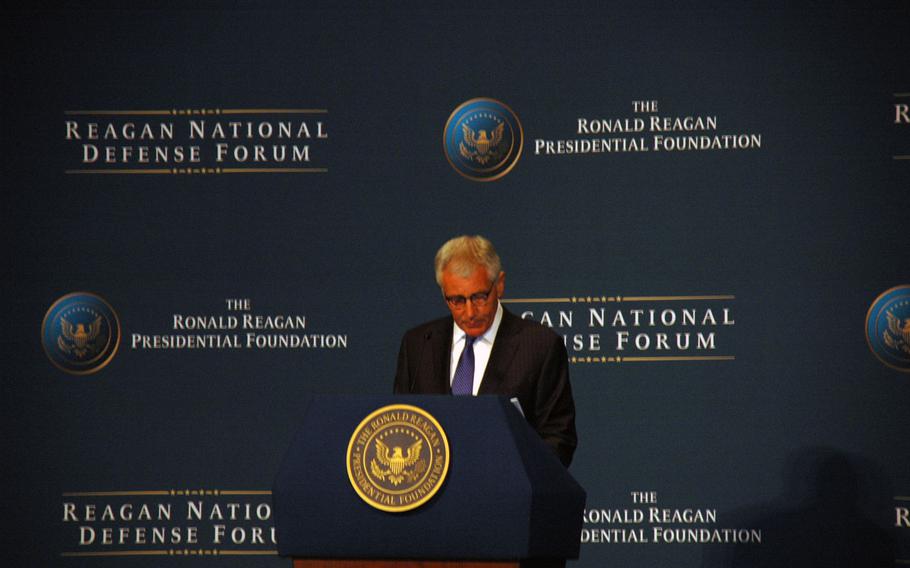 SIMI VALLEY, Calif. — The Pentagon must develop a new "offset strategy" in order to stay ahead of rapidly advancing competitors, Secretary of Defense Chuck Hagel said.
The new "Defense Innovation Initiative", which Hagel unveiled at the Reagan Defense Forum in Simi Valley, Calif., on Saturday, is a multifaceted effort to develop "game changing" technologies and marry them with new operating concepts.
To address emerging threats, Hagel has ordered the establishment of a new Long-Range Research and Development Planning Program to help identify, develop, and field technological breakthroughs that can enhance American combat power.
Hagel said that the fields of robotics, unmanned systems, miniaturization, big data, and 3-D printing will be of particular interest.
The Defense Department chief said the program "will invite some of the brightest minds from inside and outside government to start with a clean sheet of paper and assess what technologies and systems DOD ought to develop" over the next 3 to 5 years and beyond.
But the Pentagon needs more than new technology, according to Hagel. Citing past DOD "offset" successes like the one that led to the development of stealth planes, smart bombs, and drones, he said "the critical innovation" is to combine groundbreaking systems with new strategic and operational concepts. He has ordered the department to beef up its wargaming and military education efforts to figure out the best way to fight with the new gear that DOD acquires.
Hagel has tapped his deputy, Bob Work, to shepherd the initiative and lead a new Advanced Capability and Deterrence Panel to guide it forward.
"The Defense Innovation Initiative will shape our programs, plans, and budgets. As the initiative matures over time, I expect its impact on DOD's budget to scale up in tandem," Hagel said.
The new innovation initiative was motivated by two trends: technological advances by potential enemies, and the onset of an era of budget constraints.
"While we spent over a decade focused on grinding stability operations [in Iraq and Afghanistan], countries like Russia and China have been heavily investing in military modernization programs to blunt our military's technological edge," Hagel said.
In recent years, U.S. officials have watched with particular concern as China has been developing new stealth aircraft, attack submarines, a variety of longer range and more accurate missiles, anti-satellite weapons, electronic warfare, and cyberattack capabilities.
At the same time, militant groups have also been acquiring more advanced weapons.
"America does not believe in sending our troops into a fair fight… But that is a credo we will not be able to honor if we do not take the initiative and address these mounting challenges now," Hagel warned.
Money – or a lack thereof – is also part of the equation.
"Continued fiscal pressure will likely limit our military's ability to meet long-term challenges by increasing the size of our force, or simply outspending potential adversaries on current systems," Hagel said. "So to overcome challenges to our military superiority, we must change the way we innovate, operate, and do business."
harper.jon@stripes.com Twitter: @JHarperStripes